Spotlight on the Department of German and Russian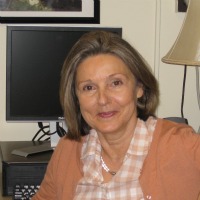 The end of the academic year is the perfect time for reflection: What have we as a Department accomplished? We can first congratulate ourselves. Thanks to the hard work of all members, the Department of German and Russian is flourishing. Our enrollments in both languages are increasing and our seminar room is always full, with students studying, doing homework, or just socializing. It is wonderful to know that our Department is the place to "hang out" for so many of our majors and minors!
This past year we offered quite a variety of courses in addition to our beginning and intermediate language courses. The German program covered literature from the Middle Ages to Romanticism and ventured into the 20th and 21st centuries through the medium of German film. Students in the Russian Program could choose from a variety of upper-level language courses and literature courses that covered the 19th, 20th and 21st centuries. We also continued to enrich our curriculum and extend our reach through courses taught in English. All of our faculty members offer courses on German and Russian culture and literature in English that were of interest to the entire UVM community. Offerings included Wolfgang Mieder's "Nature and Politics of Proverbs," Dennis Mahoney's "From Enlightenment to Nazism," Kevin McKenna's "Witches, Goblins and Ghosts," Kathleen Scollins' "Dreamers, Duelers, and Demons: The Golden Age of Russian Literature," and Helga Schreckenberger's "Legacy of the Holocaust."
We will continue to offer such interesting and challenging courses taught in translation to achieve our goal of providing comprehensive instruction in German/Russian culture and literature that draws large enrollments. At the same time we are committed to small-class size in courses taught in target languages. This is indispensable given our emphasis on student participation and our goal of students reaching linguistic and cultural competence.
In Theresia Hoeck, Kate Kenny, and Adriana Borra we have very talented and committed language teachers who work hard to make the more difficult parts of language learning enjoyable. They are joined by Gideon Bavly, who is in charge of our Hebrew courses. He has been writing much of his own teaching material to bring humor into grammar drills.
To the delight of our Russian students, Dr. Kathleen Scollins will remain in our Department. Starting this fall, she will join us as Assistant Professor of Russian. She had already won our students with her skills in the classroom and her generous mentoring. Her outstanding lecture on "A Superfluous Letter in Petersburg: The Alphabetic Context of Gogol's Overcoat" also made abundantly clear that she is a most promising scholar.
Our faculty continue to be very engaged in scholarship that has made important contributions to their respective fields and has reached beyond the walls of academia. We can be proud of our many accomplishments. Wolfgang Mieder just finished editing the 28th volume of his yearbook of international proverb scholarship; Proverbium. Among numerous articles, editions and books (yes, books) he completed this year, one books stands out particularly. 'Making a Way Out of No Way': Martin Luther King's Sermonic Proverbial Rhetoric received wonderful reviews in both the United States and abroad. Moreover, Wolfgang Mieder was invited to lecture about it at the venerable Library of Congress in Washington, D.C. Dennis Mahoney published three articles. " 'Ubi bene, ibi patria' oder: Amerika, hast du es besser?" appeared in the Goethe-Jahrbuch; and "On the Periphery of Weimar Classicism: Passion, Patriarchy and Political Machinations in Caroline von Wolzogen's Agnes von Lilien (1797) and Barbara Honigmann's Eine Liebe aus nichts (1991)" in a volume on Weimar Classicism. His article "Maria Stuart Adaptations in the Twentieth and Twenty-first Centuries: From 'Classical' Parodies to Contemporary Politics" was included in the volume entitled Who Is This Schiller [Now]? Kevin McKenna continues his work as a consultant and collaborator on a U.S. Department of Education/Department of State grant to develop a nationwide portfolio project for high school through college Critical Foreign Language Programs in Arabic, Chinese and Russian. In addition, he published the article " 'A Village Cannot Stand Without a Righteous Perso': A Paremiological Analysis of Aleksandr Solzhenitsyn's Matryonin Dvo" in a Festschrift honoring Valery Mokienko. Helga Schreckenberger saw two articles in print on the exile author and American Germanist Egon Schwarz . All members of the Department are also very active presenters at international and national conferences. Just to name a few: Wolfgang Mieder was the keynote speaker at two international conferences in Tavira, Portugal, and in Mannheim, Germany. Dennis Mahoney spoke at the International Heinrich von Kleist Conference at Vanderbilt University, Nashville, TN. Both Kevin McKenna and Kat Scollins presented at the national meeting of the American Association of Teachers of Slavic and East European Languages in Pasadena, CA. Helga Schreckenberger participated in the International Franz Werfel Symposium at UCLA and the annual meeting of the Modern Austrian Literature and Culture Association in Vienna, Austria.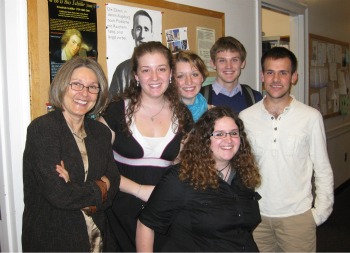 We are extremely proud of the achievements of our majors and minors. Our Russian major Kristi Dahly is the recipient of a Fulbright Scholarship to conduct research in Russia. Russian major and German minor Tiana Gray received a Gilman Scholarship to study at the University of St. Petersburg. German Minor Lindsey Weger was awarded internships both by the Congress/Bundestag Exchange and the DAAD Rise Professional Program. She will start her internship conducting scientific research for a company in Heidelberg, Germany, in June. Our German House program won best Global Village Program of the year and its collaborative event with Japanese and Chinese House, Day of 1,000 Cranes, won Best Living/Learning Event of the Year. Many thanks to the program leaders Phoebe Knowles and Avery Howell!
Many of our majors and minors are electing to study abroad. This year we have seven students studying in Germany or Austria and five students studying in Russia. Thanks to the generous donations of former alumni to our Departmental gift fund, we have been able to support all of them with stipends.
Our Department was also busy hosting guest lectures, which drew quite an audience. We had two fascinating talks by Russian scholars Nina Wieda, Northwestern University ("How the Russian Soul Is Made: Expenditure in Russian Culture'"), and Polina Rikoun, University of Denver ("Confronting the 'Elder Brother': Russian-Ukrainian Relations In Oleksandr Ilchenko's novel The Cossack Never Dies [1958]"). Art historian Cordula Grewe gave an enlightening presentation entitled "From Hieroglyph to Comic Strip: The Arabesque in German Art and Literature." Our distinguished presenter of the 22nd Harry H. Kahn lecture this year was Irene Kacandes from Dartmouth College. Her topic was "Truth and Consequences: Issues in Holocaust Family Memoir." Another highlight was the reading by Jewish-American writer Lev Raphael from his book, My Germany: A Jewish Writer Returns to the World His Parents Escaped. Again, all these lectures are possible because of the generous support from alumni and friends of the Department of German and Russian. We thank all of them most sincerely. Their continued friendship and support is invaluable.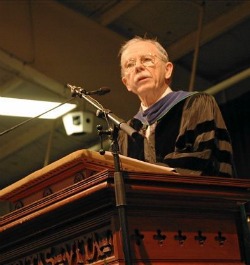 A wonderful close to the year was Wolfgang Mieder's address to the 2011 graduates at the College of Arts and Sciences Commencement Ceremony. Of course, he did us all proud!