CAS Department Updates June 2014
CAS Dean's Office
Below are the names of the faculty members in the College of Arts and Sciences who have just been tenured and/or promoted. The work of these faculty members is testimony to the very high standards set in this College. Their records of scholarly and creative accomplishments, their success as teachers, and their contributions to their professions, the University, the College, and the community are impressive indeed.
The CAS Full Professor Lecture Series was established in fall 2007 to give faculty members newly promoted to the rank of "full" professor the opportunity to share with the university community a single piece of their research or an overview of their research with the goal of communicating a sense of the excitement of the intellectual problems that have energized their careers.

Promotion to Professor
Joseph Acquisto, Romance Languages and Linguistics
Lesley-Ann Dupigny-Giroux, Geography
Sean Field, History
Patricia Julien, Music and Dance
Mark Usher, Classics
Promotion to Associate Professor with Tenure
Keith Burt, Psychological Science
Kyle Ikeda, Asian Languages and Literatures
Donna Ramirez-Harrington, Economics
Guillermo Rodriguez, Romance Languages and Linguistics
Jonah Steinberg, Anthropology
Donna Toufexis, Psychological Science
Laura Webb, Geology
Promotion to Senior Lecturer
Andrew Buchanan, History
Lourdes de Dios, Romance Languages and Linguistics
Amanda Yonan, Biology
Dean's Lecture Awards for 2014-2015
The following professors were chosen as recipients of the Dean's Lecture Award for the upcoming academic year:
Bogac Ergene, Associate Professor of History, will present the fall 20134 Dean's Lecture.
Bryan Ballif, Associate Professor of Biology, will present the spring 2015 Dean's Lecture
This is the judgment of the Dean's Lecture Award Committee: Professors Nicholas Gotelli, Anthony Grudin, Martha Thomas, and Riin Sirkel. The committee members were impressed by how well the accomplishments of both professors fit the requirements of the award: excellence in scholarship combined with the ability to translate it into stimulating teaching. Each recipient of the Dean's Lecture Award will receive $1,000 in research support. Exact dates and lecture topics for each professor will be announced in the fall.

APLE Summer Stipend Recipients
The 2014 APLE Summer recipients were recently chosen and will be awarded funding from the Dean's office to work on summer research projects. This year's recipients are Theodore Klein and Annie Maheux. APLE Summer Stipends provide a summer salary of $3,000 for undergraduate students. Typically two stipends are awarded each year:
Theodore will be doing research with Anthropology Professor Parker VanValkenburgh to conduct an independent study that examines the forced resettlement of indigenous peoples in late 16th century colonial Peru. The title of their research project is Examining Church Architecture and Evangelization at Carrizales, Peru.
Annie will be working with Psychology Professor Matthew Price. They will examine how trauma exposure, severity of trauma, and severity of posttraumatic stress disorder (PTSD) symptoms are affected by the level of trait self-compassion. Their project title is Examination of self-compassion as protective factor against PTSD severity.
Anthropology
The department has created a blog with all kinds of accomplishments and news stories: https://blog.uvm.edu/anthro/
Chemistry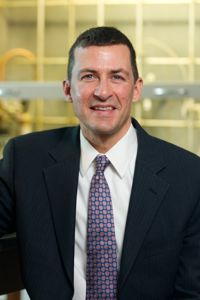 Professor Christopher Landry has been selected as the next chair of the Department of Chemistry. Professor Landry received his bachelor's degree, summa cum laude, from the University of Richmond, and his Ph.D. from Harvard. He came to UVM in 1996, received tenure in 2002, and was promoted to full professor in 2007. He is an accomplished teacher and scholar and is the recipient of a 2013-14 University Scholar award. His research has focused on the discovery and development of porous materials. This includes developing new methods using porous materials for the catalytic decontamination of chemical weapons and environmental pollutants, and working to develop new nanomaterials for in vivo drug delivery. He has received a prestigious CAREER award from the National Science Foundation in addition to funding from the Department of Defense and Army Research Office, the National Institutes of Health, and several small companies. Prof. Landry was central to the development of the cross-college undergraduate major in biochemistry, he co-chaired the university's reaccreditation, and he served as president of UVM's Phi Beta Kappa chapter.
English
Professor Nancy Welch writes that the Council of Editors of Learned Journals awarded its 2013 Best Public Intellectual Special Issue award to the Community Literacy Journal for its special issue "Writing Democracy." Her essay "Informed, Passionate, and Disorderly: Uncivil Rhetoric in a New Gilded Age," was the lead article for the issue.
There is an article in thread magazine on Professor Tom Simone, a self-described "Joycean," and why he tells students, among other things, that reading James Joyce may be "dangerous to their mental health."
The Writing Center was recently profiled on how it benefits both students and faculty: http://www.uvm.edu/%7Euvmpr/?Page=news&&storyID=18479
Lecturer Sean Witters won a Kroepsch-Maurice Excellence in Teaching Award this year and Professor Loka Losambe won a University Scholar award this year.
Professor Tony Magistrale has been invited by Ashland University in Ohio to deliver the Keynote Address at the university and town's celebration of the 20th anniversary of the release of the film, The Shawshank Redemption. The movie was actually filmed in and around Ashland, Ohio, and there will be a tour of the important sites including the Ohio State Reformatory, a.k.a Shawshank Prison. The celebration will include film scholars, local non-profits, and Castle Rock production personnel—including the film's director Frank Darabont—discussing and celebrating the movie that for at least the last three years has held the #1 spot on the Internet Movie Data Base (imdb.com) as the most popular film of all time. The dates of the celebration are August 29-31.
Geography
Assistant Professor Pablo Bose received a $207,000 National Science Foundation (NSF) grant for his project "Refugees in Vermont: Resettlement in a Non-Traditional Immigrant Destination."
Assistant Professor Rashad Shabazz received a fellowship to study for a semester at the Schomberg Center for Research in Black Culture in New York City—he'll be spending spring 2015 there.
The department recently finalized the details of a $100,000 endowed scholarship for Geography students thanks to the generosity of the Oaklawn Foundation and our alum, Will Kies (MA in Geography, '2004).
Geography and Political Science double major Sammie Ibrahim won the Kidder Scholarship, a very prestigious award for out-of-state students based on academic merit.
Assistant Professor Cherie Morse taught a Food Systems graduate seminar this spring that involved producing an exhibit in Bailey-Howe Library (running all summer on the ground floor) called "Working the Landscape: Vermont's Fields, Trails, and Forests."
Associate Professor Beverley Wemple recently returned from a sabbatical trip to Chile, where she taught a short module on Spatial Analysis and Hydrologic Modeling for a group of students in North and South America engaged in a collaborative study to examine threats to freshwater resources in the Americas (http://safer-iai.org/).
Assistant Professor Ingrid Nelson attended the STEPS Centre Summer School, Institute of Development Studies in Brighton, UK in late May, a prestigious and competitive workshop series.
Geology
Assistant Professor Julia Perdrial, who joined the department last year, just received the Award for Excellence in Teaching by the Graduate Student Senate.
Graduate student Alice Newman is the recipient of the UVM Graduate College Graduate Teaching Assistant (GTA) of the Year award.
Over the last few years, Geology Professor Paul Bierman has been exploring the recent record of landscape change by leading the NSF supported Landscape Change Program, an on-line archive containing thousands of images of Vermont landscapes going back over 200 years: http://www.uvm.edu/landscape. Paul and his students have also documented the construction of the Vermont interstate. The images in this collection are from a statewide effort to document the coming of the interstate highway system to Vermont by photographing before, during, and after construction of Interstates I-89, I-91 and I-93. The original negatives of these images are held in the Vermont State Archives: http://www.uvm.edu/interstate.
Political Science
Recent faculty publications include:
Associate Professor Eileen Burgin, "Where's the Constitution? The War Powers Act and Libya." The University of New Hampshire Law Review 12 (April): 175-217.
Professor Walter F. Baber (California State University-Long Beach) and Professor Robert V. Bartlett, "The Challenge of Slow-Motion Democracy: Synthetic and Progressive Rationalization of Mini-Public Deliberation." In Challenges to Democratic Participation: Antipolitics, Deliberative Democracy, and Pluralism. (ed. André Santos Campos and José Gomes André). Lanham, Maryland: Lexington Books, pp. 79-94.
Theatre
Next up for the Theatre department is an exciting collaboration with the Vermont Shakespeare Company and their production of A Midsummer Night's Dream, which will bring a cast of professional New York actors to Vermont to share the stage with UVM theatre students and alumni. Performances will take place in Royall Tyler Theatre on August 16th and 17th. See the recent listing in the New York Times Summer Stages Feature.