CAS Department Updates for November 2011
Biology
A statewide research partnership headed by the Department of Biology at the University of Vermont has received a $20-million grant to develop a model that can be used to predict key ecological changes in Lake Champlain and its surrounding basin.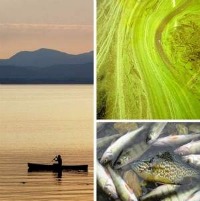 The stipend from the National Science Foundation, announced at a news conference on Friday, October 7, will support a five-year study conducted by the Experimental Program to Stimulate Competitive Research. The program enlists scientific researchers at higher education institutions around the state — principally, UVM — as well as in government and private industry.
The project dovetails with EPSCoR's research focus on adaptation to climate change — a theme noted by Sen. Patrick Leahy, D-Vt., who spoke at the news conference. Read the Burlington Free Press story.
English
At its centennial conference in Chicago in late November, the National Council of Teachers of English will honor Nancy Welch, professor of English at the University of Vermont, with the 2011 Richard Ohmann Award for Outstanding Article in College English. About Professor Welch's "'We're Here and We're Not Going Anywhere': Why Working-Class Rhetorical Action Still Matters," award committee member Beth Brunk-Chavez writes, "It's a powerful piece, attuned to the realities of the labor and responsibilities of the writing teacher. In her own words, Welch's study 'can further enrich what it means to compose.'"

The Richard Ohmann Award recognizes the outstanding refereed article in the past volume year of College English that makes the most significant contribution to scholarship, research, theory, or pedagogy in English Studies. Professor Welch will accept the award with a short address at a November 18 reception.

http://www.ncte.org/college/awards/ohmannrecipients
Geography
Professor Lesley-Ann Dupigny-Giroux, VT State Climatologist and Associate Professor of Geography, was invited to be a lead author on the "Assessment of Climate Change in the Northeast United States: A Technical Report Prepared for the U.S. National Climate Assessment." This national report is being sponsored by the U.S. Global Change Research Program.
Global and Regional Studies
NAFTA Mobility Grant Welcomes Its First Exchange Student
This fall, the Global and Regional Studies (GRS) Program welcomed its first exchange student under the auspices of its North American Free Trade Agreement (NAFTA) Mobility grant. The grant brings together six universities—two from each NAFTA signatory country—to facilitate one-semester student exchanges. The student, Veronica Ficon, is a senior Global Studies major from Canadian partner Wilfrid Laurier University. Veronica's course schedule includes our Global Studies senior seminar with Anthropology Professor Jonah Steinberg, which she reports is one of the most challenging courses she's taken in college, and an introductory Canadian history course with CAS Interim Associate Dean David Massell, providing her with what she describes as an interesting American perspective on her country's history.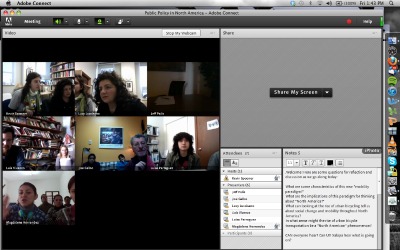 Veronica is also taking a unique "parallel studies course" with Anthropology Professor Luis Vivanco, GRS Director and the grant's faculty director at UVM. This course offers a coordinated curriculum, designed collaboratively by the faculty directors at each campus, that all participating exchange students take. Every two weeks, all the students and faculty from the six campuses meet virtually (see screen shot from Vivanco's computer at left) using Adobe Connect, a video conferencing application, to listen to a short faculty presentation and discuss common readings on topics related to social, political, and economic dynamics in North America. These presentations and discussions have been one of the most rich aspects of the course, as students and faculty not only come from distinct disciplinary backgrounds and national cultures, but also particular regions with distinctive identities and perspectives within their countries.
As part of this course, each student also conducts independent research at his or her visiting campus on a topic related to the role of cultural perceptions and misperceptions in the construction of North American identity. The students will present their research at a virtual conference in December. GRS will be offering this course to participating exchange students throughout the life of the grant, which ends in 2014.
Music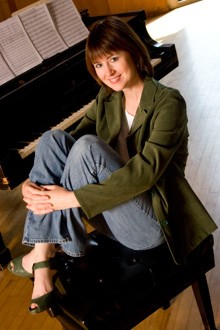 Upcoming flute activity by Music Professor Patricia Julien (pictured at left) includes a performance (with UVM students and flute affiliate artist Anne Janson) of the flute ensemble piece "Vermont Counterpoint" by Steve Reich. Reich, winner of the 2009 Pulitzer Prize in Music, will be in attendance and will discuss his music following the evening concert on Wednesday, November 16 at 7:30 p.m. in the UVM Recital Hall. This concert is free and open to the public.
A new composition by Patricia Julien, an a cappella setting of Sara Teasdale's "Stars," will be premiered by the Burlington Choral Society on Saturday, November 19 at 7:30 p.m. at Ira Allen Chapel on UVM's campus. For more about the BCS, visit their website at: http://www.bcsvermont.org/. Tickets for the concert can be purchased through the Flynn Box Office or at the door the night of the concert.

Julien's recent composition for solo classical guitar, "After Many Days Without Rain," will be performed by Aaron Larget-Caplan in Cambridge, MA at the New School of Music (25 Lowell St.) on Saturday, December 10th at 8:00 p.m. For additional details, visit: http://www.aaronlc.com/calendar.html.

Romance Languages and Linguistics
At the October Board of Trustees meeting, the chair of the Faculty Senate Curricular Affairs Committee, Cathy Paris, reported that the name of the Department of Romance Languages had been changed to the Department of Romance Languages and Linguistics.