TAKING CARE OF YOUR OLD BARN
Ten Tips for Preserving and Reusing
Vermont's Historic Agricultural Buildings
---

Produced by the Vermont Division for Historic Preservation
and Vermont Housing and Conservation Board, Montpelier, Vermont

---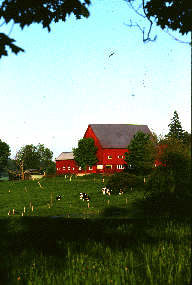 ---
This web site provides Vermont property owners with a basic guide to taking care of their historic barns and farm buildings. It includes some general guidelines, a short history of barns, ten tips for barn maintenance and repair, ways to adapt barns to other uses, sources of advice and funding for barn preservation, and a list of organizations that offer aid to those working on their barns.
---
Authors: Curtis B. Johnson, Thomas D. Visser
---
© 1995 Vermont Division for Historic Preservation and Vermont Housing and Conservation Board. All rights reserved.

---
Forward to the Table of Contents...
---
This site was produced by the Vermont Heritage Network at the University of Vermont Historic Preservation Program.