TAKING CARE OF YOUR OLD BARN
Tip # 9 - Save Some Original Interior Features.
---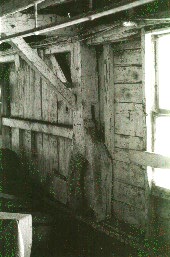 Barns often have historic interior features that are worth keeping. As you make repairs and adapt to new uses, think about how some of these features can be saved and reused to keep a physical record of the history of your building.
---
Barns from the early 1800s often had few interior features, so those that survive are rare and valuable, such as ladders leading to haylofts, low walls at the base of the hay mow, threshing floors, and cow stables with wooden stanchions. In later barns and agricultural buildings many other specialized features were built in, such as horse stalls, sheep and pig pens, laying boxes for poultry, hay tracks and forks, grain bins, interior silos, hoists for slaughtering, work benches, tack rooms, and finished rooms for stable hands and offices.

Flooring is the interior feature usually requiring the most maintenance in a well-used barn. Roof leaks and decaying hay may damage flooring and joists underneath, creating a hazard. Clear and sweep clean floors every few years so you can assess their condition. Many older barns have two-inch thick boards on the main floor, which can be matched with rough-sawn hemlock, spruce, and tamarack available from many local sawmills. Haylofts often have planed inch-thick boards, which may also be available locally. Joists supporting haylofts are often undersized, and new or additional joists may be required if the loft is to be used for heavier loads.

Electrical and mechanical systems often require updating or maintenance to keep a barn useful. Many barns have been lost to electrical fires. Old electrical wiring and fixtures should be inspected by an electrician and defective materials should be replaced. Mechanical systems for removing manure, hoisting hay and distributing silage will all benefit from regular lubrication and maintenance. Check to see that the system as originally installed does not cause structural problems or promote water damage by creating unprotected openings in the building. (Many early barns had cross beams removed in the later nineteenth century when hay forks were installed, allowing roofs to sag and walls to splay out.) Inspect where the system is attached to structural members and sheathing to see that it is secure and not damaging the building through vibration or poor weight distribution.

Interior renovations can usually bring a historic barn up to code and allow for the installation of the same equipment and mechanical systems that you could put in a new building. Before you begin any remodelling, develop a plan on how to use all the existing space of your building, rather than simply starting on a part of the barn that happens to be free of other uses or clutter. As you make plans, remember to consider ways that you may be able to keep significant interior features. For example, a horse stall might become a location for small equipment and an interior silo a storage area. Keeping such features will serve as a record of the former uses of your barn, and will add character to any new interior.
© 1995 Vermont Division for Historic Preservation and Vermont Housing and Conservation Board. All rights reserved.
---