TAKING CARE OF YOUR OLD BARN
Tip # 6 - Maintain Siding and Trim.
---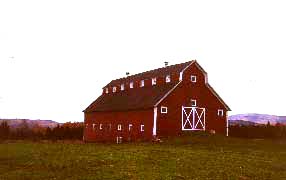 Siding and trim are part of your building's primary defense against the weather. If properly maintained and painted, they will last indefinitely and protect the structure and interior of the building.
---
Original siding contributes greatly to the historic character and appearance of agricultural buildings and is often a good indicator of their age. Thick, wide boards with spaces between sheathed the earliest barns, the spaces providing light and ventilation inside the barn. After about 1840 farmers began to sheath their barns with board-and-batten and overlapped double boards, also adding some windows. After 1870 most barns were sheathed with clapboard or wood shingle, with more windows and often a rooftop cupola for light and ventilation. Trim boards appeared on the corners of barns and cupolas and around windows and doors. In the twentieth century shiplap and "novelty" siding became a common choice for sheathing barns, and galvanized steel ventilators on rooftops helped to circulate air.

Sun and rain slowly wear away the surface of wooden siding and trim, while accidental impacts or water damage may lead to more rapid deterioration. Any surface decay near the ground or on roof cornices or soffits should be thoroughly assessed to ensure that it does not hide structural or other serious problems that should be repaired first. Rough, vertical board siding, as long as boards remain intact and well-ventilated, may last two hundred years unpainted. Most other siding and trim requires painting to preserve it.

Repairs to siding and trim should match the original if possible. Local sawmills can supply rough cut boards or finished clapboards to patch in with existing siding. Most trim is made from planed pine boards. However, radially sawn spruce or cedar clapboards are more durable than resawn pine. Similarly, cedar and then spruce will outlast pine in comparable grade shingles. Use galvanized box nails on all siding and trim to avoid rust stains. Painting finishes a good repair job. A durable enamel protects the trim pieces around windows, doors, and on corners that get worn and damaged more often.

A wooden cupola on top of a barn is an important architectural feature requiring special maintenance. Its exposed location makes it very vulnerable to weather damage. Keep it protected by regular painting. Inspect and repair its roofing and flashing, as needed. It is hard to get to. For repairs and painting scaffolding is needed, which may be built up from the roof outside or cantilevered out of the cupola openings.
© 1995 Vermont Division for Historic Preservation and Vermont Housing and Conservation Board. All rights reserved.

---