TAKING CARE OF YOUR OLD BARN
New Uses for Old Barns
---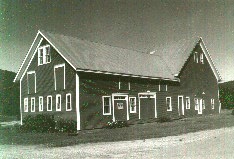 Consider adapting old barns to new uses when it is no longer possible to keep them for farming. Conversions to housing, offices, warehousing, retail use, restaurants, and community and recreational space have been successfully made. The challenge is to adapt the inside and outside, while retaining a barn's historic character. (See "Standards for Rehabilitation.")

Adapting a barn to a non-farm use requires careful planning. Tax incentives are available for income-producing uses, and the State of Vermont may have small matching grants (See "Barn-Aid Programs"). Consult with building and design professionals to learn as much as you can about the particulars of your barn before deciding on a new use and layout. Keep in mind that for the barn to retain its historic character, it will be best to maintain as much of the existing building unchanged as possible. (If you plan to add onto your barn, see "TIP # 10 - Make Changes and Additions With Care.")


Not all new uses fit in all barns. A barn that might make good housing may not make a good gym. (Storage is perhaps the one use suitable for most any former agricultural building.) New uses that take advantage of the existing features of a building will result in the most successful conversions. For example, barns with large open, clear-span interiors will allow for installation or storage of industrial equipment, while smaller barns with many existing stable windows will be more readily adapted to housing or office space.

The exterior of your barn should be changed as little as possible as you adapt to a new use. It is important to retain slate roofs, weathered siding, old trim, windows, and doors as visible evidence of the building's age. Add new windows in existing openings, such as unused hay and barn doors. If more windows are needed, consult with historic preservation design professionals about size and placement if possible. (Generally, new wooden windows should match the size of existing windows on the same barn level. They should be few in number and placed and spaced so that they match the existing pattern of door and window openings and do not call undue attention to themselves.) Rather than building large, new structures close by your barn, maintain the area around it as open as possible to preserve a sense of its agricultural setting.

The interior of your barn should be easy to adapt while retaining some historic elements. Leaving exposed framing in some areas and remnants of old stalls, pens, stanchions, or other animal enclosures will help keep something of the historic use and character of the barn. If possible, design an area where the barn's former open interior from floor to ceiling can be preserved, perhaps for an entry area or meeting room. Plan floor space to make the most of existing window openings and to minimize the need for new windows, which may greatly change the exterior appearance of your barn.
© 1995 Vermont Division for Historic Preservation and Vermont Housing and Conservation Board. All rights reserved.
---
Forward to Historic Preservation Standards...