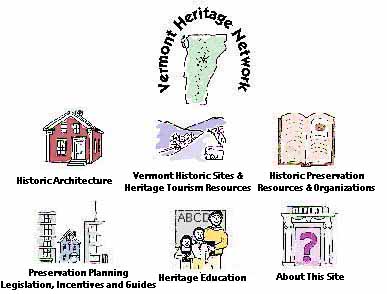 What is Historic Preservation?
Why is it Important to Vermont?
---
By definition, historic preservation is the thoughtful management of buildings, sites, structures, objects and landscape. To some, preservation is a tool for economic development. To others, preservation is a mechanism to maintain a community's individual identity and personality. In Vermont, preservation and downtown revitalization help reduce suburban sprawl into the countryside, keeping our unique landscape intact. Whether an archeological site, an urban storefront, a textile mill, a farm complex, or the cluster of homes around a village green, our historic resources enable us to make sense of our past, which in turn help us understand our present, and ultimately guide us in wise planning for our future.

Designed in 1996 by graduate students in the University of Vermont Historic Preservation Program as a working framework of information for residents, tourists, teachers and students, the mission of the Vermont Heritage Network (VHN) was to stimulate awareness and appreciation of Vermont's cultural heritage and built environment.

Although most of the site pages have now been retired, this was one of the first web sites published in Vermont with information relating to Historic Architecture, Preservation Planning, Heritage Tourism, Heritage Education and Historic Preservation Resources. Due to popular demand, the TAKING CARE OF YOUR OLD BARN: Ten Tips for Preserving and Reusing Vermont's Historic Agricultural Buildings link is still active.

The Vermont Heritage Network was created by the University of Vermont Historic Preservation Program class of 1997: Mark Brebach, Gabrielle Bourgerie, Meg Campbell, Brian Knight, Russell Newton and Elaine Park. Faculty advisors included Thomas Visser, now director of the Historic Preservation Program, and Emily Wadhams, who then served as the adjunct instructor for the Historic Preservation Contemporary Practice course. Other project advisors included Elsa Gilbertson of the State of Vermont Division for Historic Preservation, Julie Bressor of Shelburne Farms and Norwich University, and Hope Greenberg of the University of Vermont Computer Information and Training Program.

The project was made possible through the funding support of the Windham Foundation, the Vermont Community Foundation, and the Preservation Trust of Vermont.
---
Vermont Heritage Network
Historic Preservation Program
Wheeler House, University of Vermont
Burlington, VT 05405
www.uvm.edu/histpres