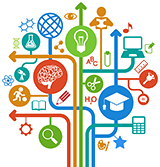 April 19, 2018
9:00am - 4:30pm
Davis Center, 4th Floor
Promoting Scholarship, Creative Work & Innovation

The UVM Student Research Conference (SRC) is a showcase of student research at every level and across every discipline within the University of Vermont. This showcase is a public event held annually in the UVM Davis Center.
We encourage any and all students, staff, faculty, and community members to come and support the wealth of innovation and creativity being exhibited at this event.
In the News
Photos
Created with
Admarket's
flickrSLiDR
.
SRC Participation Over the Years
Hover over a bar to see the exact number of projects or students for that year.
2017 Sponsors
The UVM Student Research Conference is sponsored by the Graduate College, the Honors College, and the Office of the Vice President for Research.
Thank you to our 2017 co-sponsors:
Center for Teaching and Learning
College of Agriculture and Life Sciences
College of Arts and Sciences
College of Education and Social Services
College of Engineering and Mathematical Sciences
College of Medicine
College of Nursing and Health Sciences
Graduate Student Senate
Grossman School of Business
Humanities Center

Office of Undergraduate Research
Rubenstein School of Environment and Natural Resources
Student Government Association
Transportation Research Center
UVM Libraries
UVM Print & Mail Center
Vermont Advanced Computing Core
Vermont Complex Systems Center
Vermont EPSCoR
Be an SRC Sponsor!
Find out how you can support the SRC by contacting Dan Harvey at: Dan.Harvey@uvm.edu