Modern Poetry
---
Elizabeth Bishop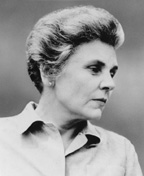 Elizabeth Bishop, born in Worcester, Massachusetts in 1911, had a difficult childhood: her father died when she was very young, and while still in early childhood her mother was permanently hospitalized in a sanitarium. She spent her childhood years living with her grandparents in Nova Scotia, and with relatives in Massachusetts.
Bishop attended Vassar College, and afterwards travelled a great deal, living at different times in New York, Key West, Brazil and Boston. She was for many years the Poetry Editor of The Nation magazine.
Bishop was Consultant in Poetry to the Library of Congress [the equivalent to what is now called the Poet Laureate] in 1949-50. In 1955, she received the Pulitzer Prize for Poems: North & South -- A Cold Spring. Her book of poems, Questions of Travel, won the National Book Award in 1965. A later book, Geography III, received the National Book Critics Circle Award in 1976.
Bishop taught poetry at Harvard and New York University.
She died on October 6, 1979.
Elizabeth Bishop's poems can be read in:
The Complete Poems, 1927-1979. Farrar, Straus, and Giroux: Noonday.

For a RealAudio presentation of Elizabeth Bishop's poetry by Huck Gutman, Professor of English at the University of Vermont, click on the image below. In the presentation you will hear a discussion of three of Bishop's poems, all available in the volume listed above. The first and third poems, below, are also available on the web: just click on their titles and you will be taken to the text of the poem!
"Filling Station"
"The Sandpiper"
"In the Waiting Room"
To hear Elizabeth Bishop read her poem, "Filling Station," click here.
To hear her read her poem "Sandpiper,: click here.
To hear her read her poem, "In the Waiting Room," click here.
Click on the photograph of Bishop for an exploration of her poetry!
To listen to the program on Bishop, you must use RealAudio.
If you do not have it, you can download it, for free, by clicking on the icon below and going to RealNetworks. [Make sure you look hard at the RealNetworks site to find thefree download --
it works as well as the version they charge you money for.]

Links:
Elizabeth Bisop's poem, with an on-line recording of her reading it: The Armadillo

Elizabeth Bishop reads her poem "Manuelzinho." Be careful: thje poem is in two files, and you must listen to both to hear the whole thing. Click on the au / wav file at: Manuelzinho

A lovely Bishop page, with links to other pages. From the Academy of American poets: Bishop page

My choice for Elizabeth Bishop's most stunning poem: Click here to read "At the Fishhouses."
An explanation, in text, of "At the Fishhouses," by Huck Gutman:

Elizabeth Bishop is a distinguished alumna of Vassar College. Vassar has begun a web page with links to Bishop bibliography, the Bishop papers in the Vassar Library, conferences on Bishop, and similar materials: Vassar

To join the Elizabeth Bishop Society, for a modest $5.00 a year ($3.00 for students): Elisabeth Bishop Society

Public Broadcasting will sell you a videotape of their hour-long show on Bishop for a modest fee: PBS Voices and Visions


Bishop's House in Brazil:
For many years Bishop lived in Ouro Preto, Brazil with her companion and lover, Lota de Macedo Sores. Here are two views of the house she dearly loved, and a third view from the house over the valley:




Comments?
Contact Huck Gutman by e-mail at sgutman@zoo.uvm.edu