Yehuda Amichai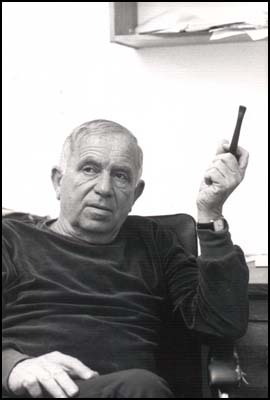 Born in Germany, Yehuda Amichai emigrated to Israel when he was twelve. One of the great love poets of modern times, his poems are at once humorous and filled with grief.
It is one of Amichai's richest accomplishments that he, by writing in the modern Hebrew spoken on the streets and in the shops and homes of Israel, helped created a vernacular literature for the new nation. Modern Israel, created largely by European Jewish immigrants, had at the outset a language problem. Immigrants spoke various languages, chief among the Yiddish. But a new nation, a Jewish state, demanded (as the founders of Israel saw it) a language appropriate to a Jewish state. European languages would not suffice: the Jewish homeland should speak Hebrew. But "Hebrew" was basically a classical language, preserved in books and texts; it was not supple enough to deal with the modern world, with all its innovations, technologies, new orientations. So a new language was invented, based on classical Hebrew but formed to meet the needs of a society both religious and secular, both rabbinic and political, both spiritual and commercial. Establishing this new language was a matter not just of shaping it, nor
even of teaching people how to speak it: the new language required central texts that would affirm its power, its range, its usefulness, its richness. Just a Dante helped solidify vernacular Italian by choosing to write in the demotic instead of classical Latin, just as Chaucer helped solidify English by writing a great epic in the language of everyday life, so Amichai helped solidify modern Hebrew as a language. Owing in large measure to his example, vernacular Hebrew has become the literary language of Israel, instead of the language of the Bible.
In Amichai one almost always encounters a delight in figurative language; yet his poems are never pretentious or tedious, since they speak out of the everyday and towards concerns we encounter every day. His great themes are love and loss: he celebrates life with vibrancy and energy and a relish for feeling, yet at the same time he is intensely aware of what is lost as history, both personal and social, shears away from each individual things he or she holds dear.

To hear a stimulating introduction to Yehuda Amichai's poetry by Professor Huck Gutman of the University of Vermont, click on the photo below:
To hear the presentation, you need RealAudio. If you don't already have RealAudio, you can download it easily (look carefully to find the FREE version of RealPlayer) by clicking on RealAudio.

Links
For a brief assessment of Amichai's life and poetry, visit Yehuda Amichai.
To go to a website which includes Amichai's "To the War Dead" and other poems of grief, a website curated by poet Edward Hirsch (winner of the National Book Critics Circle Award), enter by clicking Poetry of Grief and click on "To Go Its Way in Tears: Poems of Grief" at the bottom of the page.
A very brief biography and several other links to Amichai can be found at the Academy of American Poets page
Three late poems of Amichai, in print and also read in Hebrew and English by Chana Bloch. The poems are translated by Chana Bloch and Chana Kronfeld; Bloch also annotates the poems. In Real Audio: 3 translated poems
A book review of Amichai's collected poetry in English translation, contains three poems: Review
brief passage of praise by former Poet Laureate Robert Hass, plus the moving Amichai poem Seven Laments for the War Dead
A condolence page, set up at the death of Amichai in 2000: Condolences
A brief obituary, by Leon Weseltier, which appeared in The New Republic, and translations of five of Amichai's poems: Obituary
Three poems, including one Amichai read in Oslo when Yitzhak Rabin and Shimon Peres received the Nobel Peace Prize together with Yasir Arafat: At the Nobel Peace Prize
An interview with Amichai, mostly about Jerusalem
To buy books of poetry by Amichai, including: