Summer: Growth by molting
In the summer,

Nephila

spiders live on individual webs, capturing prey and growing by molting - shedding their "skin" - actually their external skeleton.
Juvenile

Nephila

are very small compared to mature females, and growing to maturity requires that they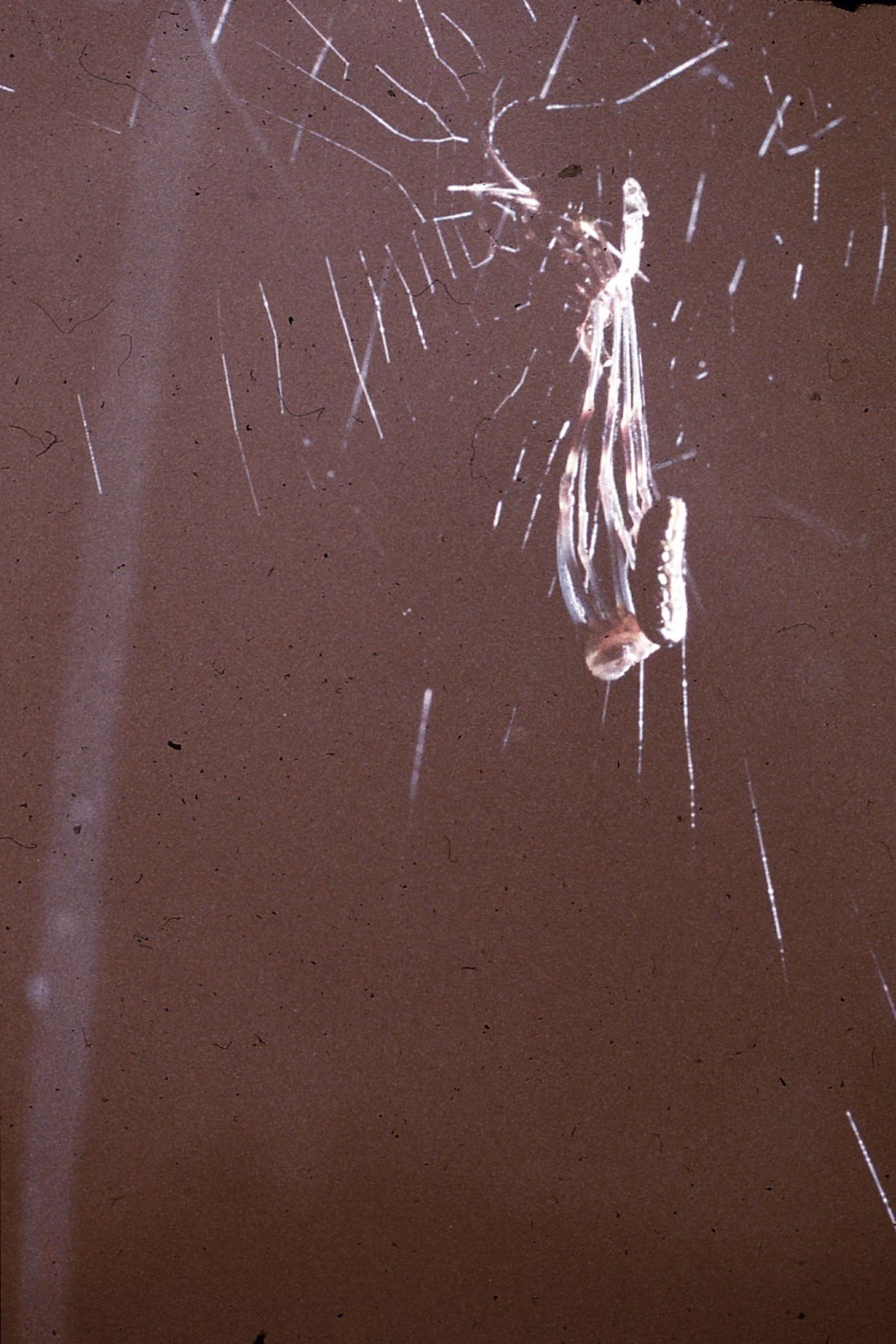 successfully pass through anywhere from 7 to 12 instars. The variation comes in part from how much they get to eat, and in part from how long the growing season is. I have studied both of these factors, and below are some of my own results.

The actual process of shedding an exoskeleton - called

ecdysis

- is very tricky for these spiders. First they grow the new exoskeleton inside of the old one. The new exoskeleton is chemically the same stuff as the old one, but it is not hardened yet and indeed is wrinkled like an egg carton to squeeze inside the old one, like having a large t-shirt on underneath a snug sweater. Some stretching will occur after the old skeleton is shed, but some of the new size must be there from the beginning.

With the new exoskeleton complete, the spider dissolves the living tissue between the old and new skeletons, leaving only nerve connections to the sensory organs - touch-sensitive hairs, eyes, and chemical sensory organs (taste and smell) located on the outside of the body. One day, the spider will hang from a thread on the orb web or under a leaf, disconnect those sensory organs, and pop the top on its cephalothorax (the body part with all the legs). The body proper usually slides out easily, but then - as you see in this photo, the legs must follow. It is not unusual for

Nephila

spiders, especially large females, to get stuck. The chemical changes involved in hardening off the new exoskeleton start as the old skin is shed. Spiders not infrequently die as their long legs harden and stick before they can be completely withdrawn from the old exoskeleton.

To preserve flexibility of the joints, recently-molted spiders engage in stretching and flexing their legs in very standard sequences that are marvelous to watch. An hour after the process starts, the spider is back on the web and, the next day, a new web is built and it is back in the business of eating.


Below are some questions I have asked about this process, the hypotheses I tested, and my results with links to published papers.