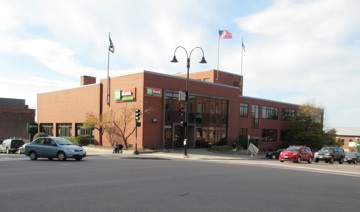 Van Ness House circa 1902. Postcard courtesy of Special Collections, UVM Bailey-Howe Library.
Corners of Main Street and St. Paul Street looking southwest, October 18, 2012. Photographed by Suzanne Mantegna.
The Van Ness House opened on October 25, 1870 at the southwestern corner of Main and St. Paul Streets. D. C. Barber and O. B. Ferguson built the 4-story brick veneered frame Italianate building on the site of the Howard House, which had burned in 1867. Future Vermont Governor U. A. Woodbury purchased the Van Ness in 1881 and quickly added the 5-story brick veneered frame addition on Main St.(1) In 1892, the 4-story with basement brick-veneered frame building was added on St. Paul Street. There is a two-story frame verandah wrapping the corner of Main and St. Paul Streets on the oldest section. A wood frame bracketed cornice wraps both the St. Paul and Main Street sides of the building and there are hoods over the windows. The hotel could accommodate up to 400 guests and was the host to Presidents McKinley, T. Roosevelt, and Taft.(2) According to Joseph Auld in Picturesque Burlington the Van Ness was "the greatest of the (eight hotels in Burlington)…a hotel of first class, and without a bar-room".(3) The sunroom was added in the early 1900's and expanded several times; there was also a walkway that extended along the roof. Max Powell, owner of the Hotel Vermont, purchased the Van Ness in 1915 and operated both hotels for several years. The Van Ness burned on May 24, 1951.(4)
The Van Ness building burned down in 1951. The land was vacant for several years and the current two-story brick International Style building was designed in 1957 by the Vermont architecture firm of Freeman French Freeman.(5) The Howard Bank was the original occupant of the building and in 2007 became TD Bank.
1. "Burlington and Vicinity," Burlington Free Press (Burlington, VT), October 21, 1870.
2. "A Famous Vermont Hostelry," The Vermonter: The State Magazine, vol. 16, no. 4, (White River Junction, VT: Charles R. Cummings Publisher), 95-7.
3. Joseph Auld, Picturesque Burlington: A Handbook of Burlington, Vermont and Lake Champlain, 2nd ed. (Burlington, VT: Free Press Association, 1893).
4. "Van Ness House, Burlington, Hit By $300,000 Fire," Plattsburgh Press-Republican (Plattsburgh, NY), May 25, 1951.
5. David J. Blow, Historic Guide to Burlington Neighborhoods, vol. 2 (Burlington, VT: Chittenden County Historical Society, 1997), 204.
Researched by Suzanne Mantegna