---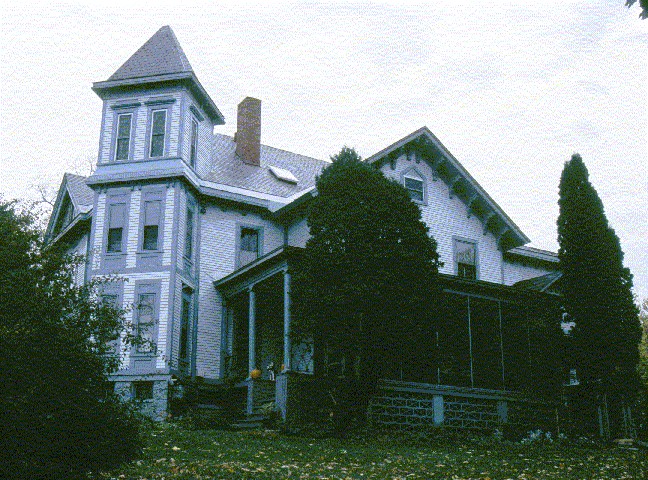 47 Adams Street
(north side between S. Winooski and Union)
Lois H. Coulter
The Smalley house was built ca. 1838 by Judge David Allen Smalley, State Senator, Collector of Customs, U.S. District Judge and an Originator of the Rutland Railroad. As he built it, the orientation of the house was to the west overlooking Lake Champlain. The land to the west, including Smalley Park was, at that time, part of the property.1 The main façade was a gable fronted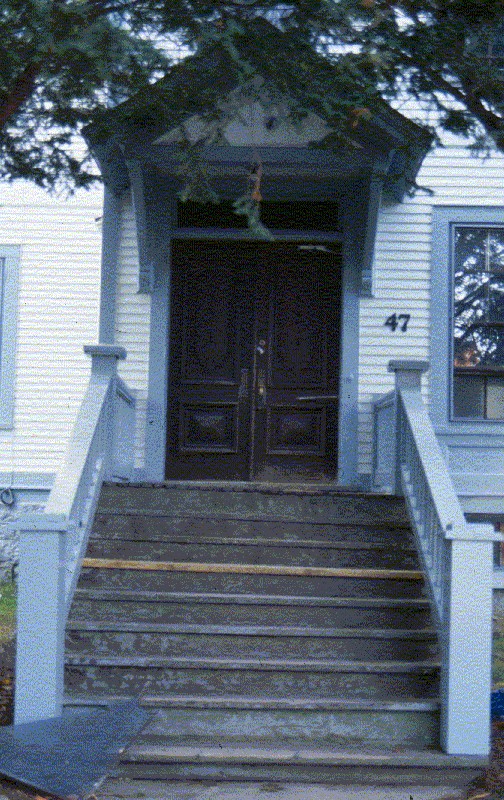 Greek Revival style with three bays built on a brick foundation. The original doorway still exists with its transom, sidelights, pilasters and full entablature. In 1882, after Bradley Barlow Smalley had inherited the family home following the death of his father,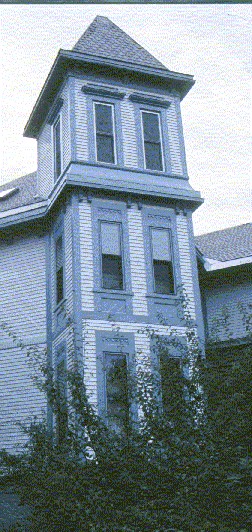 the house underwent massive renovations. The original structure remains as the central part of the house but little evidence of the original form is apparent. From its contained Greek Revival beginnings, the house's massing is now rambling and irregular on a sandstone foundation. It is 2 ½ stories with a slate covered hipped roof, 8x2 bays and a variety of porches, gablesand a dominating 3 story projecting tower with a pyramidal roof on the north west corner. The main façade was moved to the north elevation, where the new front entrance is Italianate in style with double doors under a pedimented hood with heavy brackets.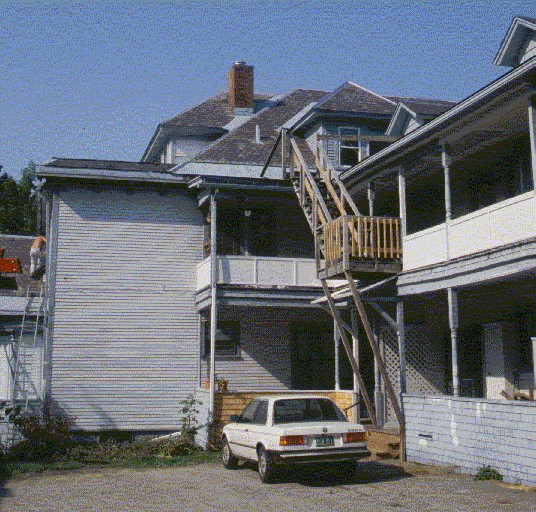 The cost of the additions; the new roof, increasing the height of the ell by one story, the larger wraparound porches, the tower on the north side and the fifteen additional rooms was $6000.2 In 1916, Caroline Smalley Jackson inherited the property from her mother Caroline M., the widow of Bradley Barlow Smalley. On April 23, 1920, she and her husband J. Holmes Jackson deeded the west portion of the property to the City of Burlington to be known as Smalley Park. The property passed out of the Smalley family's ownership on September 19, 1923 when it was sold to George Saiger.3 In 1925 the Smalley family home was turned into apartments.
The two clapboard outbuildings remain on the property essentially unchanged and still structurally sound. They retain their original glazing and hand wrought hardware. One building retains its twelve over eight sashes, the other four over four.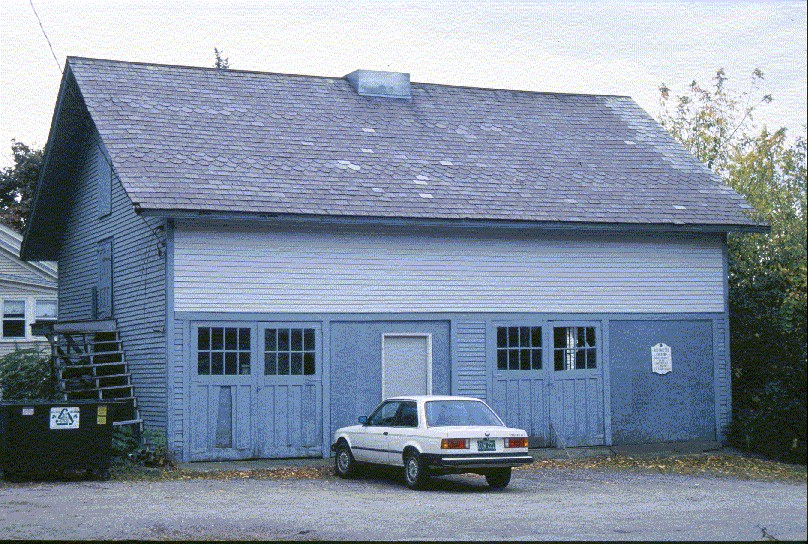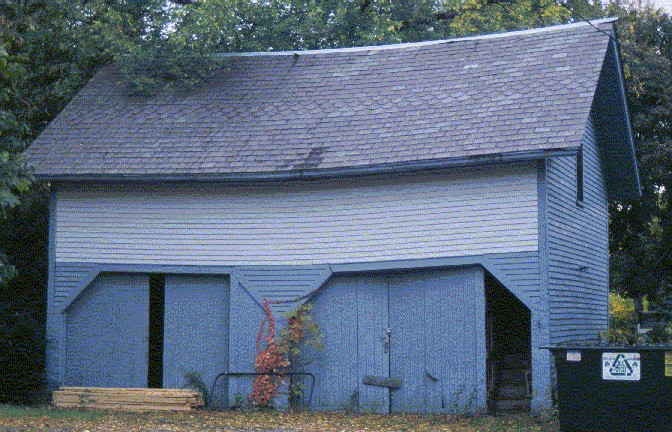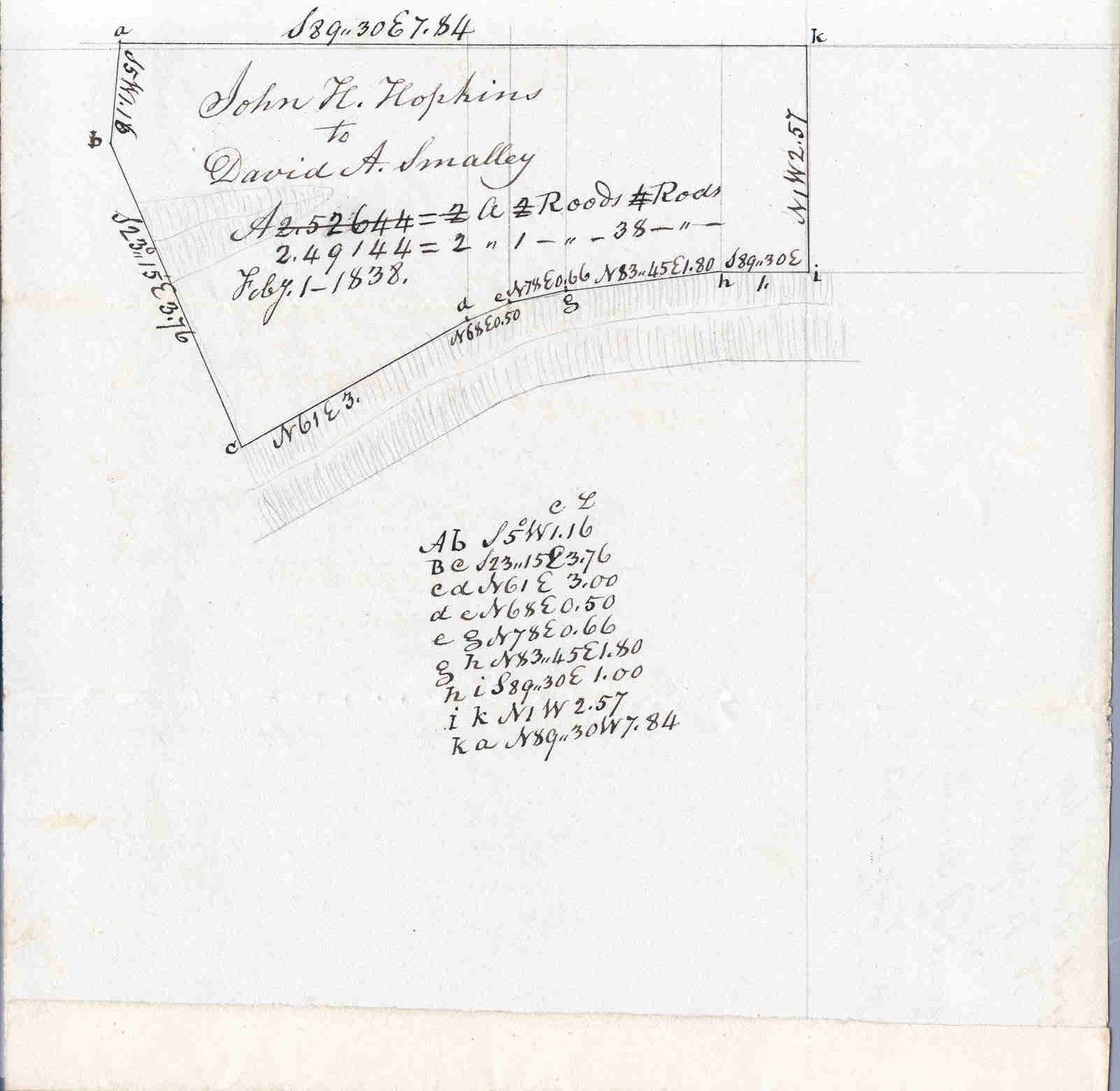 Hand drawn map dated February 1, 1838 showing land sold to D. A. Smalley by J.H. Hopkins. The parcel includes the site of the house constructed at 47 Adams Street as well as Smalley Park.4


1 National Register for Historic Places Inventory - Nomination Form, Battery, King Street Historic District (amendment), p. 35.

2 The Vermont Division for Historic Preservation, Vermont Historic Sites and Structures Survey, Burlington, S. Winooski Avenue.

3 Burlington Land Records, Volume 83, Page 495, September 19, 1923
4 John Johnson, Maps and Surveys: Burlington Land sold by J.H. Hopkins to D.A. Smalley 1838 University of Vermont Special Collections.

Return to Church Street Corridor