Regency Gowns
As an English Country Dance I enjoy dancing in a period-appropriate gown. Having a history background, I enjoy researching those gowns, with an eye to the details that represent the evolution of fashion during the late 18th-early 19th centuries. And of course, as a Janeite, I am particularly interested in Austen's use of clothing speech in her novels and how it aligns (or doesn't) with the way she writes about dress in her letters.
Though my vision usually exceeds my execution, here are a few of the gowns I have made along with their inspirations. While one should never criticize the work of others, I've decided I can criticize my own work so I have indicated where these gowns depart from their historical models.
First Impressions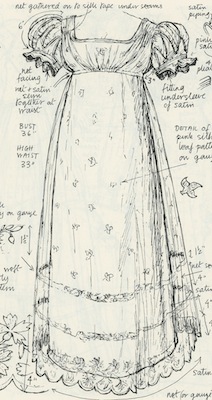 Bradfield, Nancy. Silk gown c. 1823.

Costume in Detail

, p. 119.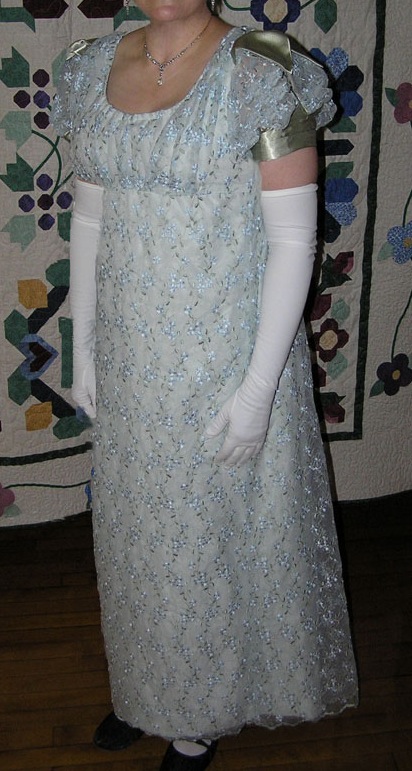 My first ball gown was based on one from Nancy Bradfield's invaluable book "Costume in Detail: Women's Dress 1730-1930" (p. 119). The gown is described as a c. 1823 "fine cream silk gauze, machine-embroidered pink satin floral pattern, under-dress of white satin padded at the hem. High waistline, sash probably of pink satin now missing. Puffs of gauze on satin sleeve."
As it was my first and I did not assume there would be a second, I wanted to find a fairly inexpensive fabric. The price was right, the all-over embroidery instead of small spot embroidery was wrong, the lack of the distinctive tracery embroidery near the hem as well as padded rouleaux were lamentable, but the fabric had an embroidered border which helped and a color that made it irresistible. It is lined with a lightweight silk shantung of pale green with satin trimming on the sleeve. The first iteration had the pointed silk as seen in the original but it seemed to need more so I added petals. I now wish I hadn't but they are there to stay. There was not quite enough fabric (it had been a bolt end) so the skirt was not as full as one would expect for 1823, nor was the bodice quite as wide. However it has proved to be a reliable dress that has been loaned to several people. The ribbon casing in the neckline and at the waist make it fairly adjustable as well as ensuring that the bodice has no unsightly gaps. (And the embroidery glints beautifully in candlelight!)