Godey's Lady's Book
Fashions and Patterns
The beginning of each issue of the Book in the period 1855-1858 contained a hand-tinted engraving of current fashions. This was followed by several pages that included engravings to illustrate stories and engravings of other fashionable items such as hats, shawls, etc. There were also several pages of "work": embroidery patterns, slipper patters, etc.

At the end of each issue was a section devoted to more patterns. Here may be found dress patterns, patterns for childrens' clothing as well as such items as knitted flower vases, anti-macassars, etc.

The Book ended with a description by the "fashion editress" of the color plate and other fashions.
---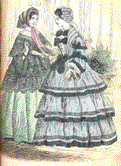 The Color Fashion Plates
A hand-tinted fashion plate can be found at the beginning of each magazine. Godey once commented that he had 150 women w orking in their homes to apply the watercolor to each plate. Since the exact hue (and sometimes the color itself, if she ran out of paint) was left to each painter to decide, there were variations. Godey explained this to his readers as an opportunity for them to compare plates and see how a particular garment would look in various shades. These plates were and continue to be collectors' items and so many are missing from these volumes. (This is a "graphics intensive" file so be patient!)
---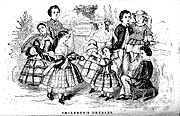 Other Fashion Plates
In addition to the color fashion plates a number of full page fashion engravings were a regular part of the magazine.
---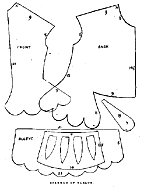 Practical Dress Instructor
Almost every issue of the Lady's Book during this period included at least one pattern with measurements, and an illustration of the completed garment. Most often these were womens' fashions: dresses, basques, jackets, etc., but also represented are children's clothing, and less frequently, men's.
---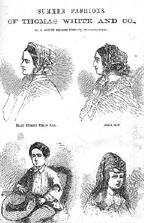 Novelties
Many pages were devoted to illustrating and describing "novelties" or what we would now call fashion accessories: bonnets, cloaks, hair ornaments, etc .
---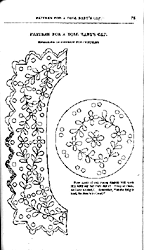 Work
Knitted socks and household items, crocheted booties and doilies, needlework patterns for slippers, antimacassars, and instructions and illustrations for creating many other items were included.
---
Fashion Articles
In addition to images and plates of fashions, and each month's description of the fashion plate, the Book contained articles on dressmaking and dressing.

---

Godey's Lady's Book: Samples Collection
Created and copyright by Hope Greenberg. Last updated: April 2000.