The Eugenics Survey of Vermont: Participants & Partners
VERMONT STATE SCHOOL FOR THE FEEBLEMINDED
BRANDON TRAINING SCHOOL, 1929-1993
BraNDON, VERMONT
Truman J. Allen, Superintendent, 1918-1936
In 1912 the Vermont State Legislature authorized the construction of a school for the care and training of feebleminded children aged 5-21 years. When the State School for the Feebleminded in Brandon, Vermont opened in 1915, it soon assumed the eugenic function of segregation from society of "feebleminded women of childbearing age."
The institution filled rapidly and soon became over-crowded with women and children, many placed there for reasons of poverty, neglect, illiteracy, or failure in school. Social, legal, and economic forces conspired to create the problem. In 1918, destitute children could no longer be placed in poorhouses or on poor farms, and child welfare agents often placed children at Brandon. In 1919, the age for women committed to Brandon was raised to 45 years. In 1921 town listers were required by law to submit names and ages of feebleminded children in their towns.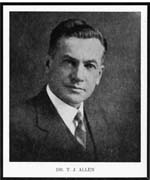 Dr. Truman J. Allen served as VSS superintendent from 1918 until his death in 1937. Born in Royalton, Vermont in 1888, Dr. Allen graduated from the UVM College of Medicine in 1913. He served as assistant physician at the Vermont State Hospital for the Insane and Instructor of Mental Diseases at the UVM College of Medicine prior to his appointment at Brandon. Persistently frustrated with over-crowded facilities and low budgets, Dr. Allen sought to expand the institution and enlarge its authority over Vermont's "feebleminded" population. In 1925, a colony for feebleminded women was started in Rutland, where women received training as domestics and were hired out to local families to help make the institution self-supporting.
The Vermont State School assumed an important role in the Vermont's eugenics movement. Records of inmates provided starting points for the Eugenics Survey's "pedigrees of degenerate families" in 1925-28 and for their 1929 study of the "Brandon Waiting List." Inmates were tested in the National Committee of Mental Hygiene 1927 mental survey of Vermont school children. While Truman Allen's support for eugenics was qualified, he actively promoted the passage of the 1931 sterilization law as "one tool" in a comprehensive program to control the mentally deficient population.
Dr. Allen's successor, Dr. Frederick Thorne, supported eugenic measures in the 1940s, expanded the women's colony at Rutland, and enlarged his authority over state programs for mental retardation. He supervised the state psychiatric clinics begun in 1939 and served on the State Board for Control of Mental Defectives. From 1915 until it closed in 1993, Brandon Training School was home to 2,324 Vermonters.