<![if !vml]>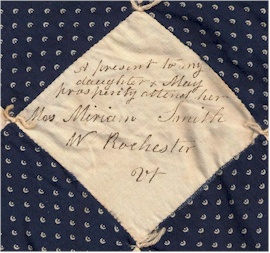 <![endif]>
Answering the question "Who made the quilt?" is complicated.  The strongest evidence we have is based on Mrs. Miriam Smith's inscription, which reads:  "A present to my daughter & May prosperity attend her."  But to which daughter of Fuller and Miriam Smith does it refer, and what is the nature of the "present?"  
Based on census records between 1820 and 1850, Fuller Smith and Miriam Rowell had as few as six children, three of whom were girls.  The oldest daughter, born between 1815-1820 is unidentified and largely untraceable.  She may have died young, or she may have married and set up housekeeping with her husband prior to the 1850 census—the first to list all members of a household by name.  In any event, her name is unknown, but it does not appear on the quilt.
Two women represented on the quilt are daughters:  Mrs. Elizabeth Dyer, born in 1822, and Miss Olive T. Smith, born in 1827.  At the time of the 1850 federal census, Elizabeth Dyer and her husband Ephraim were living with their young son within the household of Fuller and Miriam Smith in West Rochester, Vermont.  Their other daughter, Olive, became the wife of John Q.A. White of Rochester, Vermont.  Two additional "daughters" should be considered as the possible recipient of the quilt as well:  Miriam's daughters-in-law, Lovina Chase (wife of son Oliver P. Smith), and Sarah M. Smith (wife of son Chester M. Smith).  <![if !vml]>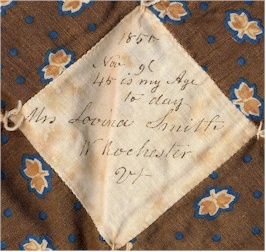 <![endif]>
Miriam's son Chester was married to his first cousin, Sarah M. Smith 02 December 1850.  Her other daughter-in-law, Lovina had the following inscribed on her quilt block:  1850, Nov 9, 45 is my Age to day."  Since the handwriting used to inscribe Lovina's name is the same used on nearly all of the blocks, it may mean that the bulk of the quilt was created on or around November 1850, just one month prior to the wedding of Chester and Sarah Smith.  If this is the case, Miriam may have intended the quilt as a wedding gift to her new daughter-in-law.  Since quilts were often made to commemorate a wedding, and Miriam hopes that "prosperity" attends her daughter, this is a distinct possibility. 
But what kind of "present" was intended?  When Miriam uses the word "present" does she mean that the entire quilt was a present made by herself (or by a variety of family and friends), or are the blocks alone, or even the fabric given to create them, the "present?"  In other words, who actually made the quilt, and what was its purpose? 
<![if !vml]>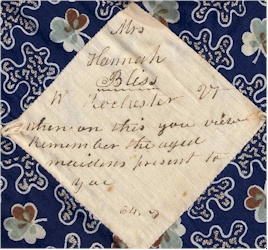 <![endif]>The physical condition of the quilt tells us something important:  If the entire quilt was intended as a "present," it was not given in completed form. "Sometimes," as Laurette Carroll notes, "the recipient received a finished quilt and at other times received only the signed quilt top or a group of signed quilt blocks."[1] 
This quilt is comprised of 29 blocks set on point in a popular pattern of the time known as the Album Patch.  The blocks are connected by "turkey red" sashing that crosses diagonally in rows in each direction.  The entire quilt top, thus arranged, is meticulously hand stitched at a rate of 12 stitches per inch.  The project, however, like many others of its kind, was never finished.  At some point many years later a large print red fabric was used to back and bind the edges of the quilt, and the quilt was tied using a piece of thin flannel as batting.  The binding is stitched entirely by machine.  The piece was never quilted, and there is no evidence that an earlier binding was either removed or replaced.  It was simply never finished by its original maker.
Evidence of this also comes from inscriptions written on other blocks.  While most were written in the same careful penmanship by a single person (probably on, or around, 09 November 1850), two blocks at least were added later:  one to honor the death of Hannah J. Brown on 05 April 1851, and another stating Mrs. Lovina McAlister's age of 66 years on 25 August 1852.  The placement of Lovina McAlister's block is likewise an important piece of evidence.  Today, it is cut into two halves that appear separately in the top row of the quilt design.  Since the original square had created an uneven number, it alone would have extended beyond the top edge.  In order to create a uniform shape upon binding, it had to be cut and repositioned.  This tells us that the quilt maker and/or recipient had originally anticipated adding more blocks to finish the row, but they never came.  Eventually, the unfinished quilt top—measuring 80" x 75"—was put aside and forgotten, until many years later when it was finished at last.  The forgotten fate of the West Rochester quilt was not uncommon.  As Jane Bentley Kolter reasons in Forget Me Not: A Gallery of Friendship and Album Quilts (1995): "It is easy to imagine the last-minute preparations for moving or a wedding interfering with the quilting job at hand.  Some were never put together at all.  The quilt top is all that remains—carefully preserved for sentiments, not warmth."[2]
Finally, the hand stitching used throughout the quilt is fine and meticulous.  There is no evidence that women of different skill levels in sewing joined together to make the quilt, even though the women named on it ranged in age between 1 and 66.  It seems unlikely that young girls could have produced blocks equal to their adult relations, or that older women would have had sufficiently sharp eyesight to do the same.  Yet the quilt contains 27 different cotton dress fabrics—too many to have come from one woman's scrap bag.  In this case it seems likely that each woman contributed a piece of fabric (perhaps something with special significance to her), while someone else sewed those pieces into a quilt top. 
Today, "[w]e tend to visualize a woman making and signing her block to be later sewn together into a friendship quilt. Although this was a common practice there were other ways a friendship quilt could be created. Sometimes a single person collected bits of fabric from others making a block from each contribution then signing the block with that person's name."<![if !supportFootnotes]>[1]<![endif]>[3]  In short, it is possible that a daughter (or daughter-in-law) of Miriam Smith might have sewed her own friendship quilt, and that the scraps of fabrics were a "present" to get her started on a project she desired.
Yet which daughter?  Census records in 1870 indicate that Lovina Chase Smith could read, but not write.  It seems unlikely that a friendship quilt based on signatures would have had meaning to someone without full literacy.  Sarah M. Smith's marriage in late 1850 makes her a better possibility.  Friendship quilts were often created by young women in the time preceding their marriage.  Yet in Sarah's case, she had been born and raised in Canterbury, Connecticut.  It would seem more likely for her to make an album quilt with the names of those in Connecticut she was leaving behind before starting a new life in Vermont.  And indeed she did.  A quilt made by Sarah M. Smith in 1850 is currently the prized possession of one her descendants.  It is featured in Richard L. Cleveland and Donna Bister's book Plain and Fancy: Vermont's People and Their Quilts (1991).[4]  It seems unlikely that Sarah would have created two friendship quilts in the same year, but perhaps her endeavor inspired one of her sisters-in-law to create a quilt of their own.
In addition to marriage as an inspiration for quilt-making, oral history also tells us that friendship quilts were made when women moved far from home.  As Laurette Carroll notes: "Perhaps the most popular reason to make an Album quilt was because a family member or friend was moving away from the area. The recipients were presented with a finished quilt, or perhaps a quilt top or a set of signature blocks, to take with them, made by their friends or family, as a remembrance of loved ones at home."<![if !supportFootnotes]>[2]<![endif]>[5]  In Olive T. Smith's case, she was working in the textile mills of Lowell, Massachusetts in 1850.  Perhaps she was collecting blocks to remember those loved ones she left behind.
There is one final factor to consider.  Would a woman have signed her own friendship quilt?  Linda Otto Lipsett says yes.  She notes that that "quiltmaker usually included a block of her own somewhere on the quilt…" even if "she used only initials for part or all of her name."<![if !supportFootnotes]>[3]<![endif]>[6]  The names Mrs. Elizabeth Dyer, Miss Olive T. Smith, Mrs. Lovina Smith and Mrs. Sarah M. Smith, all appear on the quilt.  In this case, either the quilt owner did indeed sign, or the quilt belonged to that mysterious and unknown oldest daughter of Fuller Smith and Miriam Rowell, who would have been in her early 30s at the time.