DEBATE CENTRAL


Debating Resources for the World since 1994
Debate Central Dedication
DEBATE CENTRAL is dedicated to all of those who learn, teach, explore, and enjoy rational discourse through debate. The hope which launches this project is that the practice of educational debating will lead to a more informed, critical, and compassionate citizenry which will speak out in the face of evil, explore solutions through advocacy in the face of problems, and will demand reasons and justifications from all institutions and fellow citizens.



DEBATE CENTRAL recalls two specific individuals who have been essential for the long term creation of this resource.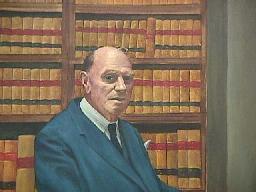 Edwin W. Lawrence
A graduate of the University of Vermont in 1901, Edwin W. Lawrence helped found debating at his alma mater in 1899, and then went on to use his debating skills as an extremely successful lawyer, banker, and investor. He believed that debate was essential for an enlightened citizenry, which he saw as an essential component of a working democracy.

In the 1960's Edwin Lawrence began working toward establishing an endowment to guarantee that intercollegiate debating would always exist at the University of Vermont. He endowed a forensic professorship in his name as well as a companion endowment to fund intercollegiate debating. Generations of Vermont students have come to thank and appreciate Edwin Lawrence for his generous gift. His spirit lives on in the Lawrence Debate Union, and is expressed through this site in cyberspace. The Lawrence Library is named after him.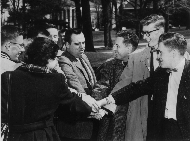 [with students, third from right]
Robert Huber
Robert Huber came to the University of Vermont in the late 1940's to teach Speech Communication and to coach debate. He showed an ability to attract the brightest minds on campus to his debate team as well as to turn normal students into the brightest minds on campus. His teams not only showed tremendous competitive success, but also created a community of concerned students. Often they went to all corners of Vermont to bring exhibition debates and discussions to high schools and citizen groups. In 1950 Vermont won the National Championship for varsity debating, and later won several national titles through his beloved forensic honorary society, Delta Sigma Rho-Tau Kappa Alpha. He worked with Edwin Lawrence to create the Lawrence endowments to guarantee that debate would always be a part of campus life. "Doc" Huber's commitment to excellence and community service lives on today in the Lawrence Debate Union and through this site in cyberspace.
Dedicated 1 September 1993