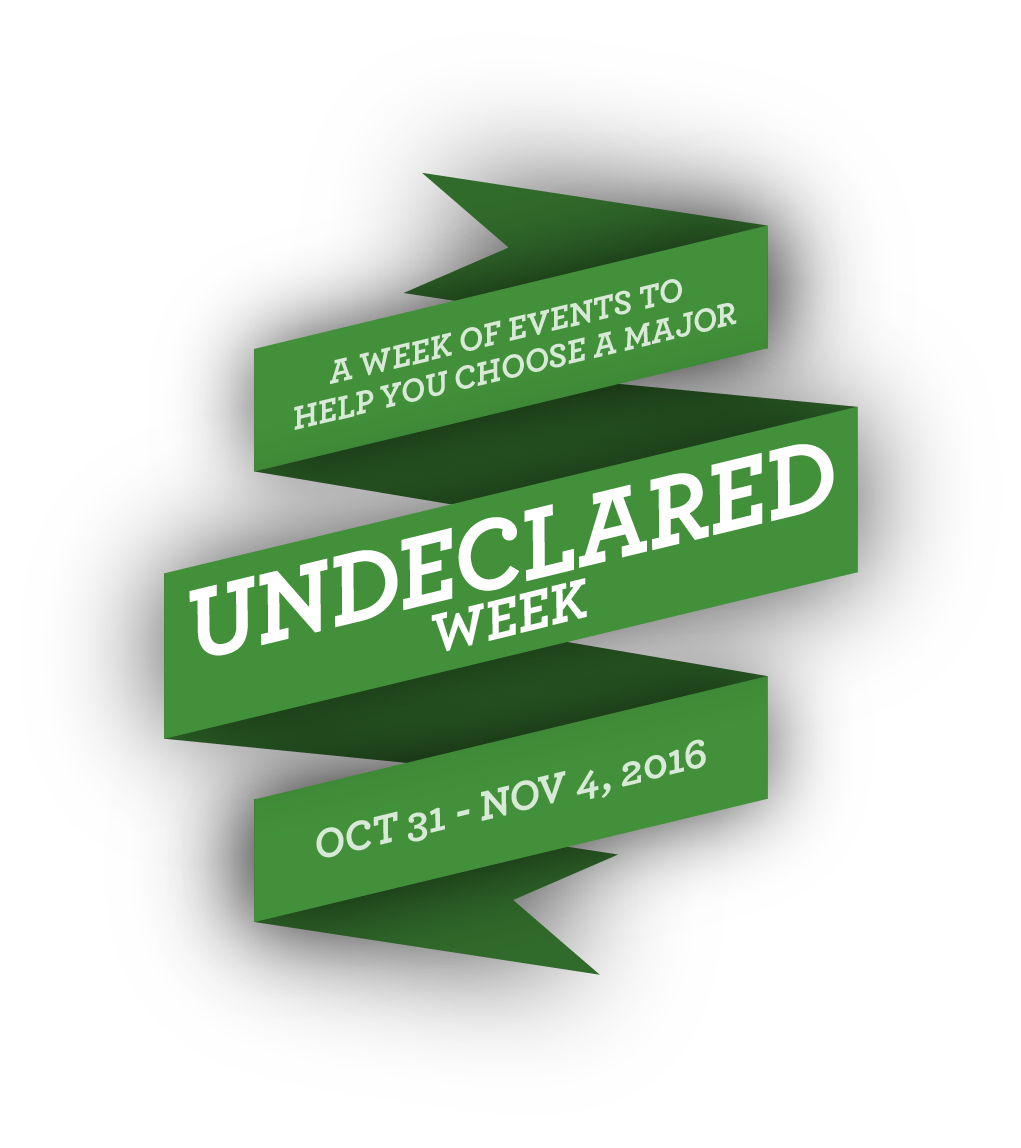 Visit 100-level classes
Get a taste for what a major is really like, without having to take the prereqs. See below for a list of classes you can visit this week.
1:30 - 3:30 pm
CAS Dean's Office, 438 College St
CAS DROP-IN ADVISING
If you're a CAS student, swing by the CAS Dean's Office from 1:30pm to 3:30pm all week for a one-on-one with one of our rockstar advisors, and get all your major questions answered.
FOLLOW
@UVMcas

ON TWITTER FOR MAJOR-CHOOSING TIPS

We'll be Tweeting helpful tips from seniors and advisors all week. Follow along! Got your own tips or questions? Tweet @UVMcas with the hashtag #UndeclaredWeek.
12:00 - 1:00 pm
2:00 - 3:00 pm
Davis Center, Rosa Parks Room

FREE CUPCAKES!
"How to Choose a Major" WorkshopS
In this fun kick-off event to Undeclared Week, get guidance on making the major decision, and do some hands-on exercises to start figuring it out. (Turns out choosing a major is a piece of cake! Literally. There will be cupcakes.)
2:00 - 4:00 pm
Davis Center, Grand Maple Ballroom
MAJORS FAIR
Meet with faculty and students representing different majors at UVM, and get help with declaring or changing your major.
5:30 - 6:30 pm
Davis Center, Rosa Parks Room

FREE PIZZA!
STUDENT PANEL: "HOW I CHOSE MY MAJOR"
Come hear seniors tell their stories of picking a major, and ask them questions.
1:00 - 4:00 pm
Davis Center, Rosa Parks Room
CAS "CHARTING YOUR PATH" Workshop
In this drop-in activity, CAS students will be able to sit down with an advisor one-on-one and figure out what classes you need to take, semester by semester, to complete the major(s) you want. You can come any time during this time slot, but get there early to avoid the wait!
1:00 - 3:00 pm
Davis Center, Career + Experience Hub
"What can I do with a major in ____?"
Talk with a Career Center counselor or Career Peer Mentor about what life after UVM can be like with the major(s) you're considering. Drop in anytime during this time slot.
CLASSES YOU CAN VISIT THIS WEEK
We're still adding to this list, so check back often!
Prof. Jeanne Shea
1:10 pm - 2:00 pm (Mon, Wed, Fri)
Waterman 413
Prof. Jeanne Shea
10:50 am - 11:40 am (Wed & Fri)
Billing Ira Allen Lecture Hall
Prof. Jeanne Shea
3:30 pm - 4:45 pm (Mon & Wed)
Kalkin 001
Prof. Jennifer Dickinson
10:05 am - 11:20 am (Tues & Thurs)
Lafayette L302
Prof. Kelsey Brosnan
5:05 pm - 6:20 pm (Mon & Wed)
Williams 402
Prof. Pamela Fraser
12:00 pm - 1:50 pm (Mon & Wed)
Williams 213
Prof. Pamela Fraser
2:20 pm - 4:10 pm (Mon & Wed)
Williams 213
Prof. William McDowell
10:05 am - 11:55 am (Tues & Thurs)
Williams 414
Prof. Tom Brennan
1:10 pm - 3:00 pm (Mon & Wed)
Williams 415
Prof. John Perry
6:00 pm - 7:15 pm (Tues & Thurs)
Kalkin 003
Prof. Stephen Keller
11:40 am - 12:55 pm (Tues & Thurs)
Rowell 103
Prof. Nicholas Gotelli
2:20 pm - 03:10 pm (Friday)
Williams 301
Prof. Susan Hughes
3:30 pm - 4:45 pm (Mon & Wed)
Kalkin 003
Prof. Allison Kingsley
1:15 pm - 2:30 pm (Tues & Thurs)
Kalkin 002
Prof. Dita Sharma
12:00 pm - 3:00 pm (Wednesday)
Kalkin 325
Prof. Amy Tomas
4:35 PM - 7:35 pm (Tuesday)
Kalkin 002
Dwight Matthews
10:50 am - 11:40 am (Mon, Wed, Fri)
Lafayette L403
Prof. Matthias Brewer
8:30 am - 9:20 am (Mon, Wed, Fri)
Jeffords 112
Prof. Willem Leenstra
9:40 am - 10:30 am (Wed & Fri)
Waterman 427
Prof. Brian Walsh
4:25 pm - 5:40 pm (Tues & Thurs)
Living/Learning Commons 315
Prof. John Franklin
2:20 pm - 3:10 pm (Tues & Thurs)
Old Mill Annex A200
Prof. Byung Lee
10:50 am - 11:40 am (Mon, Wed, Fri)
Kalkin 004
Prof. Robert Erickson
2:20 pm - 03:10 pm (Mon & Wed)
Terril 108
Prof. Robert Erickson
3:30 pm - 4:20 pm (Mon & Wed)
Votey 209
Prof. Donna Ramirez Harrington
1:10 pm - 2:00 pm (Mon, Wed, Fri)
Jeffords 127
Prof. Elaine McCrate
8:30 am - 9:45 am (Tues & Thurs)
Jeffords 112
Prof. Arthur Woolf
10:50 am - 11:40 am (Mon, Wed, Fri)
Jeffords 127
Prof. Lauren Lawson
8:30 am - 11:30 am (Monday)
Living/Learning A101
Prof. Katherine Cowles
8:30 am - 11:30 am (Friday)
Living/Learning A101
Prof. Katherine Cowles
12:50 pm - 3:50 pm (Monday)
Living/Learning A161
Prof. Maureen Neumann
2:50 pm - 4:05 pm (Tues & Thurs)
Waterman 426
Prof. Cindy Leonard
2:50 pm - 4:05 pm (Tues & Thurs)
Kalkin 004
Prof. Ellen Baker
12:45 pm - 3:45 pm (Monday)
Waterman 539D
Prof. Kenneth Reissig
8:30 am - 11:30 am (Thursday)
Living/Learning D107
Prof. Katharine Shepherd
1:15 pm - 2:30 pm (Tues & Thurs)
Fleming 101
Prof. Jennifer Prue
4:25 pm - 5:40 pm (Tues & Thurs)
Dewey 314
Prof. Cynthia Reyes
12:50 pm - 3:50 pm (Wednesday)
Waterman 426
Prof. Jennifer Sisk
12:00 pm - 12:50 pm (Friday)
Lafayette L100
Prof. Andrew Barnaby
2:50 PM - 4:05 pm (Thursday)
Lafayette L100
Prof. Elizabeth Fenton
10:50 am - 11:40 am (Mon, Wed, Fri)
Lafayette L200
Prof. Mary Louise Kete
12:00 pm - 12:50 pm (Mon, Wed, Fri)
Lafayette L200
Prof. Christine Vatovec
12:00 pm - 3:00 pm (Monday)
Rowell 110
Prof. Eduardo Rodriguez
9:40 am - 10:30 am (Mon, Wed, Fri)
Votey 105
Prof. Meaghan Emery
12:00 pm - 12:50 pm (Mon, Wed, Fri)
Old Mill Annex A200
Prof. Sarah Nilsen
12:00 pm - 12:50 pm (Mon, Wed, Fri)
Old Mill Annex A303
Prof. Shelly Rayback
2:50 PM - 4:05 PM (Tues & Thurs)
Lafayette L300
Prof. Pete Young
8:30 am - 9:20 am (Monday)
Lafayette L200
Prof. Cheryl Morse
8:30 am - 11:30 am (Monday)
Old Mill 221
Prof. Theresia Hoeck
10:50 am - 11:40 am (Wed & Fri)
Hills 226
Prof. Dennis Mahoney
1:15 pm - 2:30 pm (Tues & Thurs)
Waterman 419
Prof. Elaine McCrate
8:30 am - 9:45 am (Tues & Thurs)
Jeffords 112
Prof. Dona Brown
2:50 pm - 4:05 pm (Tuesday)
Lafayette L102
Prof. David Massell
1:15 pm - 2:30 pm (Tues & Thurs)
Lafayette L300
Prof. Denise Youngblood
1:15 pm - 2:30 pm (Tuesday)
Perkins 102
Prof. Harvey Amani Whitfield
1:15 pm - 2:30 pm (Tues & Thurs)
Lafayette L200
Prof. Nicole Phelps/Andrew Buchanan
12:00 pm - 12:50 pm (Friday)
Lafayette L102
Prof. Antontello Borra
1:15 pm - 2:30 pm (Tues & Thurs)
Williams 511
Prof. Cristina Mazzoni
1:10 pm - 2:00 pm (Mon, Wed, Fri)
Lafayette L300
Prof. Julie Robert
2:50 pm - 4:05 pm (Tues & Thurs)
Waterman 401
Prof. Maeve Eberhardt
11:40 am - 12:55 pm (Tues & Thurs)
Mann Hall 211
Prof. Christelle Vincent
9:40 am - 10:30 am (Mon, Wed, Fri)
Perkins 107
Prof. Jeffrey Dinitz
10:05 am - 11:20 am (Tues & Thurs)
Votey 367
Prof. Cathy Paris
11:40 am - 12:55 pm (Tues & Thurs)
Jeffords 110
Prof. Laura Hill
1:15 pm - 2:30 pm (Tues & Thurs)
Waterman 423
Prof. Sin-Yee Chan
1:10 pm - 2:00 pm (Mon, Wed, Fri)
Waterman 401
Matthew Carlson
2:50 pm - 4:05 pm (Tues & Thurs)
Lafayette L302
Prof. Alec Ewald
11:40 am - 12:55 pm (Tues & Thurs)
Old Mill 523
Prof. Patrick Neal
4:25 pm - 5:40 pm (Tues & Thurs)
A-500 Old Mill
Prof. Peter Hennea
1:10 pm - 2:00 pm (Mon, Wed, Fri)
Lafayette L302
Prof. Robert Bartlett
3:30 pm - 4:20 pm (Mon & Wed)
Votey 254
Prof. Matthew Carlson
11:40 am - 12:55 pm (Tues & Thurs)
Votey 254
Prof. Dianna Murray-Close
9:40 am - 10:30 am (Mon, Wed, Fri)
Billings Lecture Hall
Prof. Kelly Rohan
2:20 pm - 3:10 pm (Mon, Wed, Fri)
Fleming 101
Prof. Vicki Brennan
4:25 pm - 05:40 pm (Tues & Thurs)
481 Main Street, Room 101
Prof. Anne Clark
11:40 am - 12:55 pm (Tues & Thurs)
Old Mill Annex A207
Prof. Kevin McKenna
2:50 pm - 4:05 pm (Tues & Thurs)
Waterman 456
Prof. Eleanor Miller
10:05 am - 11:20 am (Tues & Thurs)
Lafayette L107
Prof. Alice Fothergill
1:15 pm - 2:30 pm (Thursday)
Lafayette L108
Prof. Thomas Streeter
11:40 am - 12:55 pm (Tues & Thurs)
Lafayette L200
Prof. Celia Cuddy
2:50 pm - 4:05 pm (Tues & Thurs)
Living/Learning Commons 216
Prof. Kevin Beard
2:20 pm - 3:10 pm (Mon & Wed)
Living/Learning Commons 315
Prof. Kevin Beard
10:05 am - 11:20 am (Tuesday)
Rowell 111
Prof. Kevin Beard
2:50 pm - 4:05 pm (Tues & Thurs)
Terrill 308
Prof. Martin Thaler
3:00 pm - 6:00 pm (Wednesday)
Royal Tyler Theatre 210