Grasse Mount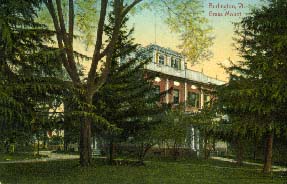 Long recognized as one of the finest examples of a large brick Federal style mansion in Vermont, Grasse Mount was erected in 1804 as the home of local merchant Thadeus Tuttle. Later it served as the residence of Cornelius P. Van Ness, Governor of Vermont from 1823 to 1826.
The two-story hipped roof building was modified in the 1850s with the addition of an Italianate style belvedere set on the roof, as seen in this circa 1905 post card view at the right.
This belvedere offers a wonderful view to the west, overlooking the city of Burlington to Lake Champlain and the Adirondak Mountains of New York State beyond.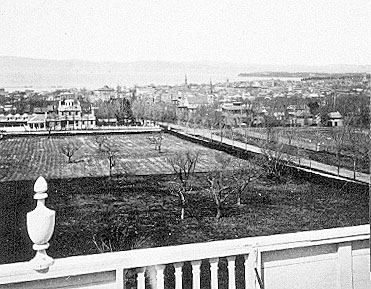 The photograph at the right was taken from the belevedere of Grasse Mount around 1870, looking west down Main Street toward the intersection of South Willard Street with the city of Burlington and Lake Champlain seen in the distance.
(Photo credit: UVM Library Special Collections)
The interior of Grasse Mount was renovated in the 1850s, as well, with remarkable trompe l'oeil wall and ceiling paintings. Although most of this was later covered over, some of this high quality work has been preserved.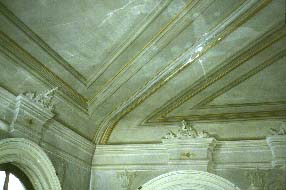 A sample of the 1850s trompe l'oeil wall and ceiling decorations applied to the interior of the belevedere is shown at the right.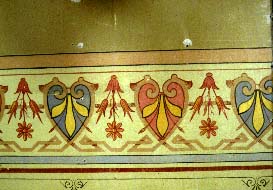 Grasse Mount was expanded during the 1870s with a large, brick two-story addition constructed on the south. The interior was redecorated with stenciling as shown here.
Grasse Mount was acquired by UVM in 1895 to serve as a dormitory for women students.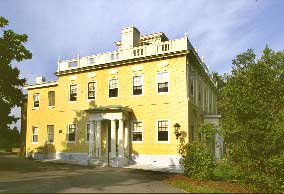 Prominently located on a large lot on the corner of Main Street and Summit Street, in Burlington's upscale Hill Section, Grasse Mount was individually listed on the National Register of Historic Places in 1973.