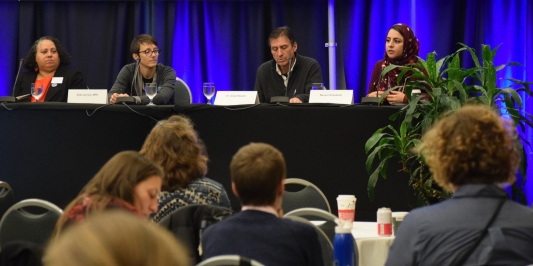 The Women's Center hosts many events for the UVM community throughout the year.
We are proud to host events in fulfillment of our mission to support women and allies at UVM. Contact Us for more information.
Women's History Month - March 2019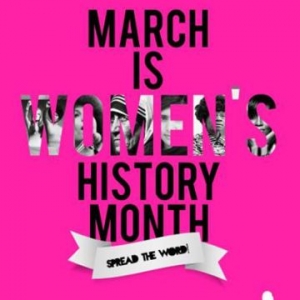 In 1978, Women's History Week was established and expanded to Women's History Month in 1987. Each year since 1987, the United States Congress has passed a proclamation declaring March as Women's History Month. This month is intended to be a focus on the fact that "American women of every race, class, and ethnic background have made historic contributions to the growth and strength of our Nation in countless recorded and unrecorded ways" (1987 Congressional Proclamation) as well as that American women have served as early leaders in the forefront of every major progressive social change movement.
This March, look for opportunities to celebrate with UVM's Womyn of Color Coalition!!
Women's Awards Banquet - March 19, 2019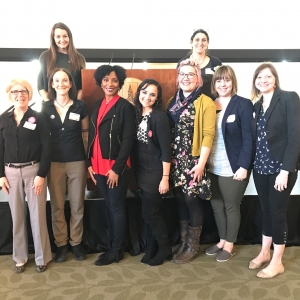 March 19, 2019 - 5:00PM - Grand Maple Ballroom of the UVM Davis Center
The Women's Center creates a space to honor self-identified women and allies in our community for their outstanding contributions. We honor multiple community members in the categories below at a banquet with family and friends. The Awards are one way in which we seek to honor those doing amazing work.
Student, Staff, Faculty and Community Members are all welcome to submit nominations.
Awards presented annually include:
Outstanding Faculty Woman Award
This award honors women-identified faculty who have made significant contributions to the lives of women on campus through service, teaching and feminist scholarship.

Outstanding Student Activist Award - This award honors women-identified students who have contributed significantly to the feminist activism on the campus and/or in the community.

Outstanding Staff Woman Award - This award honors women-identified staff who have made significant contributions to the lives of women on campus through service, advocacy, and/or feminist programming.

Outstanding Social Justice Activist Award - This award honors student, staff or faculty UVM community members who have worked in anti-sexist endeavors and who have drawn connections between various communities to end multiple forms of oppression. This award recognizes that various forms of oppression (e.g. sexism, ableism, racism, classism, heterosexism, religious discrimination) are connected and support one another.

Outstanding Athlete Award - This award honors women-identified athletes who have made significant achievements in their sport as well as in academics and service to the campus community.

Outstanding Ally Award - This award honors a student, staff or faculty member who has made significant contributions to feminist and anti-sexist activism on the campus.

LYDIA DODGE AWARD* - Selected by the staff of the Women's Center, The Lydia Dodge Award honors an individual who has given tremendous service to the Women's Center. Lydia Dodge is an Alumna of UVM and her contributions helped to create the Women's Center.

EDITH D. HENDLEY AWARD* - The Edith D. Hendley Award is presented annually to a woman pursuing graduate studies who has demonstrated excellence in research, scholarship and teaching, and who has performed dedicated service to women. The award is named after Professor Emerita Edith Hendley.

MARIAFRANCA MORSELLI LEADERSHIP AWARD* - The Mariafranca Morselli Leadership award is presented annually to an undergraduate woman majoring in a scientific discipline who has demonstrated leadership qualities, academic excellence and who has contributed significantly to the awareness on campus of the rights of women.

Mariafranca Morselli was a Professor Emerita of Botany. She was an international scientific leader within her field of maple research. Her unending devotion and commitment to science and the Women's Movement made her an advocate for university women and the leadership they exemplify within the local and international communities.

THE WOMEN OF UVM "BEING FIRST" AWARD* - This award recognizes an undergraduate woman who has sought out and created opportunities for themselves and/or other women to participate and excel in areas of study, campus or community activities or associations, or other areas of involvement in which women, up until now have been traditionally underrepresented. The Women of UVM "Being First" Award is sponsored by the group, Women of UVM.

The criteria for applicants are: Strong advocate for women demonstrated by their involvement in one or more activities that helps to advance the position of women on campus or in the community​; Barrier breaker for women demonstrated by an activity they have led, process they have implemented, course of study they are pursuing or another step they have taken that has broken a gender barrier for women while an undergraduate student at UVM.
* This award include a monetary prize.
Questions about these awards should be directed to women@uvm.edu
Dismantling Rape Culture Conference - Save the Date - April 9, 2020 for our 15-year Anniversary of DRCC!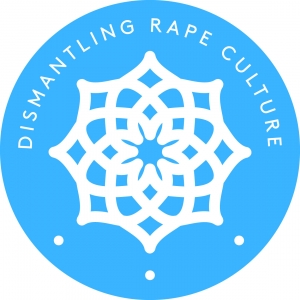 Save the Date: April 9, 2020
Thank you for another wonderful year of DRCC! 2019 saw 476 attendees and welcomed more high school students than ever before. We can't wait to continue our dismantling in 2020, so save the date for our 15 year anniversary of DRCC!
The UVM Women's Center is committed to ending violence by focusing on intersections of identities, intersectional approaches to community building, prevention and awareness, and support and resources for those who experience violence on our campus and in our communities. Our partners in the Division of Human Resources, Diversity, and Multicultural Affairs, including the Mosaic Center for Students of Color, Interfaith Center, and Prism Center for Queer and Trans students, are instrumental in helping our community understand the complex systems of power and oppression that support racism, heterosexism, cissexism, xenophobia, religious discrimination, classism, and more. The enormity of the task to dismantle these intricate and interlaced webs is our shared work and necessitates collective organizing.
The Dismantling Rape Culture Conference (DRCC) strives to educate on and intervene in rape culture, which exists "when prevalent attitudes, norms, practices, and media condone, normalize, excuse, and encourage sexual [and all forms] of violence." This conference is about looking at the intersectional ways in which rape culture exists and about coming together to envision how we can change, shift, alter, and heal from its insidious presence in our lives. DRCC is open to members of the UVM community, as well as external community members who wish to be in community to strategize an end to violence and a manifestation of connection.
If you have questions, please don't hesitate to contact Sarah Mell.
Welcome Back BBQ - September 10, 2019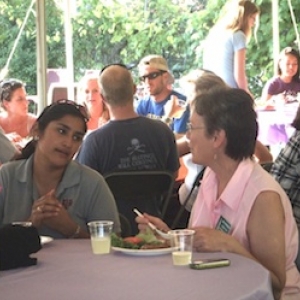 Join us on September 10, 2019 for some classic summer eats, a round or two of badminton, and a chance to connect and kick off the school year!
The Welcome Back BBQ is the first major event of the new academic year sponsored by the Women's Center. Following the hectic Move-In Day, this backyard picnic provides a relaxing atmosphere for new and returning students to connect with staff and faculty, to catch up with old friends, and to make some new ones.
Women @ Noon - Fall 2019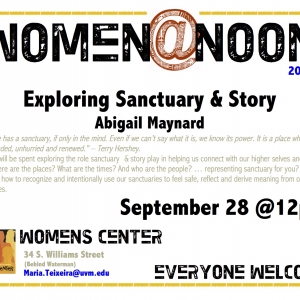 Women@Noon is a speaker and discussion series relevant to global and domestic feminist and social justice work. Attendance is free and open to community members of all genders.
The Fall 2019 schedule will be available soon. We are always seeking ideas, suggestions and volunteers to present and/or lead a discussion. If interested please contact us: women@uvm.edu
An example of sessions we have hosted in the past include:
Exploring Sanctuary & Story - Abigail Maynard
Lessons in Feminism from East Africa - Sherwood Smith
Energy Healing Practices for Self Care & Empowerment - Katrina Dreamer
Do-It-Yourself Ayurvedic Facials - Reshma Sinu
Religion: Does it Help or Hinder Women's Empowerment - Laura Engelken
"Where you at?" Textual Harrassment in Relationships - Sarah Mell
Women's Relationship with Capitalism - Kelsey Aaron and Scarlett Moore
The Women's Summit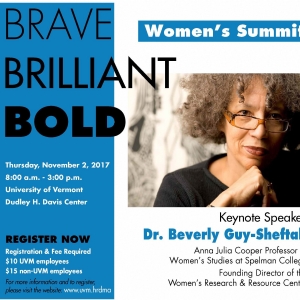 The 2017 Women's Summit was an inspirational event and we look forward to co-sponsoring another Summit soon!
Collaborative Events
In collaboration with our campus partner the Mosaic Center for Students of Color, we offer an annual retreat to build community and encourage leadership among women of color.
Sisterhood Circle
These are monthly meetings for students, staff, and faculty. For more information, contact the Mosaic Center for Students of Color.
Sexual Violence Awareness Month
UVM and Burlington community agencies partner each April to plan a series of events which include the Take Back the Night Rally & Speak-Out and many other programs. More details will be coming soon. If you have questions, please contact Sarah Mell.