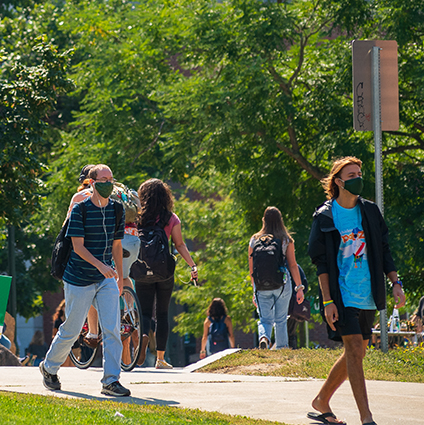 Students who are granted an exemption from the COVID-19 vaccine requirement and students who have begun but not completed the vaccination process will be required to test every seven days. 
All students, regardless of vaccination status, are required to take a "Day Zero" COVID-19 PCR test upon arrival to campus before the first day of classes.
Day Zero tests should be taken between August 23rd and August 29th.
If you are returning to campus after August 29th you must complete the exemption form and indicate the date you will be arriving to campus.
COVID-19 Testing Exemption Request
If you know you will miss testing due to travel or extenuating circumstances you can use this form to request a temporary exemption from routine on-campus COVID-19 testing.
Filling out this form does not result in an automatic exemption from testing.
Troubleshooting Steps
The Request for Exemption Form often works seamlessly for many students.  If you are experiencing any difficulty accessing the form please follow these helpful steps:
Open an incognito or private internet browser window.
Navigate to https://go.uvm.edu/test-exemption.  You'll be shown a Microsoft sign in form followed by the UVM WebAuth sign in page.
Sign in via your @uvm.edu account (not @med.uvm.edu or any other home/business Office 365 account) and then your NetId and password.
You may be faced with pop-ups asking you to authenticate. You should click the authenticate or OK buttons and you will be taken to the form. You can be certain you are logged into the form if the top of the form says "Hello FIRSTNAME!" and not simply "Hello !"
If you are still having trouble logging in after going to the private window and see the "Hello !" message, try using Google Chrome (if you are using Safari).

Note: the best way to get a clean browser session is to create a Private or Incognito window.  In Chrome, go to the 3 dots in the upper right hand corner of the browser window and choose New Incognito window. By default Chrome disables 3rd party cookies in incognito - go into the Settings and allow all cookies.

Please contact UVM.Strong@uvm.edu if you are still unable to access the form after following the above instructions.
Testing Alternatives
If you do not qualify for an exemption but would prefer an alternative to testing in the Davis Center for any reason, please contact Student Health Services at (802) 656-3350.