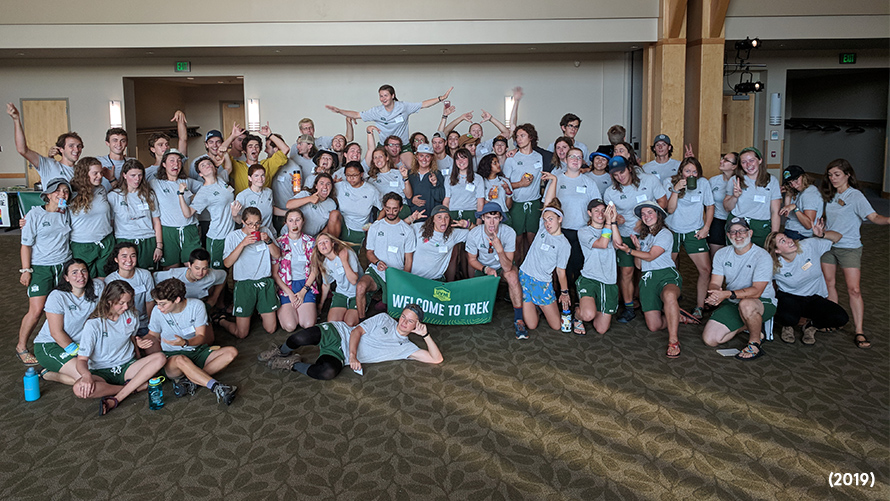 For those who have been TREKKIES in the past - now's your chance to be that amazing TREK leader you dreamed of being long ago! Or, if you haven't yet had a TREK experience, becoming a leader is one way you can get yourself involved! 
Don't miss your chance at being a key player in introducing a whole new class of UVM students to our local Vermont community, epic leadership opportunities, and the beauty of the great outdoors. TREK Interns work in pairs to ensure an educational, safe, fun, and engaging introduction to UVM by providing instruction in appropriate skills, coordinating group activities, and managing group dynamics. 
Application Process
Attend / Watch an Infosession

We are hosting an info session on Wednesday, October 20th, 2021 at 8pm in the Grand Maple Ballroom on the 4th floor of the Davis Center for students to learn more about the requirements for becoming a TREK Leader, Emergency Response Team Member, or Logistics Coordinator - and to ask any questions they might have. 
Read the Position Descriptions

Read through our job descriptions for all available positions so you know what you are applying for! 

Apply Online

Applications are open through October 29, 2021 and can be completed at go.uvm.edu/trekapp.
What's New in 2022?
We are excited to continue to offer TREK in 2022. We continue to make adaptations to what works best based on the feedback we've received from past years leaders and participants. 
So what's new? Training! We've updated the training plan to include datese throughout the spring semester with the bulk of training happening at the end of the Spring Semester, during what is known as Senior Week. Other than that, we plan to offer the most of the same trips that have gone out in past years!