Recognizing Academic Achievement
Scholarship remains an important part of life for all University of Vermont students and especially for Greek-letter organizations. The Fraternity & Sorority community's goal is to assist in fostering its members to be better students and leaders. UVM requires all students to have at least a 2.5 GPA in order to participate in Fraternity or Sorority recruitment, and  many individual chapters have higher GPA standards.
Students who excel academically while maintaining membership in a fraternity or sorority can apply to join our three (3) honor societies.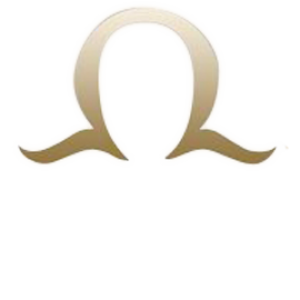 ORDER OF OMEGA
Order of Omega was founded at the University of Miami in 1959 by a group of outstanding fraternity men, who felt that individuals in the Greek community should be recognized for their service to the fraternity system and the University. The idea of an honorary for fraternity men at the University of Miami is attributed to Parker F. Enright, the advisor to fraternities at the time. Enright was later to accept a position at the University of Pittsburgh. He was also responsible for the founding of the Omega Chapter at the University of Pittsburgh in the spring of 1964.
The original constitution was approved by the Organizations Committee at the University of Miami on April 14, 1959, the recognized founding date. The first member class was initiated the following fall.
The Chapter of Miami had long desired for their organization to expand to other colleges and universities. The Chapter gave its sanction to Dean Patrick W. Halloran to make initial inquiries and to further grant charters to universities that were accredited and interested in the purpose of The Order of Omega. On February 9, 1967, a Chapter was chartered at the University of Southern Mississippi. The Order of Omega voted to become a co-ed organization in the spring of 1977. There are now over five hundred chapters in the United States and Canada with approximately ten new chapters being chartered each year.
Considering the age of the American college fraternity, the "active honorary" concept was long overdue. There must continue to be a common means by which the most outstanding fraternity men and women can stand united to further the philosophy of the college fraternity.
PURPOSE
To RECOGNIZE those fraternity members who have attained a high standard of leadership in interfraternity activities, to ENCOURAGE them to continue along this line, and to INSPIRE others to strive for similar conspicuous attainment;
To UNITE outstanding fraternity members to create an organization which will help to mold the sentiment of the institution on questions of local and intercollegiate fraternity affairs;
To BRING TOGETHER members of the faculty, alumni, and student members of the institution's fraternities and sororities on a basis of mutual interest, understanding and helpfulness;
To help CREATE an atmosphere where ideas and issues can be discussed openly across Greek lines and to help work out solutions.
Information provided from: www.orderofomega.org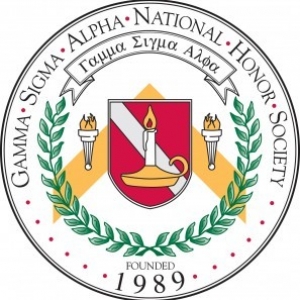 Gamma Sigma Alpha
Gamma Sigma Alpha was founded at the University of Southern California on November 9, 1989 by a group of scholastic achievers representing various fraternities and sororities dedicated to the advancement of higher education and academic accomplishment. Led by Beth K. Saul, USC's visionary Sorority Advisor, a national board was established the following year to promote the organization's ideals on campuses across the country. Gamma Sigma Alpha quickly grew to over 190 chapters in a little more than a decade.  Today, this honor society has more than 215 chapters and recognizes nearly 2,000 members of  fraternities and sororities each year. 
Gamma Sigma Alpha National Academic Greek Honor Society (GSA) is the premier organization committed to the academic success of our members and alignment with the academic missions of our host institutions. Students are eligible for membership based on grade point average and membership in a Greek fraternity or sorority. The Society strives to uphold the high ideals of scholastic achievement and therefore, only students with a cumulative grade point average of 3.5 or above (on a 4.0 scale) at the start of their junior year or a grade point average of 3.5 or higher in any semester during their junior or senior year are eligible. Gamma Sigma Alpha is headquartered in Colorado, with over 215 chapters across the country and in Canada.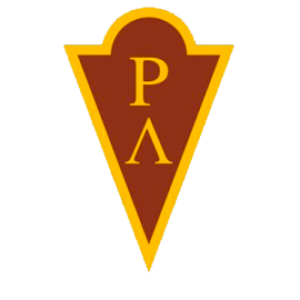 Rho Lambda
Rho Lambda, the National Sorority Leadership Recognition Society, was founded at the University of Miami as a local group in 1962 under the direction of Dean Louise P. Mills.
In 1974, Rho Lambda received permission from the National Panhellenic Conference (NPC) to become a national organization. Rho Lambda subsequently applied to the Federal Government for a Title IX exemption to maintain its single sex status.
After receiving this exception, the members of the University of Miami Chapter corresponded with Panhellenic associations across the country in hopes of sparking interest. Commitment Forms and Constitutions were mailed to those Panhellenic groups that expressed an interest and by the end of 1975, there were 20 chapters nationwide. In 1987, Rho Lambda became international, colonizing at the University of Calgary in Alberta, Canada. In 1998, Rho Lambda began admitting all sorority women based upon minimum requirements; hence, membership was not limited to only members of the NPC organization.
The Greek letters RHO LAMBDA stand for PANHELLENIC LEADERSHIP, respectively. Those who are leaders light a torch in the darkness for others to follow, and the flame is the symbol of Rho Lambda. Although membership was originally intended for women whose organizations belonged to campus Panhellenics, any sorority woman is now eligible for membership as long as she meets the membership selection criteria.
The purpose of Rho Lambda is to honor those women within the sorority community who have exhibited the highest qualities of leadership and service to their Greek community and their sorority. They are women who have furthered the ideals and principles of the Greek community throughout their years of sorority affiliation.
The colors of Rho Lambda are crimson and gold. The pin is a broken triangle with a crimson inset bearing the Greek leaders Rho Lambda in gold.
To date, over 218 chapters have been chartered throughout North America, each sharing the common goal of recognizing sorority women for their outstanding leadership.
Information provided by www.rholambda.org