Whether you work with a SGA club, a cultural organization, an academic organization, a Living and Learning Center program suite, or a club sport, advising can be a challenging part of your contributions to campus. Hopefully you'll find the resources and information available to you on this website helpful in your role as an advisor.
WHAT IS ADVISING?
The basic purpose of the advisor is to work with the designated leaders and members of a functioning student organization with the intent of:
Assisting the leaders and members to fulfill their responsibilities
Aiding the organization to define and achieve it's goals and objectives
Integrating the organizational activity with the overall purpose of the educational setting
Assist student leaders in understanding and navigating UVM policies (as well as national organization policies, where applicable).
Advisors can fill a variety of roles, from mediating conflicts and interpreting policies to providing organizational and historical content. The advising style and role varies from person to person, and from group to group, depending on organizational needs. Depending on the experience and motivation of the students with whom you work, you may be asked to be either a very active or a very passive role.
Some advisors are involved in the groups they advise – attending all meetings, helping to make the group aware of current situations, and aiding in major financial or programmatic decisions. Others see themselves as a resource and sounding board for their group. Between these two styles are varying levels of involvement, all dependent on your personal strengths and weaknesses, the group, and the situation.
SETTING EXPECTATIONS
It's important to have clear expectations between the what roles of an advisor and your organization's student leadership will be, and how you will communicate throughout the year to support the organization. It will be extraordinarily helpful to have an intentional conversation about expectations, communication, goals and how together you will evaluating progress.
ADVISING TIPS & TRICKS
What works best for each group can vary depending on the organization type and their activities. The UVM Student Government Association Advising Agreement a number of helpful suggestions for things you can do to be a great advisor;
See if you're on track with our Advisor Self Evaluation Checklist (pdf) →
Best Practices for Awesome Advising 
Meet with the student executive board (or appropriate representatives, e.g., President) monthly to receive updates, and offer challenge and support
Assist the organization's Treasurer in adhering to all financial policies and procedures as established by UVM's Student Government Association (SGA)
Assist the executive board in interpreting UVM and Student Government Association policies
Attend at least two organization events per year, as appropriate
Support the executive board members in reflecting on their leadership in student organizations and how it relates to their academic and career preparation experiences
Assist student leaders in navigating internal group processes and conflict
Support student leaders in adhering to applicable University policies and hold students accountable to the Code of Student Rights and Responsibilities
When your organization's activities include travel - assist students in following applicable University, SGA, and Risk Management policies with regards to vehicle rentals, van driving policies, and university contracts
Assist the executive board in creating a sustainable leadership structure, especially in planning events and recruiting, training, and transitioning new executive board members
Keep up to date with advising news and best practices through the SGA advisor's listserv and our monthly advising newsletter
THINGS TO LOOK OUT FOR
While each organization can vary, there are a number of important milestones that typically come up year-over-year which advisors should be aware of.  Here are a few things you should look out for with the organization you're interested in advising:
Leadership Transitions
Most organizations do elections or other selection processes for new leadership; when do these take place? Common times are in the late spring semester for new leadership to start over the summer or in early fall, or in December for a January start. Some organizations have leadership positions transition each academic/calendar year, others hold positions for individual semesters, and some have a mix.
Recruitment Events
How does your organization recruit new members? Common events are 'general body' meetings open to the public, events during the Week of Welcome and Winter Week of Welcome (in particular the first year picnic held during Opening Weekend in August, ActivitiesFest in September, and Winter ActivitiesFest in January), as well as individual tabling events and class presentations. Some organizations also have formal recruitment processes or "rush weeks."
Budget Process
For Student Government Association -recognized organizations, the budget process for the following year takes place early in the spring semester, with Budget Workshops and applications usually due about February 1st. These dates are available from SGA and organization treasurers generally receive information about this process both on the Clubsigners Listserv and at the fall Treasurer's Workshop.
Major Organization Events
Different organizations have different activities throughout the year; as an advisor, you should be familiar with these. Are there competitions your organization takes place in each year? Major performances? Practices? Conferences? Travel? These are good things to ask about as you are taking on an advisor role.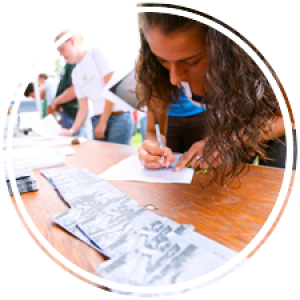 ADVISING EVENTS AND NEWSLETTER
Civic Engagement hosts several events for advisors throughout the year including workshops and coffee hours. Typically, these are held once a month throughout the fall and spring semesters. We also send out a monthly newsletter for advisors highlighting upcoming events, policy changes to be aware of, and words of advice from other advisors. 
Upcoming Workshops / Advising Events