The Helicopter and Unmanned Aerial Vehicle (UAV) Systems/Aircraft Readiness Engineering Workshop occur on alternating years. The Helicopter workshop occurs on odd years and the UAV workshop on even years.
For information on Helicopter/UAS/AREW workshops held in previous years, check out the Connecticut Space Grant workshops page and keep on the lookout for the next Connecticut Space Grant helicopter workshop. Graduate and undergraduate students from all over the United States whose institution is affiliated with the NASA Space Grant are welcome to attend the workshop.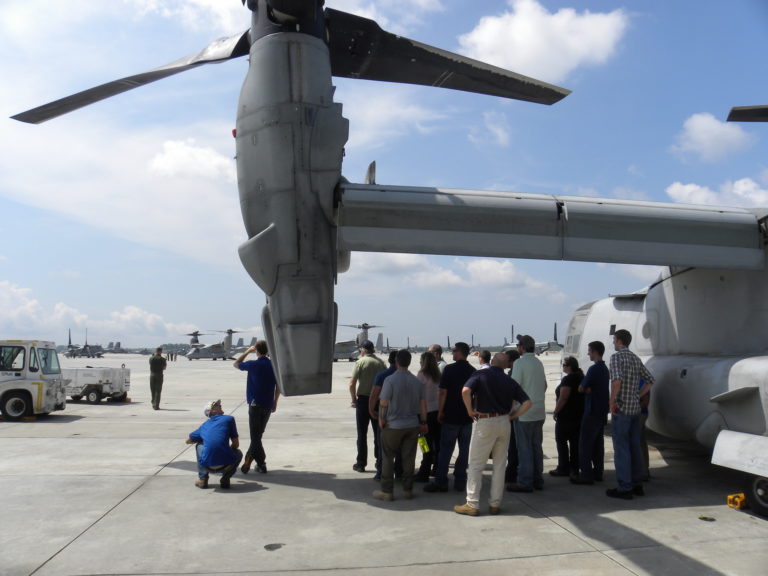 Aircraft Readiness Engineering Workshop – NC Space Grant, in collaboration with North Carolina State University and the United States Navy Fleet Readiness Center-East, creates experiences for students to work directly with Department of Defense engineers from the Navy's Fleet Readiness Center-East Facility and discover the exciting world of supporting military aviation. Activities include:
Hands-on exposure to topics such as Mishap Investigation, Power and Propulsion, Air Frames, and Composite Repairs
Interactive squadron/flight line tour of military VTOL aircraft and simulators
Exploration of Navy/Marine Corps Aircraft such as V-22 Osprey, H-53 Heavy Lift Helo, AH-1 Cobra, and AV-8 Harrier Jump Jet
RC build and fly competition
How to apply
Applications are currently closed.
Past Awardees
Elias Levinson, Mechanical Engineering, University of Vermont