BILWI COMMUNITY VIDEO report, 2005
Community video is alive and well in Bilwi.
In May 2005 URACCAN, under the guidance of Margarita Antonio, signed a contract with the Puerto Cabezas cable company to take over the local channel and fill it with locally made programing. The channel now goes under the name "BilwiVision". This is a welcome development in the evolution of URACCAN's video presencce and indicates a recognition of the value of community access in supporting its autonomy agenda, of opening community dialogue, and of strengthening civil society.The project represents what might be one of the first instances in Nicaragua of providing free community access to television by ordinary people.
Since taking over the channel Margarita and her volunteers have produced a daily hour-long show every morning, with repetition in the late afternoon.  The shows includes segments with news, interviews, debates, health, variety, women's issues, and sports. There is also a question of the day asked of local citizens. There are summaries of news in Miskitu and English/creole.The group also plans to produce 30 minute programs dedicated to one village every week, showing its history, production, people, landscape, myths, and so on.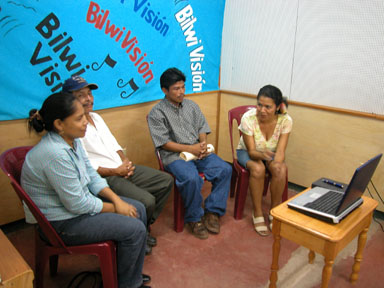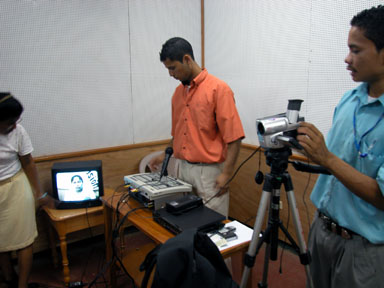 Besides its small group of regular producers, BilwiVision has put out the call for more volunteers and a request for people from the communities to develop their own programs. Margarita says her visit to Burlington, and especially to Channel 17's Public Access facilities, are what inspired her vision for this project.
Other former members of our video workshops also continue to produce programs about the region. Julio Bordas has completed five short documentary videos that provide rich insight into the peoples of Nicaragua's Atlantic Coast. These look at history and dance of the Garifuna, Miskito, Rama, Creole, and Mayagna cultures. Anyone interested in obtaining copies should contact the Sister City website.
Jimmy Lopez continues to work with Myrna Cunningham to produce the weekly show "Costena Agenda" which looks at various aspects of the autonomy process. In addition to showing their program on BilwiVision, they send tapes to Rosita, Bonanza, Pearl Lagoon, Bluefields, and Waspam for showing on those cable channels.
During a video workshop in September 2004 students from URACCAN taped what their lives in the dormitory were like for showing in Vermont.This winter students in Spanish classes at both the University of Vermont and CVU highschools produced videos of their lives in Vermont for sharing with their Nicaraguan counterparts. The Sister City Program looks forward to video exchange as a way to let members of both communities get to know each other's siter city.
The Sister City Program continues its support for video training and community access to television in Bilwi. Recording local stories and documenting life in the region allows people to refelct on their own lives rather than just act as consumers of mainstream television. It is empowering to both producers and viewers. In addition to helping URACCAN with the occasional purchase of cameras and computer editing equipment we would like to find a way to help sustain- and perhaps expand- this vital program.
If anyone has suggestions for granting opportunities please contact Dan Higgins through the Sister City website.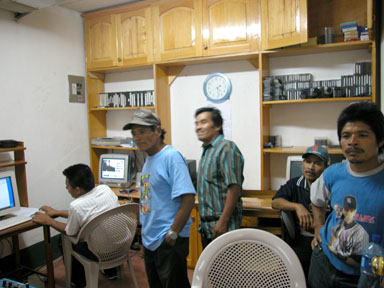 To learn more about the URACCAN/ Sister City Video Project check out reports from previous years.