Wildlife and Fisheries Biology Program Mission
To prepare students for careers in research and management of wildlife, fish, and people in the environment. The curriculum focuses on the biology/ecology and management/conservation of animal populations that range from species common enough to be hunted/fished to species that are endangered.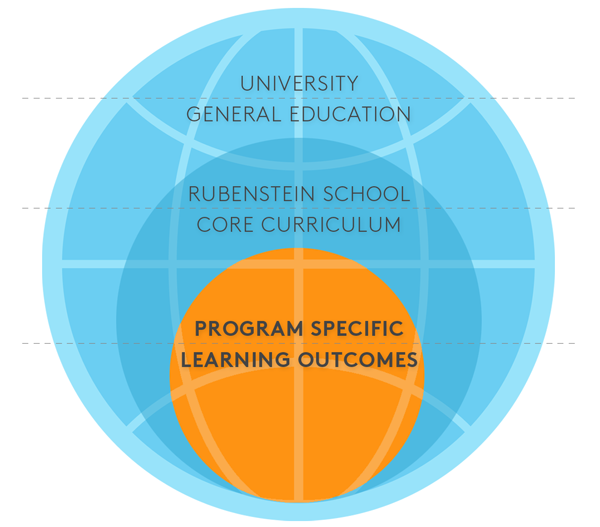 ● University General Education
Every student at UVM will take General Education courses on Sustainablity, Writing and Information Literacy and Diversity.
● Rubenstein School Core Curriculum
All Rubenstein School students will engage with the School's Core Curriculum: a body of knowledge, skills and values our faculty believe to be central to the study of natural resources and the environment.
● Program Specific Learning Outcomes
Each student will pursue the Program Learning Outcomes specific to their chosen major.
Wildlife and Fisheries Biology Program Learning Outcomes
Successful Wildlife and Fisheries Biology graduates will demonstrate the following competencies:
BIOLOGICAL PRINCIPLES: Understand and apply life history and concepts of behavior, ecology, population dynamics, and conservation biology to issues surrounding the management and conservation of fish and wildlife;
SCIENTIFIC METHOD: Apply the scientific method – develop a hypothesis, use deduction to make predictions, observe and collect data (through appropriate sampling), analyze data, and use induction to infer, verify, or falsify the hypothesis;
COMMUNICATION: Effectively communicate scientific information for a variety of audiences and purposes;
POLICY/LEGISLATION: Define key local, national, and international environmental legislation, policies, and agreements, their impact on the management and conservation of fish and wildlife, and which agency/organization is responsible for their development and implementation;
VALUES/BELIEFS: Evaluate the diversity of values, attitudes, and beliefs that affect the management and conservation of fish and wildlife within local, regional, and global contexts.