Faculty, students, and staff pursue a holistic approach to understanding and managing the natural and working landscape. This is an interdisciplinary research area that considers conservation of natural habitats and their biodiversity, people's connection to and impact on the environment, and sustainability. There is an emphasis on an application of the work with community partners. Some projects include developing strategies for engaging communities and citizens in decision-making, exploring innovative land use options, and ecological planning for conservation and preservation of natural areas, reserves, protected ecosystems, and the more natural components of our human influenced landscapes.
Faculty Research Programs
Matthew (Matt) Kolan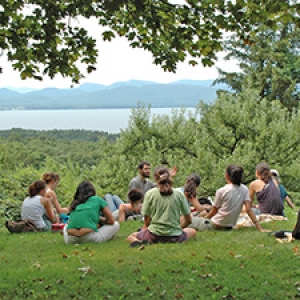 Ecological approaches to educational design, whole systems thinking, power and privilege, ecological leadership, nature-connection, natural history, wildlife tracking
Matt's research interests focus on ecological leadership and explore how the wisdom of nature can inform leadership practices and structures. His research questions consider how to align the way we think, learn, and lead with the way nature works, how leadership practices can create optimal conditions for the full scale of life to thrive, and how to unlearn dominant and colonial patterns of leadership that are perpetuated in many well-meaning change-making initiatives. During his recent sabbatical, Matt used ethnographic research methods to engage with diverse initiatives in sustainability leadership and transformational learning. He interviewed thought leaders and practitioners who are using unique approaches, systems, and practices to foster a more just and sustainable future. He is the director of a professional Master's concentration in Leadership for Sustainability.
Walter (Walt) Poleman