Faculty and students study social and cultural aspects of outdoor recreation and tourism. Special focus is placed on sustainable development of tourism in resource dependent communities in Vermont, the United States, and abroad.
Faculty Research Programs
Lisa Chase
Tourism and recreation in the working landscape
Lisa's research focuses on the intersection of conservation and sustainable development. Current topics include recreation and trail use, agritourism and culinary tourism, and sustainable transportation. Lisa integrates recreation and tourism with food systems studies through her emphasis on the edible working landscape. As part of UVM Extension, Lisa's research connects directly with community development and applications on the ground.
Walter (Walt) Kuentzel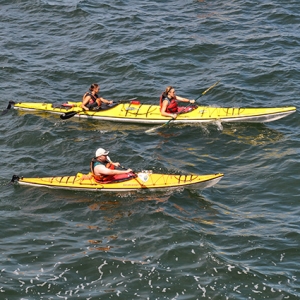 Natural resource sociology, recreation and leisure behavior
Walt's research involves applying sociological concepts to natural resource issues, primarily related to recreation and tourism. His current work includes a study of public hunting, fishing and recreational access on private land and public understanding of liability laws and statutes, an ongoing project about the visitation and perceived crowding on the Apostle Islands National Lakeshore on Lake Superior in Wisconsin, and holiday home development in Ireland.
Patricia Stokowski
Outdoor recreation, leisure and tourism sociology, natural resource planning
Patricia conducts research about social, cultural, and discursive aspects of outdoor recreation behavior, environmental interpretation, and tourism development in rural and resource dependent communities. Her current research focuses on the place-making processes enacted by people in transitioning communities, the cultural meanings of forest landscapes, and community / agency discourses in natural resource management. Her work emphasizes interpretive research methods, and she is known for her longitudinal study of the development and impacts of gambling-based tourism in the former mining towns of Central City and Black Hawk, Colorado.