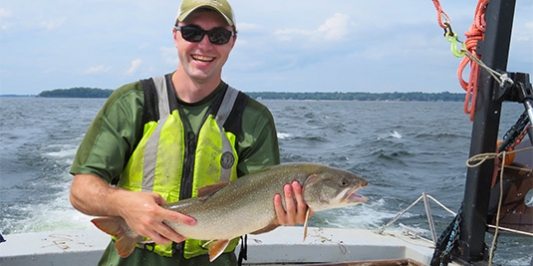 The Aquatic Ecology and Watershed Science concentration provides students with the research experience and academic training needed to pursue careers in the aquatic sciences. Students take courses in the aquatic and watershed sciences and supporting fields (e.g., statistics, GIS, remote sensing) and carry out thesis-based research.
Research topics may be related to fish, plankton or benthic ecology, aquatic biogeochemistry, aquatic ecotoxicology, watershed science and management, wetlands, modeling of aquatic systems, and more. Research facilities used by students include the Rubenstein Ecosystem Science Laboratory on the Burlington waterfront, the UVM Spatial Analysis Laboratory in Aiken Center, the 45-ft long research vessel Melosira and a variety of smaller boats.
The group works closely with the Vermont Water Resources and Lake Studies Center and the Vermont Cooperative Fish and Wildlife Research Unit. Weekly AEWS seminars for Concentration students and faculty promote camaraderie and ensure familiarity with a broad range of aquatic topics.
Degree Requirements
In addition to the general M.S. in Natural Resources requirements, this concentration requires:
Envisioning a Sustainable Future (2 credits, currently NR 306)
Applied Ecology, Environment and Society (2 credits, currently NR 395)
at least 12 additional credit hours of courses in aquatic and watershed sciences or supportive fields (approved by the student's studies committee)
a comprehensive written examination
6-15 credit hours of thesis research
an oral defense of the thesis.
Admission Requirements
Admission requirements include:
undergraduate degree in a discipline related to the intended specific field of study
acceptability to a potential faculty advisor holding an appointment in the Rubenstein School and the UVM Graduate College.
Learn More - For more information about the Rubenstein School Master's Program, contact the RSENR Graduate Program coordinator at rsenrgc@uvm.edu or the Rubenstein School main desk at 802-656-2911.