History
The northern portion of the Jericho Research Forest was farmed from the early 1800s through the 1930s. Decades of agricultural use left the soils depleted, and the landowners abandoned the farm. Through the land transfer process with the City of Burlington, money was set aside to plant the farmland for a return to forest. Planted species included a mixture of native and exotic conifer species, such as red pine, white pine, Scots pine, Japanese larch, Norway spruce, Douglas-fir, Austrian pine, and ponderosa pine. Historic research at the Jericho Research Forest included projects focused on seedling growth and survival, plant pathology, and plant genetics.
The Rogers Tract encompasses steep terrain that drains into the adjacent Winooski River and, unlike the northern parcel, was never fully cleared for intensive agriculture. It contains a number of wetlands, streams, seeps, and vernal pools. Prior to UVM's acquisition of this parcel, it was heavily cut for timber, and the tract is now home to a native, mixed hardwood forest that sees limited management activity.
Present Use
Jericho Research Forest is widely used for a range of activities including teaching, research, forestry internships, chainsaw trainings, student projects, and management for local forest products and forest health. The northern portion of the forest still contains a number of exotic conifer plantations, in some places succeeding to native hardwoods, which offers access to unique forest types for the region.
Current research activities include projects led by faculty in UVM's forestry, environmental sciences, wildlife, and geography programs, focusing on topics such as forest structural development, tree species migration, wildlife habitat relationships, and snow pack dynamics under climate change.
We encourage additional use related to both teaching and research.
Facilities
Forrest E. Orr Conservation Center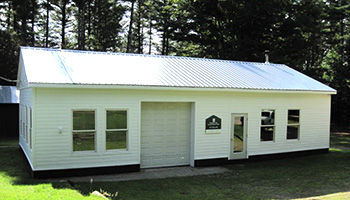 In 2008, the Orr Family gave a generous gift in honor of the late Forrest E. Orr, an Orleans County forester and avid conservationist, and UVM built the Forrest E. Orr Conservation Center at the Jericho Research Forest. Using lumber harvested and milled at the Jericho Research Forest and with involvement of over 60 students, the Rubenstein School transformed the former pole barn into this unique space for teaching and learning about healthy forests and sustainable communities.
The Orr Conservation Center provides multi-use classroom space, two restrooms, and a small kitchen, and is ADA accessible.
Hunting at Jericho Research Forest
Hunters with appropriate licenses are allowed to hunt at Jericho Research Forest during the Vermont State season.
Driving Directions
Jericho Research Forest is located at 127 Tarbox Road, Jericho, VT. From Burlington, take I-89 South to exit 11 (Richmond), turn left off the exit ramp, go under the interstate, and turn right onto Route 117. Travel for about 3 miles on Route 117, and take a right onto Barber Farm Road. About a ½ mile down Barber Farm Road, take a right onto Tarbox Road. Tarbox is a dirt road and may be in poor condition during the rainy/mud season. About a ½ mile up Tarbox, the road forks; bear to the right and this road will lead you to the parking area adjacent to the gate entering the Jericho Forest property. Please park outside the gate.
Download a trail map of Jericho Research Forest (PDF).