Today, the Jericho Research Forest includes a mix of natural stands of northern hardwoods and white pine, and plantations of native and exotic conifers. This ecologically diverse tract is readily accessible from campus by a fairly well-maintained dirt road, which extends into the forest allowing for motorized vehicle use when necessary. The forest is used for courses in forestry and natural resources. Current faculty research at the forest includes studies of alternative forest management on longterm demonstration plots by Dr. Bill Keeton and research on adaptation of tree species to climate change led by Dr. Tony D'Amato. 
Facilities
Thompson House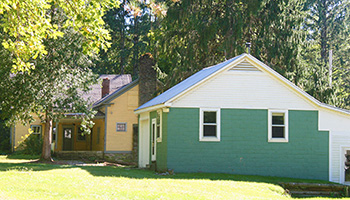 Buildings at the forest include the 1802 Thompson House. This eight-room, yellow-painted house features original vertical plank framing and is slated for renovation for short-term on-site education programming. A smaller green-painted block building houses a classroom, a maintenance shop, and a woodturning studio. An equipment and tool storage shed house lumber and firewood for use at the facility.
Forrest E. Orr Conservation Center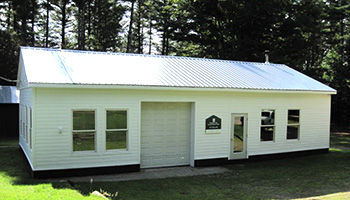 The Forrest E. Orr Conservation Center at the Jericho Research Forest was made possible by a generous gift from the Orr Family in honor of the late Forrest E. Orr, an Orleans County forester and avid conservationist in early 2008. Using lumber harvested and milled at the Jericho Research Forest and with the involvement of over 60 students, the former pole barn was transformed into this unique space for teaching and learning about healthy forests and sustainable communities.
The Forrest E. Orr Conservation Center, provides multi-use classroom space, two restrooms, and a small kitchen, and is ADA accessible.
Forest Conservation
The forest at Jericho provides an excellent opportunity to explore forest conservation through land use history. Although once a very productive farm, the land was nearly completely exhausted by 1939. A conservation plan written in 1937 provides a valuable historic reference and details the extent of soil erosion, forest stocking, and condition of agricultural fields. Through tree plantings and natural regeneration and succession, a healthy, productive forest now grows on the site today.
Driving Directions
From Burlington, take I-89 South to exit 11 (Richmond), turn left off the exit ramp going under the interstate and turn right onto Route 117. Travel for about 3 miles down Route 117 and take a right onto Barber Farm Road.  About a 1/2 mile down Barber Farm Road, take a right onto Tarbox Road. Tarbox is a dirt road and may be in poor condition during the rainy/mud season.  About a 1/2 mile down Tarbox, the road forks; bear to the right and this road will lead you to the UVM house on the Jericho Forest property.