PhD Fellowships: linking earth observations, ecosystems, and socioeconomic impacts
We are recruiting two funded PhD positions at the University of Vermont to explore how Earth Observations (e.g., other remote-sensing data) can reveal connections between ecosystems and socioeconomic outcomes, with a focus on justice.
PhD students will be supervised by the three faculty members at UVM's Rubenstein School of Environment and Natural Resources: Gillian Galford, Taylor Ricketts, and Rachelle Gould. UVM faculty members Bindu Panikkar and Brendan Fisher are also collaborators and will interact with students. The positions are part of a team project "Socioeconomic assessments: enhancing and measuring the value of Earth Observations (EO) for informing decisions," which involves collaboration with faculty at five other universities and 15 non-academic partners.
Project: The students will contribute to three research topics:
Climate change, human migration, and environmental justice: EO data empowers modeling of climate change and its biophysical impacts, but has lagged behind in informing climate change migration and adaptation. EO can be better leveraged to improve understanding of vulnerabilities, impacts, and opportunities for adaptation. (This work builds on Galford's work, e.g., Ren et al. 2022 and Clark et al. In Press, Dynamics in Human Systems.)
Biocultural values and environmental justice: EO data have been used very little in concert with biocultural values such as sacredness or cultural identity. EO may be able to improve understanding of relationships between biodiversity and biocultural and nonmaterial values, especially if novel "measures of value" (i.e., not only economic measures) are employed. (This work builds on Gould's work, e.g., Gould et al. 2019 and Gould et al. 2020).
Health and environmental justice: Nature experience can improve mental and physical health, especially in cities, but   crucial questions remain about dose response, types of outdoor experiences, and differences among cultural groups. EO is a promising approach to scaling up and generalizing from local studies to answer these questions. (This work builds on Ricketts' work, e.g., Herrera et al. 2017 and Gourevitch et al. 2021.)
Desired qualifications include: experience with remote sensing data and/or spatial analysis; experience with research on socioeconomic dimensions of environmental issues; interest in environmental justice research, and a commitment to completing an interdisciplinary doctoral degree. Prospective students need not possess all of these skills, but demonstrate clear interest in those they don't already have.
Application & Contact:
To apply to one of these positions, please:
 Send an email to Drs. Ricketts, Galford, and Gould to introduce yourself and briefly explain your interest. Please use "Interest in Earth Observations PhD Position" as your subject line.
Apply to UVM's graduate school by Jan 1, 2023, for the Fall 2023 start term, and clearly indicate your interest in these positions in your application. Instructions on applying to grad school at UVM's Rubenstein School of Environment and Natural Resources are here.
MS Assistantship in Carbon Dynamics Lab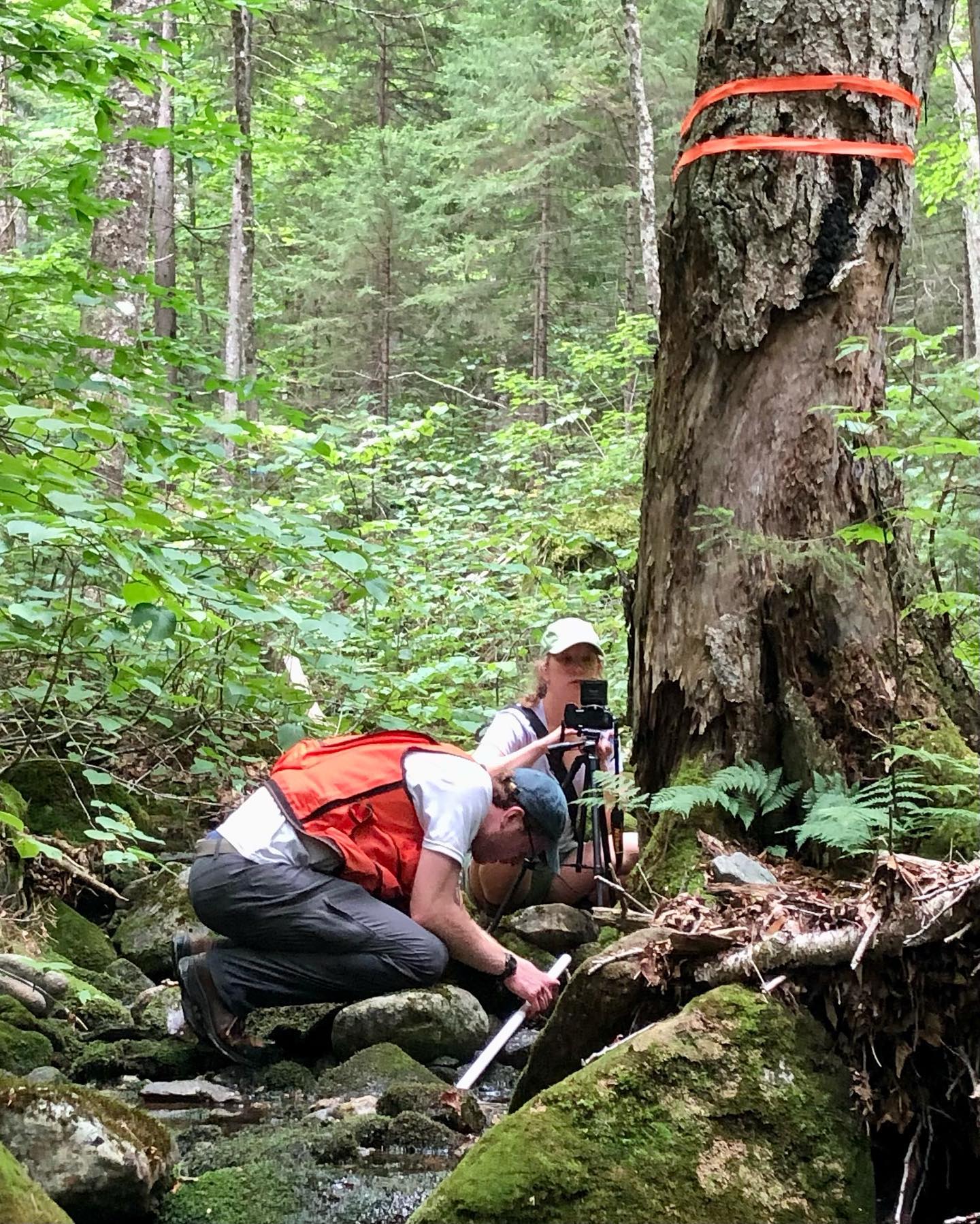 Project: Announcing a fully-funded position for a Master's student beginning January 2023 in Professor William Keeton's Carbon Dynamics Lab at the University of Vermont, Rubenstein School of Environment and Natural Resources.  The successful applicant will join a team working at the Hubbard Brook Experimental Forest in the White Mountains of New Hampshire. The MS project will use a variety of methods to investigate canopy structure and function over streams.
Application & Contact: Applicants of all backgrounds and lived experiences are welcomed. Interested candidates should send a letter of interest and resume or CV to william.keeton@uvm.edu and visit Applying to the Rubenstein School Graduate Program.
Watershed Education Program Graduate Assistant (one 10 hour/week position available)
Project: Lake Champlain Sea Grant, based at the University of Vermont (UVM), Rubenstein School of Environment and Natural Resources, is seeking an individual to support watershed and lake science education program planning and implementation, and to engage in complementary research to aid in understanding and tracking long-term programmatic outcomes. The position will provide the individual with the opportunity to assist in all aspects of watershed education program planning, organization, delivery, data management and evaluation. There is one 10 hour/week position available. It will begin in June 2023.
Qualifications: B.S. in water resources, natural resources, biology, science communications, elementary education, or related field, and strong interest in pursuing a career focused on Kindergarten to 12th grade watershed education. Applicants should express how their experiences and career interests align with the goals of the Lake Champlain Sea Grant and UVM Extension Watershed Alliance program. Applicants should be able to work independently and also cooperatively to contribute to program development, organizational logistics, and youth education in indoor and outdoor settings. Applicants should have a strong work ethic, excellent organizational skills, and willingness to travel within the Lake Champlain basin and Vermont to educate youth and teachers. Programming activities may take place outside of normal working hours, including nights and weekends. Field activities including in-stream and on-lake sample collection, may require exposure to weather, rough waters, traversing rough/steep stream access, and getting wet and/or muddy. Applicants should have demonstrated ability and willingness to work with diverse constituencies and should express this in their applications. Applicants should have a valid driver's license and ability to become qualified to drive university vehicles.
Application & Contact: Submit a cover letter and resume or CV to Kris Stepenuck (kstepenu@uvm.edu) and Ashley Eaton (akeaton@uvm.edu) by December 1, 2022. Interviews of a select pool of applicants are expected to take place in December 2022. In addition, assistantship selection is dependent upon acceptance to the UVM graduate school, and all associated application materials must be submitted to UVM by January 1, 2023.
Doctoral Assistantship in Just Transitions and Energy Sovereignty
Project: The Rubenstein School of the Environment and Natural Resources (RSENR) at the University of Vermont (UVM) is seeking a creative and highly motivated doctoral fellow to be part of an interdisciplinary social science project. The project's goals are to explore how renewable energy transitions are shaping energy sovereignty and environmental resilience as well as the technical, environmental, sociopolitical challenges to renewable energy transitions in the remote communities in Alaska. The incumbent will join a cohort of social, natural, and physical scientists studying models of energy communities, energy economics, optimization of renewable sources (stability, reliability, resilience, and flexibility). This is a collaborative project working in partnership with universities and community organizations in Alaska. Expected start date is Spring 2023. A later start date is negotiable.
Qualifications: We expect that the doctoral applicant will have prior demonstrated experience in the following:
Experience conducting interdisciplinary research or community based participatory research on renewable energy transitions, energy communities; have good theoretical understanding of energy justice and just transition literature, and have broader interest in science technology and society studies, and indigenous studies scholarship
Excellent skills in communicating scientific results verbally and in writing.
Experience in community engagement, qualitative research data collection (including interviews, focus groups, surveys, media analysis), and skills in integrating scientific, regulatory, and applied perspectives
Competitive candidates will have a strong record of scholarly success, a demonstrated commitment to interdisciplinary work, a keen interest in connecting research to policy and decisions, and high potential to become global leaders in just transitions and sustainability.
Preference will be given to candidates with a Master's degree in a relevant field or with an undergraduate degree with work experience in a relevant discipline. 
Contact: Interested students are encouraged to reach out first to discuss the position before applying. Preference will be offered to candidates that apply before the October 25, 2022 deadline for Spring term. For additional information contact Bindu Panikkar at bpanikka@uvm.edu.
Application: Application materials are to be submitted online. Applications should include a statement summarizing your qualifications, accomplishments, research interests, as well as a curriculum vitae, contact information of three references, and a writing sample. Shortlisted candidates will be invited for an online interview to do a short presentation summarizing (in sufficient depth) your past research or experience, objectives, methods, results/impact and why you believe it is relevant for or relates to the proposed project. Specifically, we are interested in learning how you think about the concepts of just transition, energy justice, community capabilities and how you would utilize these concepts in research.
We believe that a diverse and inclusive Rubenstein School will enhance the relevance and impact of our work, ensure our solutions represent those most affected by environmental challenges, address environmental injustice, diversify the environmental leadership of the future, and train scholars and leaders to operate in diverse teams and environments.
Gund Institute PhD Fellowships
The Gund Institute for Environment at the University of Vermont supports outstanding PhD applicants interested in conducting interdisciplinary research on major global environmental challenges. With Gund PhD Fellowships, students receive attractive funding packages, world-class faculty mentors, real-world experience collaborating with leaders in government and business – and a deep understanding of complex global sustainability issues.
Learn more about Gund Research Fellowships >>
Quantitative and Evolutionary/Ecological STEM Training (QuEST) Program for Doctoral Students
Program Overview: QuEST is a training program, supported by the National Science Foundation that integrates with existing PhD programs across the UVM campus in biology, plant biology, plant and soil sciences, mathematics, computer science, engineering, natural resources, and cellular, molecular and biomedical sciences. The traineeship provides core courses, a variety of quantitative electives, an applied internship with a non-academic organization, and extensive professional development training in computation, communication, and cultural awareness and inclusion. 
Contact: April Berteau, april.berteau@uvm.edu, 802-656-2251 
Rubenstein School Teaching Assistantships
Responsibilities: The Rubenstein School has many teaching assistantships available each academic year starting in September. Graduate teaching assistants lead field and indoor laboratories, facilitate discussion sessions among small groups of undergraduates, assist with evaluation and grading, and run workshops and help sessions. Typical assignments are for ten hours a week.
Qualifications: Teaching Assistantship assignments are competitive and based on undergraduate GPA, letters of recommendation, and requests from student advisors.
Application: Check box on submitted UVM electronic application