Forestry Program Mission
The mission of the UVM Forestry Program is to train and prepare students to excel in a diversity of careers in forestry and forest conservation. We seek to provide the knowledge, skills, and experience students need to analyze and understand forest management across multiple scales and perspectives, and to develop students' critical thinking skills, needed to address the complex problems facing sustainable forest management and conservation in the 21st century.
Our curriculum focuses on sustainable forestry, emphasizing the complex landscapes of the northeastern United States while also stressing global context and change. We ensure that students develop the ability to coordinate and manage all aspects of sustainable forestry through an education that combines a strong foundation in natural and social sciences with high-impact education practices that include: hands-on field classes, internships, service-learning courses, research experience, and forest management projects.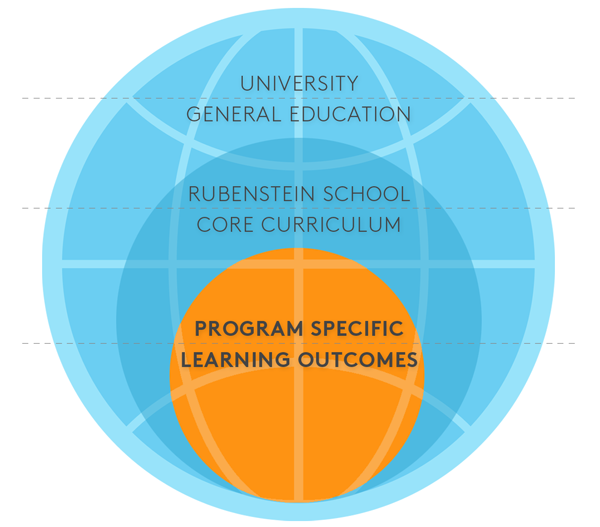 ● University General Education
Every student at UVM will take General Education courses on Sustainablity, Writing and Information Literacy and Diversity.
● Rubenstein School Core Curriculum
All Rubenstein School students will engage with the School's Core Curriculum: a body of knowledge, skills and values our faculty believe to be central to the study of natural resources and the environment.
● Program Specific Learning Outcomes
Each student will pursue the Program Learning Outcomes specific to their chosen major.
Forestry Program Learning Outcomes
Students graduating from the Forestry Program will be able to:
Apply esssential skills of measurement, spatial orientation, sampling, and data analysis;
Incorporate the foundational natural and social sciences into decision making;
Articulate historical context and contemporary trajectory of the profession;
Evaluate human dimensions of sustainable forest management, including the diverse universe of forest stakeholders, perspectives, and policies;
Develop and implement well-justified forest management strategies that address a diversity of objectives at spatial scales ranging from stands to the entire planet.