Environmental Sciences Program Mission
The B.S. in Environmental Sciences is an interdisciplinary degree that prepares students to develop and apply science and technical knowledge to conserve and sustainably manage social-ecological systems. By combining a science-based core curriculum with hands-on experience students are challenged to identify, analyze, and respond to complex environmental problems across local, regional, and global scales.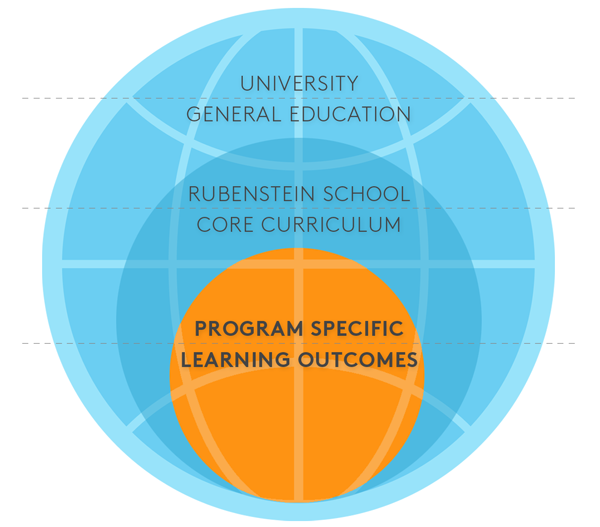 ● University General Education
Every student at UVM will take General Education courses on Sustainablity, Writing and Information Literacy and Diversity.
● Rubenstein School Core Curriculum
All Rubenstein School students will engage with the School's Core Curriculum: a body of knowledge, skills and values our faculty believe to be central to the study of natural resources and the environment.
● Program Specific Learning Outcomes
Each student will pursue the Program Learning Outcomes specific to their chosen major.
Environmental Sciences Program Learning Outcomes
Successful Environmental Sciences graduates will demonstrate the following competencies:
Apply a range of scientific methodologies and disciplinary perspectives through scientific inquiry, modeling and real-world experience in addressing pressing environmental issues;
Employ a systems approach to analyze how human and ecological systems interact to influence processes in air, on land, and in water, including the transport and fate of nutrients and contaminants through the environment;
Assess and articulate the scientific evidence surrounding key environmental issues and evaluate ongoing efforts to mitigate environmental problem;
Design solutions to real world problems in collaboration with community partners;
Deepen their understanding of the concepts, processes, problems and solutions of their chosen concentration.