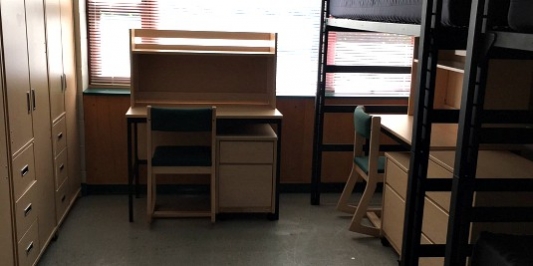 You've gotten your housing assignment and you've been assigned to a triple.You are not alone! Each fall, up to about one-quarter of our on-campus students may be living in a triple room.
What will my triple room look like?
Because our halls are unique, triple room details differ from hall to hall. Although the look, size, and style of triple rooms and their furnshings may vary, each student will have a desk, chair, bureau or bureau/closet unit, and bed—triple rooms are furnished with a loft bed and two bunked beds (one bed on top of the other). All beds are adjustable. Before August Move-In, bunked beds are preset with 18" under-bed clearance.
Why was I assigned to a triple?
A common practice at most schools, including UVM, is to use triple rooms to expand housing capacity when necessary. As space permits, triple rooms are converted back to double rooms.
Will my room be crowded?
Well, that depends. Although we evaluate all triple rooms to make sure the furniture fits in the available space, things can get crowded quickly if each roommate brings an extra chair, futon, fridge, etc. There is no extra storage space in the halls, and all furniture must remain in your room. So it's definitely a good idea to connect with your roommates before move-in day to figure out who will bring what to avoid duplicates (or triplicates). Remember, less can be more!
Tips to maximize your space:
Except for built-in closets in some rooms, most furniture can be easily rearranged.
Make an 'L' formation with two beds or dressers or desks.
Make the most of all flat surfaces (tops of desks, dressers, refrigerators, etc.)
Move dresser or shelves into your closet.
Keep the beds bunked and the third bed lofted... or if you decide to un-bunk your beds, use bed risers and get storage drawers or boxes that fit under your bed.
Use stacking bins and shelving units to make the most of your vertical space.
Use an over-the-door shoe or sweater organizer to maximize closet storage.
How does living in a triple affect my bill?
Students assigned to full triples pay a reduced room rate. The savings are significant and many students and their families enjoy this benefit. Please understand that this reduced rate only applies when the room is a fully occupied triple.
In July, all incoming new students are pre-billed for a double, since we do not yet know the type of room you will be assigned to. If you are assigned to a full triple, you will receive a credit on your student account.
At any point during the year, for any reason, if your triple room "breaks down" to a double (from three students to two), the two remaining students will be charged the double rate (private, suite, or traditional) from the date the third student moves out for the remainder of the semester. Once a triple room "breaks down," the third bed is not refilled.
Read more about room rate adjustments to understand how this works.
How will I be able to study and sleep in a triple?
This is a concern for all new college students, and with three of you sharing a room it's crucial to be honest with one another. We encourage roommates to have open communication about any issues, even before they arrive.
Shortly after move-in, residents will be asked to fill out a roommate agreement form—a great way to get the conversation started about important issues such as visitors, quiet time, sleep schedule, etc. Your resident assistant (RA) will help facilitate a conversation with you, help complete the form if needed, and is specially trained to help resolve any difficulties that may come up during the semester. As with any shared living situation, there will definitely be compromises, but if you work together you'll be more likely to have a positive experience.
How long do I have to live in a full triple? Can I change rooms?
Many times residents who were at first unhappy to be in a triple end up loving it and staying there for the entire year. Students in full triples who do wish to move can often do so as space becomes available within their Learning Community (which we cannot predict). We will have more information about how to request a switch shortly after halls open.
Can I have triple furniture taken out of my room?
Yes. If your room is set up as a triple, but you never got a third roommate, or if someone moves out of your full triple at any point during the year, you can submit a Fix-it to have one set of furniture removed:
Please keep in mind:
Any triple room not filled to capacity by move-in weekend will revert to a double.
After we receive your Fix-it, please understand that removing this furniture may take some time—we're sorry it will not happen on opening day, and appreciate your patience during this very busy time.
Please do not remove any triple room furniture yourself. Furniture left in the hallway is unsafe, a fire-safety-code violation, and could result in a $500 fine.