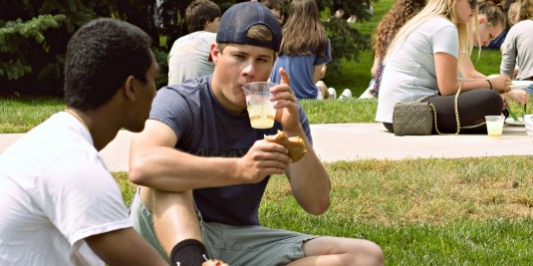 Trading Spaces allows incoming first-year students to: 1) request placement in a different Learning Community; and/or 2) request a preferred roommate who is currently in a different Learning Community
All moves are managed by ResLife staff and occur after Orientation ends in June. Please contact us with any questions.
1. TYPES OF TRADES:
Many types of trades are possible, but some are more likely to occur than others. Please refer to this matrix to understand the likelihood of your request.
Here are examples of trades:
Moving from a space in Traditional (Unprogrammed) Housing to a space in a Learning Community (e.g., Traditional Housing to Arts & Creativity)
Moving from a space in your current Learning Community to a space in a different Learning Community (e.g., Sustainability to Innovation & Entrepreneurship)
Moving from a space in any community to a space in an Enhanced Experience (e.g., Cultural Crossroads to Arts & Creativity Emerging Media)
Moving from a space in any community to Traditional (Unprogrammed) Housing (e.g., Leadership to Traditional Housing)
2. TRADING SPACES AND ROOMMATE PREFERENCES:
Please be aware that preferencing roommates can impact the likelihood of a Trading Spaces request.
Students who wish to use Trading Spaces as a method to preference a roommate outside of their current Learning Community must all submit a Trading Spaces form with: 1) the same Learning Community preference; and 2) desired roommates mutually preferencing each other. Aside from these steps, no additional action is necessary.
3. HOW TRADING SPACES WORKS:
From June 25-July 6, complete a Trading Spaces Request form that will be available online in myHousing. Students will be able to submit one form requesting their ideal trade, which can include a Learning Community/Enhanced Experience and/or a roommate.
ResLife will identify pairs of people to trade spaces.
ResLife is unable to consider pre-arranged swaps.
We will honor as many trade requests as possible, and these changes will be reflected in your August housing assignment (sorry, we are unable to provide updates about individual Trading Spaces requests prior to that).
4. SUBMITTING A TRADING SPACES REQUEST (JUNE 25-JULY 6):
Submit one trading spaces request from 1:00 p.m. on Monday, June 25 through 12 p.m. (noon) on Friday, July 6.
Login to myResLife and then select "Go to myHousing."
The "Trading Spaces – FTFY Students" request form is located under "Fall 2018" on the next page.
Make sure to "Save Changes" to submit your request.
Once you have submitted the request you will not be able to edit or delete it, or submit multiple requests.
The request form will ask for:
Your preferred Learning Community
The NetID of your preferred roommate if you have one
If you are willing to accept a trade without your preferred roommate
Any other important details
5.TRADING SPACES OUTCOMES:
All students will be notified of housing assignments on August 10. This will reflect any Trading Spaces requests we were able to complete.