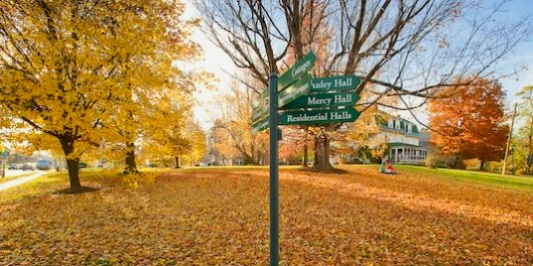 Residence halls close at 12:00 noon Saturday, November 23, and reopen Sunday, December 1 at 8:00 a.m. For your convenience, we offer break housing and a one-day-early return option.
DO YOU NEED TO:
Stay past Saturday or return more than one day early before halls reopen? You will need to sign up for break housing. The flat-rate charge for the week is $156. Read more about academic breaks and sign up in myHousing by 12:00 noon Friday, November 22. GGP students, exchange students whose contracts include Thanksgiving break, and current RAs will not be charged, but must still sign up for building access / security reasons.
Return just one day early? For your convenience, we offer a one-day-early return option for $50 (as early as 8:00 a.m.). To request an early return for Saturday, November 30, submit a Thanksgiving early return request in myHousing by 4:00 p.m. Friday, November 22.
PLEASE NOTE: Students found responsible for a conduct violation during a previous break stay may not be eligible to register for a future break stay.
PREPARE YOUR ROOM:
Take all belongings that you may need (halls are closed until the Sunday after break).
Remove perishables, dispose of trash, and recycle.
Set the temperature to 65 or an equivalent setting.
Unplug all electrical devices except refrigerators and fish tanks.
Make sure your refrigerator is plugged directly into a wall outlet; otherwise it will be unplugged.
Close and lock all windows and your door.
Sign the checksheet on your door.
BE AWARE THAT:
Our staff will enter all student rooms to verify safety guidelines have been met.
Policy violations will be documented and referred through the student conduct process.
Main desks are closed and mail will not be sorted or distributed during break.
RETURNING FROM BREAK:
Halls reopen at 8:00 a.m. the Sunday after break.