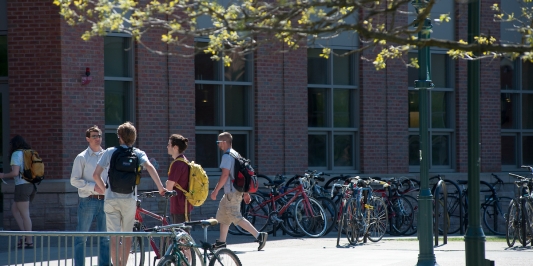 This page outlines how current on-campus students select their room for the following year. Additional updates for the 2019-2020 room selection process will be coming soon.
What's New for 2019-2020:
Housing and meal plan contracts for 2019-2020 are offered and completed in January at the beginning of spring semester.
Preferences for specific Learning Communities or traditional (unprogrammed) housing are included on the contract.
Preferences for specific roommates are included on the contract.
In early February, you can also opt to apply for Enhanced Experiences in your Learning Community.
Returning students who have completed a 2019-2020 housing and meal plan contract will select their rooms in February and March.
STEPS TO GET A ROOM
STEP 1: COMPLETE YOUR HOUSING AND MEAL PLAN CONTRACT.
The 2019-2020 contract is open January 4-January 22, 2019 to returners currently living on campus.
Go to myResLife, click on Go to myHousing and select 2019-2020 housing and meal plan contract to complete the contract.
You must rank Learning Communities (LCs) in your order of preference. If you do not wish to be considered for an LC, rank traditional (unprogrammed) highest.
You may indicate a roommate preference on the contract.
Gender-inclusive housing is available in many residence halls. Please contact ResLife for more information.
STEP 2: (OPTIONAL) APPLY FOR ENHANCED EXPERIENCES IN YOUR LEARNING COMMUNITY.
After being placed in an LC, returning students will then have the option of applying for Enhanced Experiences (EEs) that exist in some of them (for example, Living/Learning programs in Cultural Crossroads).
EE applications open February 5 and close February 11, 2019.
We will notify you when EE placement are available (February 22, 2019). You can then view your placement in myResLife,.
STEP 3: GET YOUR LOTTERY NUMBER AND SELECT YOUR ROOM!
Shortly before your room selection event in February or March, we'll email you the link to your lottery number along with complete details on how and when to select your room.
Everyone who submits a housing and meal plan contract by the stated deadline will receive a lottery number to select a room prior to their room selection event.
Lottery numbers are randomly generated based on class year, as determined by completed academic credit. Your lottery number determines the day and time you'll go online to select a room.
Students who have mutually preferenced each other as roommates on their contracts will receive an email with details on how to choose a room together, as space permits.
PREFERENCING A ROOMMATE
When the 2019-2020 contract opens on January 4, you will also have the option to preference a roommate.
Things to keep in mind:
We will honor mutual roommate preferences as best we can and as space permits.
Many LCs have triple rooms—preferencing one roommate does not guarantee you will be in a double room.
Acceptance into an LC Enhanced Experience may impact roommate preferences.
If you choose to preference two roommates and your LC has triple rooms, we will guarantee your roommate preferences.
How to preference one roommate in a double or triple room:
On your housing and meal plan contract, enter the NetID (e.g. jsmith) of the person you wish to room with.
Your intended roommate must also preference you the same way.
Roommate preferences must be mutual and cannot be added after the contract closes January 22, 2019.
Be sure to click confirm to save your preference.
Roommate preferences are not guaranteed. But we will do our best to honor them!
How to preference two roommates in a triple room:
Email reslife@uvm.edu by 12 noon on Friday, January 18, 2019 for instructions on how to edit your contract to add two roommates. All three students hoping to sign up together in a triple room must complete this process in order to be eligible.
Be sure to click confirm to save your preferences.
Roommate preferences cannot be added after January 22, 2019.
Please note that not all communities/buildings have triple rooms.
When do roommates choose a room?
Mutual roommate pairs or trios will choose a room together with no additional (non-preferenced) roommates as space permits.
Mutual roommate pairs or trios will be emailed details on how to select a room together. One person will select a room, and the other(s) will be pulled in and assigned automatically.
Roommate pairs or trios who do not choose a room during their designated time will invalidate the roommate preference and will select (or be assigned to) rooms separately.
If at any time prior to fall opening a triple room is not at full occupancy, it is the responsibility of the remaining resident(s) to identify an eligible replacement(s) willing to move into the vacant space(s). If a replacement(s) cannot be found, ResLife reserves the right to relocate the remaining resident(s)—which, depending on available space, could be in different rooms.
During the academic year, triple rooms are used to expand housing capacity when necessary. As space permits, they are converted back to double rooms. When this occurs, the double rate will be charged to the remaining two students on a prorated daily basis. Read more about room rate adjustments.
IMPORTANT DATES
LEARNING COMMUNITY PLACEMENT
In Fall 2019, all returning students will be placed in one of these nine Learning Communities (LCs) or in traditional (unprogrammed) housing:
Wellness Environment: Christie, Converse, Patterson
Honors College: University Heights North
Journey to Independence (Junior/Senior Housing): Jeanne Mance
Arts and Creativity: Hunt, McCann, Ready, Richardson, Sichel
Innovation and Entrepreneurship: Hamilton, Mason
Cultural Crossroads: L/L A, B, C, E, Tupper
Leadership and Social Change: Millis
Outdoor Experience: Coolidge, Davis, Redstone, Slade, Wilks, Wing
Sustainability: University Heights South
Traditional (unprogrammed) Housing: Various locations across campus. For 2019-2020, halls include Jeanne Mance, Mercy, and the Trinity Back Five (Hunt, McCann, Ready, Richardson, and Sichel).
These choices will be listed on your housing and meal plan contract.
You are required to rank them from high to low (1-10) based on your level of interest.
You will be placed in your highest-ranked LC that has a space.
We will notify you when your LC placement is available (February 4, 2019). You can then view it in myResLife.
You can then apply for any optional Enhanced Experiences offered in your LC (such as Living/Learning programs in Cultural Crossroads).
ENHANCED EXPERIENCE
Being part of an Enhanced Experience (EE) allows you to further engage your passions outside the classroom and be a part of a smaller, more closely knit community. Many Learning Communities (LCs) offer them. All EEs require an application, which must be completed between February 5-11, 2019. Explore the EEs that your LC may offer.
Things to keep in mind:
You can only apply for the EEs within your LC. Review your LC placement at myResLife.
Some communities (such as Cultural Crossroads) have multiple EEs that are limited in space. Due to high interest, we recommend you apply to as many that interest you.
Applying for an EE may affect roommate preferences—if you get into an EE but your preferred roommate does not, you will not be placed together.
TRADING SPACES
What is Trading Spaces?
Trading Spaces is the final phase of returner room selection. To the extent possible, you will have the opportunity to move within your Learning Community (LC) or between communities by trading spaces with another student. These moves will begin in April after room selection has been completed and will be managed by ResLife staff.
Trading Spaces can help support you in: 1) getting your preferred LC; and/or 2) getting your preferred roommate. As space permits, we'll work to achieve both goals. If that is not possible, we'll ask you which is more important to you—being in the LC, or having a specific roommate.