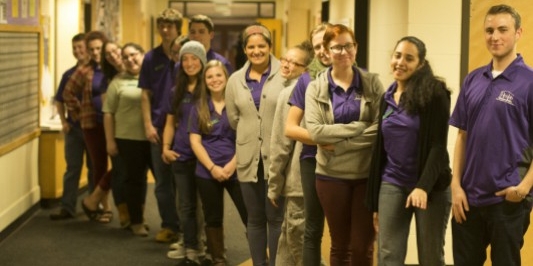 One of the keys to our success is our fantastic RAs!
We are now recruiting for the 2018-2019 academic year and for Summer 2018.
Important Dates for 2018-2019 Academic Year Applicants:
Applications are NOW OPEN
Applications and References Due: February 9, 2018 at 11:59 p.m.
"The Big Weekend" Invitation (Interview Weekend): February 24 and 25
Round One Hires Announced: March 9, 2018 by 11:59 p.m.
Candidates Placed on the Alternate List during Round One may potentially be hired during later rounds:

Round 2 Hires Announced: March 23, 2018
Round 3 Hires Announced: March 30, 2018
Round 4 Hires Announced (Tentative): April 6, 2018

2018-2019 RA Orientation: April 16, 2018 at 9 p.m.
Application Process: Get Started
1. What to Know Before You Apply
General Training Dates: All RAs must attend the entirety of RA training. Fall RA training typically takes place starting the first week in August and Winter RA training typically takes place the week before classes start in January. As you are making internship, summer job, vacation, and/or travel arrangements, please keep that in mind!
FALL RA TRAINING FOR THE 2018-2019 ACADEMIC YEAR STARTS: AUGUST 4, 2018
Learning Community Placement: While you'll be able to preference learning community placement, you may not be offered an RA position in your top choice (we make every effort to place you within your top three choices). Placement is made on a variety of factors and your preference is just one of them. Please also preference learning communities based on your interest and NOT based on desired complex. There is a high likelihood you could be placed in your top choice, but not in the specific complex.
Hiring is on a Rolling Basis: RA position vacancies can arise at any time for a variety of reasons, and so we hire on a rolling basis. This means that if you are on the alternate list, there is a high likelihood that you will be contacted to fill a vacancy. If you're interested, hold on tight! We could contact you over the summer or even in the middle of the semester! If you need to know where you stand in our process in order to make other housing or involvement decisions, don't hesitate to reach out and ask!
Being a Role Model: Residential Life sets the highest standards of conduct and academic achievement for RAs. As an RA, you will be expected to adhere to the same Residential Life and University policies as your residents.
2. Attend an Info Session: Optional, but Highly Recommended!
Learn more about the RA position, ask questions from current Residential Life staff, and start imagining yourself as part of the RA experience!
2018 information sessions
| | | |
| --- | --- | --- |
| DATE | TIME | LOCATION |
| Tuesday, January 30 | 7:00 p.m. | Harris/Millis Garage (room 115), Athletic Campus |
| Wednesday, January 31 | 7:30 p.m. | McAuley Lounge, Trinity Campus |
| Thursday, February 1 | 8:00 p.m. | Wing/Davis/Wilks Multi-Purpose Room |
3. Observe the RA Experience
As part of the application, you'll need to shadow an RA, other than your own, on community walks! You'll also need to attend one RA program within any residential community. Please talk with your RA or contact the RA Recruitment and Selection team at uvmra@uvm.edu for assistance in connecting with another RA.
4. Submit an Application
After you've observed an RA in action, it's time to submit your application! The application includes general information, brief essay questions, and preferences for learning community placement. Only completed applications are guaranteed to be reviewed and moved on to The Big Weekend! Here some info you'll need:
Your 95#
Resume
Name, relationship, phone number, and email of two references (character references are NOT allowed). Please select a previous supervisor, mentor, teacher, etc. Please do not ask friends or peers to submit a reference on your behalf.
Email address of the RA you shadowed.
Completed applications for the 2018-2019 fall hiring process are due February 9, 2018 at 11:59 p.m.
5. The Big Weekend!
After applications are reviewed, selected applicants are invited to The Big Weekend! This is where you get to learn more about our learning communities and interview for the RA position.
RA Interviews will be held the weekend of February 24 and 25. The RA recruitment team will reach out to all candidates by February 16, 2018, informing them whether they are able to move forward in our process as well as their specific interview time and location.
6. Selection Decisions Released
After The Big Weekend, candidates can expect to hear back about selection decisions for the RA position starting March 9, 2018. Candidates who participate in our fall selection process will receive one of three statuses:
Hired: You've been hired as an RA for the 2018-2019 academic year.
Alternate: We are not able to offer you an RA position at this time. However, vacancies will arise between now and August 2018 and you may be hired later. Additionally, individuals on the Alternate list will be hired to fill any Mid-Year vacancies at the end of the Fall 2018 semester, so there is a high likelihood that you will be hired before next year's process.
Decline: We are not able to offer you an RA position for the Fall 2018-2019 academic year. However, we encourage you to reapply during our Spring 2019 RA selection process.
7. Did you interview for the RA position but haven't heard from us yet?
Don't worry! We are making RA offers on a rolling basis—which means that we are still actively hiring RAs between now and April 6, 2018. As individuals decline positions, we will continue to make offers to fill vacant RA positions. We anticipate notifying remaining candidates of whether they are placed on the alternate list or not hired for the RA position around April 6. If at any time you have questions around where you stand in the process, please don't hesitate to email uvmra@uvm.edu!