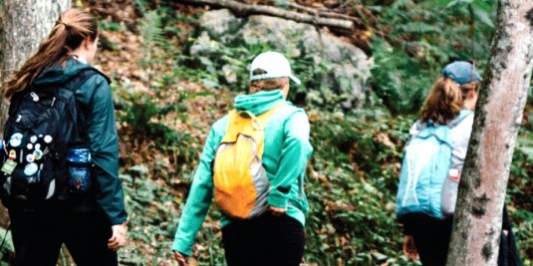 In Outdoor Experience, we believe that appreciation of the outdoor world starts with respect for yourself and the spaces you inhabit.
Accordingly, ALL students in Outdoor Experience commit to keeping alcohol, cannabis, other drugs—and their influence—out of our community, adhering to University policy.
All students are expected to abide by:
Each member of Outdoor Experience brings in a unique set of attributes, and when positively contributed, lends to the success of the community. As we grow and explore individually and as a community, recognizing these values means we must place special attention on actions that can be disruptive. We must be considerate of individuals' needs and be respectful of our home and throughout all environments in which we travel. Stewardship starts at home as a way to practice and live with integrity.
Consistent with our commitment to restorative practices, any student who is alleged to be in violation of these policies will be required to participate in a developmental conversation with Outdoor Experience program staff. During this conversation we will discuss what needs to be done to repair harm done to the broader community and restore the student's standing in the community. Consequences of engaging in activities that are disruptive to the community may include sanctions up to removal from the community.