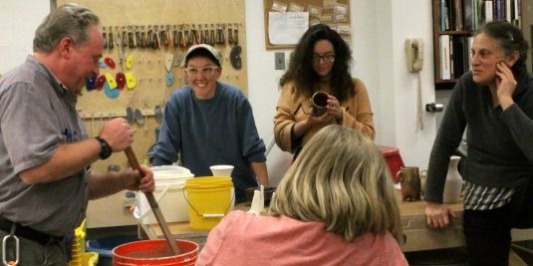 UVM's Pottery Co-op is an incredible resource for the campus and the wider community. Membership includes all materials, firings, and use of the pottery studio.
UVM Affiliates and Vermont Community Members: Welcome!
Interested in learning about pottery? You do not have to be a part of UVM to join. All are welcome here! No previous clay experience required. You must purchase a membership to use the studio.
Looking for upcoming info sessions, classes, or registration details?
SPRING REGISTRATION INFORMATION:
Spring online registration opens February 3 at 9:00 a.m.
Spring semester begins February 10.
ALL FIRST-TIME MEMBERS MUST REGISTER FOR A CLASS
UVM alumni are NOT considered affiliate
SPRING CLASSES: FEB. 10-MAY 8
MONDAY
Plants, Planters, and Pots! - All Levels - Monday 3:30-5:30 p.m.
All skill are levels welcome in this 11-week class taught by Sophia Rampone (though previous clay experience is preferred). Learn to wheel-throw different styles of planters, bases, and double-walled forms. Learn decoration using natural objects and by drawing inspiration from nature. Design your own terrarium, planter, air plant home, vase, or clay model garden. Build clay flowers, trees, and succulents.
Sculptural Hand-building - Intermediate - Monday 6-8 p.m.
Taught by Chloe Foster, this 10-week intermediate class requires that students must have basic hand-building skills: coiling, pinching, slab-making, slipping, and scoring. Project prompts will be a mixture of technique-based and theme-based. We will be exploring organic, abstract forms while also creating room for realism and functionality. Come in with your own ideas for sculptures (or discover them through brainstorming during class), and we will have a lot of fun!!
Wheel-throwing will not be taught or available during class time.
Tuesday
Pottery Troubleshooting/Study Hall - Intermediate - Tuesday 10 a.m.-12:30 p.m.
This 12-week intermediate course taught by Patty Brushett is a pottery study hall. Students must come to class with previous skills and experience, as well as individual plans and goals for themselves. The instructor and TA act as resources or sounding boards, with the objective of helping the students brainstorm new ideas or solutions. Acting as facilitators and advisors, they will guide the students toward their own personal growth as potters, and help with any issues or questions that may arise.
Introduction to The Wonderful World of Hand-Building - Beginner - Tuesday 3:15-5:15pm
This 11-week beginner class taught by Emilie Begin will teach students the basics of ceramic hand-building. We will cover the introduction and purpose of wedging, as well as many base forms: cups, mugs, plates, bowls, coasters, etc. We will create some pinch pots and also do some slab work and coil work. Also, we can experiment with some smaller items like ornaments, coasters and jewelry. The main goal of this class is to allow students a strong hand-building base (proper wedging, rolling, attaching, etc) and hopefully foster a love of ceramics and an interest in further learning.
Wheel-throwing will not be taught or available during class time.
Choose Your Own Adventure - All Levels - Tuesday 6-8 p.m.
This nine-week, all-levels class taught by Becky Mulheron and Geoff Gordon will focus on each individual student's desired project or skill for the semester. Students will meet with teachers during the first class to discuss their projects. Come to the first class with ideas of what project or skill you'd like to complete. Then, the class will vote on the demos they would like to see throughout the semester. There will be three wheel demos, three hand-building demos, and two glaze demos.
Wednesday
Wheel-Throwing for Beginners - Beginner - Wednesday 3:30-5:30 p.m.
In this 10-week beginner class taught by Kate Vanni, students will learn basic wedging and throwing techniques, tool uses, and about different clay bodies. They will also learn how to salvage a piece, knowing when to leave a piece alone, how to wrap a piece to keep it from drying out, surface decoration techniques, and—most importantly in a community studio—how to clean up.
Intermediate Skills and Projects - Intermediate - Wednesday 6-8:30 p.m.
Members in this 12-week intermediate class taught by Chris Behr and D. Bouchard will get individual attention developing self-selected skills and projects. Planning and making will start right away so that students have a good understanding of skill-building and project goals. The early classes will include "Express Demos" of these enabling skills to support everyone's projects. As a group and individually, we'll check and share our progress each time we meet.
Thursday
Nailed It: Clay Edition - Beginner - Thursday 2-4 p.m.
Savannah Maroun and Liv Numa's 10-week beginner class is an exciting new method of teaching. It combines learning and practicing some basic skills with the excitement of friendly competition. Each week starts with a quick demonstration followed by two short and electrifying competitions: one hand-building and one wheel-throwing. After the competition, students will receive help refining the skills demonstrated that class. This class is half thrills and half skills!
Beginning Pottery: The Cylinder - Beginner - Thursday 6-8 p.m.
In this eight-week beginner class, students will learn to wedge, center, throw, trim, and perform basic modifications to cylinders. They will learn to make a cup, vase, and other cylindrical forms.
Saturday
CH-CH-CH-CH-CHANGES - Beginner - Saturday 10 a.m.-12 p.m.
The first half of this 10-week beginner class will focus on core wheel-throwing skills. Students will learn different ways to alter wheel-thrown pieces in wet and leather-hard stages of clay during the second half of the class. This class is meant to give beginners the skills to roll with the changes if something goes awry during the process, and to learn to embrace and build on the imperfections of their piece.
IMPORTANT SPRING DATES
| | |
| --- | --- |
| Informational Meeting - L/L Room 315 | Jan. 26 @ 10:00 a.m. |
| Online Registration Opens | Feb. 3 @ 9:00 a.m. |
| Online Registration Closes | Feb. 9 @ 9:00 p.m. |
| New Member Orientation - L/L Room 315 | Feb. 9 @ 9:00 a.m. |
| Last Day for Written Refund Request | Feb. 9 @ 9:00 p.m. |
| Studio Opens | Feb. 10 @ 9:00 a.m. |
| STUDIO CLOSED - SPRING BREAK | March 9-13 |
| Last Wet Clay Day | April 17 |
| Last Bisque | April 24 |
| Last Day to Glaze | May 1 |
| Studio Closes | May 8 |
FIRST-TIME MEMBER INFO
First-time members are required to take a class equal to their skill level.
Q: Why do I have to take a class as a first-time member? I've been doing pottery for years and know how to use a communal space.
A: This requirement is not to teach you about clay--it is to bring you into our community and familiarize you with studio systems. Community is at the heart of what we do!
Q: Is there one specific class that I'm required to take?
A: There is no one specific course that first-time members are required to take. Any class selection will meet this requirement so long as it is commensurate with your skill level.
Q: Can I sign up for a class that is not equal to my skill level?
A: If you're not sure what your skill level is or what class might be a good fit, email the studio manager at olivia.hartwig@uvm.edu.
Q: Can I sign up for an open membership and use the space freely during open hours?
A: Returning members are welcome to register as open members. First-time members are not.
REGISTRATION FAQ
Q: How fast does registration fill?
A: In the past registration has filled within 30 minutes of opening.
Q: How do I get a spot if it fills that fast?
A: It is recommended that you review class offerings before registration opens and determine which you'll register for. On the morning of registration be ready with a computer or laptop, a reliable internet connection, and a credit or debit card when the site goes live
Q: What if the class I want is filled by the time I try to register?
A: Check the registration site frequently between when registration opens and when registration closes. Openings do appear as people withdraw.
Q: How do I know if I have the skill for a class?
A: Skill requirements will be explicitly outlined in class descriptions. If you do not meet the requirement, please do not take the class.
Q: Can I sign up for a class that I can't attend and use the studio anyway?
A: No. Registration is designed to balance studio resources and community impact. Taking a spot you do not intend to use is harmful to the community and is not acceptable.
Q: Can I hold a spot by signing up for a class that I can't attend while I wait for the class I want to open up, and then switch?
A: No.The registration site is not designed to allow switching between membership selections. Switching between classes will not be accommodated by the studio manager.
Q: What if something comes up after I register. Can I get a refund?
A: Yes. A written refund request can be submitted to olivia.hartwig@uvm.edu up to one day before classes begin. Requests submitted after this date will not be considered.
MEMBERSHIP FAQ
Q: Once I'm registered, can I use the studio whenever?
A: Registered members may use the studio during open hours (Monday-Friday, 9 a.m.-11 p.m. and Saturday & Sunday 8 a.m.-11 p.m.) as long as a class is not in session.
Q: Can I use the studio when a class is in session?
A: No.The studio is closed during class times.
Q: Can I bring and use clay and glaze from home?
A: Outside materials are not permitted in the studio.
Q: Can I take clay and glaze home with me?
A: Studio materials are not permitted to leave the studio.
Q: Can I bring tools in from home?
A: Yes, tools are permitted. The studio is not responsible for loss or theft. Be sure to label them clearly.
Q: Do I have to take a class?
A: First-time members are required to take a class (see First-Time Member Info). Returning members are not required to take a class, but are welcome to.
CLASS FAQ
Q: Can I get academic credit for taking a class in the studio?
A: Our class offerings are not for academic credit at this time.
Q: I haven't been a member in a long time. Should I take a class?
A: Yes, in order to familiarize yourself with new studio policies, systems, and community members; but it is not a requirement.
Q: Can I sign up for a class that is not equal to my skill level?
A: If you're not sure what your skill level is or what class might be a good fit, email the studio manager at olivia.hartwig@uvm.edu.
Q: What if I'm not sure about my schedule. Should I sign up for a class anyway?
A: There is very high demand and a limited number of spots. If you can't take a class, leave room for someone who can.
Q: What if the class I want to take is full? Can I sign up for a different class and attend the one I want anyway?
A: No. Class limits are intentionally set according to space and resource availability.If a class is full, check back regularly during registration to see if a spot has become available.
Q: But I really want to participate!
A: That's great! Consider joining our Winter Session (Jan.-Feb.), Spring Semester (Feb.-May), or Summer Session (Term 1 May-June, Term 2 July-August).
WHAT'S INCLUDED IN A MEMBERSHIP?
Nearly unlimited use of made-in-house clays at no additional cost: terra cotta (low temp), stoneware (high temp), and porcelain (high temp)
Approximately 12 high-temp glazes and four high-temp colored slips
Approximately 12 low-temp slips and one clear low-temp glaze
A wall of shared community tools including ribs, wire tools, handbuilding tools, and sponges
Shared community aprons and towels, washed each night by staff
One or more bisque firings a week (depending on ware quantity) at no additional cost
One or more glaze firings a week (depending on ware quantity) at no additional cost in a reduction gas kiln, except for low temp glaze firings, which take place in the electric kiln
Ten reliable wheels
Twelve weeks of thoughtful programming, both in and out of the classroom
Workshops and events open to all members regardless of membership selection
Amazing classes taught by community driven volunteer instructors
The oversight of a full-time studio manager
The support of a 12-person student employee team, who make clay, glazes, clean, load/unload kilns
Access to the studio outside of class times, Monday-Friday 9 a.m.-11 p.m., Saturday & Sunday 8 a.m.-11 p.m.
Access to visitor parking
AND SO MUCH MORE!
LOCATION AND CONTACT
UVM Pottery Co-Op Location:
Living/Learning Center Commons
Room 102 (1st floor)
633 Main Street
Burlington, VT 05405
Studio Manager: Olivia Hartwig, ohartwig@uvm.edu
Phone: 802-656 4150
WHO WE ARE
The studio community is an inter-generational group of UVM affiliates and Vermont community members with a wide range of clay experiences and skills.
The studio is run by Studio Manager Olivia Hartwig. They are responsible for programming and running the studio, among other things!
Our volunteer instructors range from undergraduate students to retired professionals. All are passionate, talented teachers.
Teacher Assistants (TAs) are volunteers from the membership who wish to become more involved in the community. They are also eligible to teach after one Fall or Spring semester of assisting.
The studio would not function without our amazing crew of student employees. Seriously! If you see them around, say hello.
Members, new and returning, contribute their love of clay, community, and cleanliness to the space and community at large.
WHAT WE ARE
The Pottery Co-Op is first and foremost a learning environment. Because of this, it is not suited to production potters. The studio is also a university laboratory, which means we have safety policies that other studios don't. Specifics are covered in New Member Orientation, which will be scheduled for the weekend before the studio opens for the semester.
MEMBERSHIP DETAILS
Memberships are open to all UVM students, faculty, staff, and community members 18 or older and include:
Non-credit instruction for all levels—from beginner to advanced
Studio access (unless a class is in session) M-F 9 a.m.-11 p.m. and Sat.-Sun. 8 a.m.-11 p.m.
MEMBERSHIP FEES
During the academic year: 
$110 per fall/spring semester for current students, current staff, and current faculty (does not include alumni)
 $220 per fall/spring semester for community members (including alumni)
During the winter and summer: