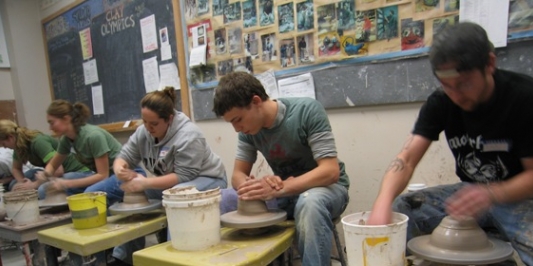 UVM's Pottery Co-op is an incredible resource for the campus and the wider community. Membership includes all materials, firings, and use of the pottery studio.
FALL 2018 INFORMATION
Enjoy 12 weeks of pottery with a Fall 2018 Co-op membership, beginning September 17 and ending December 14. First-time members are required to enroll in a class to become familiar with studio systems and community. This does not affect the cost of membership.
Fall registration form opens September 10 at 8:00 a.m.
FALL 2018 CLASSES
The Earth is Flat: A Discovery of Flat Forms in Ceramics
Instructors: Becky Mulheron and Geoff Gordon
10 weeks – Intermediate
Mondays 6:30-8:30 p.m.
The Earth is Flat will be an exploration of flat forms in ceramics. Students will be encouraged to explore a variety of flat forms. Projects will be divided equally between hand-built and wheel-thrown techniques.
Handbuilding Skills: Create what YOU want to make!
Instructors: Patty Brushett and Cait Fitzgerald
12 weeks – Beginner and Intermediate
Tuesdays 10 a.m.-12:30 p.m.
PLEASE NOTE: ATTENDANCE FOR THE FIRST FOUR WEEKS IS MANDATORY. DO NOT REGISTER FOR THIS CLASS IF YOU WILL BE LATE OR UNABLE TO ATTEND. Students will come to class with a particular project(s) in mind and will be taught basic handbuilding skills and finer finishing skills to make their ideas come to life in clay. These skills can be used to hand-build or alter thrown forms. Wheel-throwing will not be taught.
Scratching the Surface: Intro to Surface Decoration Techniques
Instructor: Bethany Mihavics
10 weeks – Intermediate
Tuesdays 5-7 p.m.
We will explore various surface design techniques, including sgraffito, water etching, carving, and more, which will be integrated with projects so that students come away with new technical knowledge as well as dynamic pieces of work.
Mugs, MUGS, mugs
Instructor: Savannah Maroun
9 weeks – Beginner
Wednesdays 10 a.m.-12 p.m.
The focus of this class is to explore the possibilities of mugs through wheel-throwing, hand-building, and carving. My goal for this class is for members to leave with three mugs that they love and that they be able to use the skills they learn again. This class is mainly for members who understand the basics of wheel-throwing and hand-building, but all are welcome.
Intermediate Skills and Projects
Instructor: Chris Behr
12 weeks – Intermediate
Thursdays 5:30-8 p.m.
Gain confidence in five specific areas: wedging, centering, throwing slabs, rolling coils, and pulling handles. This allows people to more fully enjoy making and creating with clay. Class emphasis will be on helping students build their skill set so they can then take on a variety of self-inspired projects that were previously beyond their grasp.
Intro to Wheel
Instructor: Olivia Hartwig
8 weeks – Beginner
Fridays 10 a.m.-12 p.m.
Learn the basics: how to wedge, center, throw, trim, dry clay, and glaze. Attach handles, apply texture, and play with form as you make a cup, mug, bowl, and plate.
Open Membership
Returning members who have taken at least one Co-op class qualify for open membership. This membership is identical to a class-taking membership, except that they are not enrolled in a class.
IMPORTANT DATES
Registration Information Meeting: Sept. 1 @ 10 a.m. in L/L Rm 315
Registration Opens: Sept. 10 @ 8 am, regonline.edu/fallpottery2018
Classes Begin: Sept. 17 @ 9 a.m.
Basic Glaze Workshop: TBD, will be posted in studio
Intermediate Glaze Workshop: TBD, will be posted in studio
Additional Workshops: TBD, will be posted in studio
Last Wet Clay Day: Nov. 16
Thanksgiving Break: STUDIO CLOSED Nov. 16-26
Last Day to Glaze: Dec. 9
MEMBERSHIP DETAILS
Memberships are open to all UVM students, faculty, staff, and community members 18 or older and include:
Non-credit instruction for all levels—from beginner to advanced
Studio access (unless a class is in session)

Monday-Friday from 9 a.m.-11 p.m.
Saturday and Sunday 8 a.m.-11:00 p.m.
MEMBERSHIP FEES
During the academic year:
$110 per fall/spring semester for current students, current staff, and current faculty
$220 per fall/spring semester for community members
During the summer:
LOCATION AND CONTACT
Studio Manager: Olivia Hartwig, ohartwig@uvm.edu
Location: Living/Learning Center, Room 205