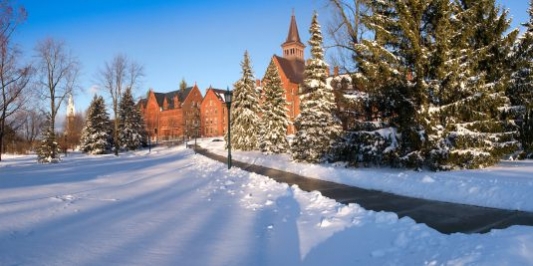 In January, we welcome new first-year and new transfer students to UVM—and we also look forward to the return of our current students for a brand-new semester!
1. WHEN AND WHERE TO CHECK IN:
Halls open at 8:00 a.m. the Sunday before classes begin for all returning students. (New students, check your assignment email for your move-in date.) To confirm you are here, check in at your residential complex main desk with your CATcard (UVM ID). Main desks will be open Sunday from 8 a.m-8 p.m.
2. WHO CAN MOVE IN?
You must be eligible to register for classes in order to move back in. Contact Student Financial Services or 802.656.5700 to resolve any financial holds on your account.
3. AVOID BURST PIPES: KEEP WINDOWS CLOSED AND LOCKED!
This will help prevent any cold-weather-related flooding problems. Burst pipes can be a nasty mess, and if they occur because you left your window open, you may be billed for repair and cleanup charges.
4. NOT RETURNING TO UVM?
Please email us right away at reslife@uvm.edu so we can expedite your checkout. We'll miss you!