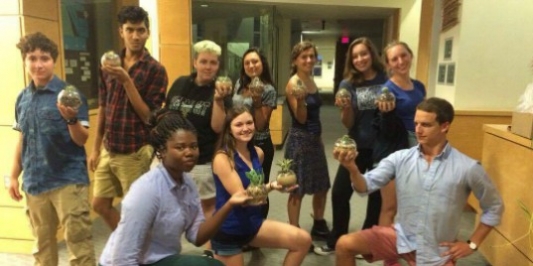 RA training helps you build your skills with interpersonal relationships, organization, leadership, and more!
Not only will you learn how to guide and support others, you're also taking a step towards a better you!
Why Become an RA?
Personal Growth: Being an RA is a transformative experience for many. Through engaging with other students, participating in ongoing trainings and professional development, RAs at UVM become skilled in community development, restorative practices, leadership, and diversity and inclusion. As a premier student leadership experience, RAs develop not only as individuals but as leaders in local and global communities.
Preparing for the Global Community: Think of the RA experience as an opportunity to explore how to interact with local and global communities on a smaller scale. The abilities to interact across difference, to communicate effectively with others, and to build and repair relationships with others are essential to success in and outside of UVM. As our local, national, and global communities continue to evolve, so does the importance of learning of how to grow along with them. As an RA at UVM, we provide you with many opportunities to get a head start in preparing for your role as a member of a larger society.
Marketable Skills: As an RA, you have the opportunity to develop numerous skills and experiences that can help you be competitive in almost any field. The RA position is known nationally for creating leaders who are capable of managing multiple priorities, resolving and managing conflict, and who become strong leaders in their chosen profession. Regardless of whether you're looking to be a doctor or a nuclear engineer, many employers value the experience that comes with the RA position. You can't go wrong with the skills you learn through being an RA!
Compensation: As an RA at UVM, you receive free room and board (with an average meal plan) as well as free membership to any Residential Life-operated fitness center (Wright Hall or Central Campus Residence Hall). Interested candidates for the RA position who receive financial aid should contact Student Financial Services to learn more about how the RA credit may impact their aid eligibility.
General Requirements
Academics
Interested candidates for the RA position must have a minimum 2.5 GPA at the time of application. Once hired, RAs are required to maintain a 2.5 both cumulatively and each semester. Additionally, RAs must be registered full-time undergraduate (12 credit hours) or graduate (9 credit hours) students.
Don't quite have a 2.5 GPA? Feel free to contact us and we'll happily discuss with you your options for applying!
Conduct
All RAs must be in good conduct standing with minimal to no prior conduct violations. RAs who are on probation or deferred suspension at UVM are not eligible to apply.

If you have a prior conduct violation, STILL APPLY! A member from the RA Recruitment and Selection Team will contact you to discuss your candidacy further!
Lived on Campus
RA applicants must have lived on campus for a minimum of one semester at the time of application (preference is two semesters).
Transfer students may also apply for the RA position provided they have lived on their previous campus for at least one semester. They will be required to provide proof of on-campus residency from their current institution.
Housing and Meal Plan
All RAs are required to have a housing and meal plan, upon hire to the RA position. Off-campus applicants must be willing to move on campus and sign a housing and meal plan contract.
Wellness Environment (WE) Specific Requirements
In addition to the above requirements, students interested in becoming an RA in the Wellness Environment (WE) must have lived in a WE community for at least one semester and successfully completed COMU 001: Healthy Brains, Healthy Bodies prior to beginning an RA role in WE.
Journey to Independence/Jeanne Mance Specific Requirements
In addition to the above requirements, RAs in the Journey to Independence Learning Community must be at junior, senior, or graduate student standing by the start date of the RA position.
Other Requirements
RAs must demonstrate a willingness to develop leadership abilities, engage across difference in diverse communities, and participate in a team-based environment. These are important in being able to develop healthy communities.