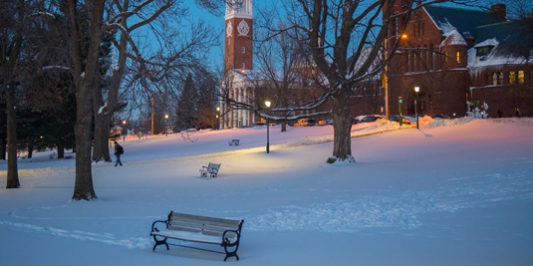 Academic Break Housing is a reasonably priced, convenient option for residents who would like to stay on campus during Thanksgiving, winter, and spring breaks. It is available in all residence halls.
During academic breaks:
We expect you take necessary safety precautions for building security and your own personal safety.
Overnight guests are not permitted.
There is limited custodial service and no mail or main desk service.
Regularly scheduled facilities tests, projects, repairs, construction, and cleaning may cause noise, disruption, or inconvenience in your area.
One residential dining facility remains for part of each break, and some retail dining locations have limited operating hours.
UVM Police is available 24/7 and some ResLife staff is also on duty.
Residential Life requests the support of and authorizes Police Services to conduct common area and perimeter walks during breaks, including the UVM administrative holidays, Thanksgiving, winter and spring breaks. Furthermore, Residential Life and Police Services may review numbers and locations of students each break, along with identified students of concern and Residential Life staffing schedules, to determine the need for more targeted walks and check-ins by Police Services beyond the common area and perimeter walks identified to facilitate safety and security. Police Services may be present in the halls, including on individual floors, for this purpose.
See Occupancy Dates for details.
Signing up for Break Housing
All students who would like to stay for a break must request it online to have building access and for safety reasons.
Current RAs will not be charged, but should still sign up to ensure they have building access and for security reasons.
Sign up on the academic break housing request form in myResLife/myHousing. The online form usually opens two weeks before the upcoming break.
Please note: Students found responsible for conduct violations during a previous break stay may not be eligible to stay for future breaks.
Your student account will be billed a flat weekly rate.* Nightly rates are not available. See Costs & Fees.
*Exceptions: RAs, current GGP students, and select Exchange students whose contract includes break housing.