Michael Bernstein didn't grow up with military aspirations. In high school, he gravitated toward the sciences, with biology standing out to him as the path he wanted to pursue. Looking ahead at college and beyond, healthcare seemed like the right field for him.
But midway through his undergraduate studies in biology and neuroscience at Penn State, Michael had an epiphany, or, as he puts it, a "call to service." A science-minded sophomore without any previous military exposure, he took a leap and joined the Air Force ROTC.
"The overlap," he explains, "is the desire to serve others."
At first, Michael was curious about exploring healthcare-related tracks in the Air Force — medical special operations, for example, or even aviation physiology. "As part of your Air Force training, every student has to go through sessions with an aerospace physiologist who teaches them about the physiology of the body during flight, especially in high performance aircraft," Michael says.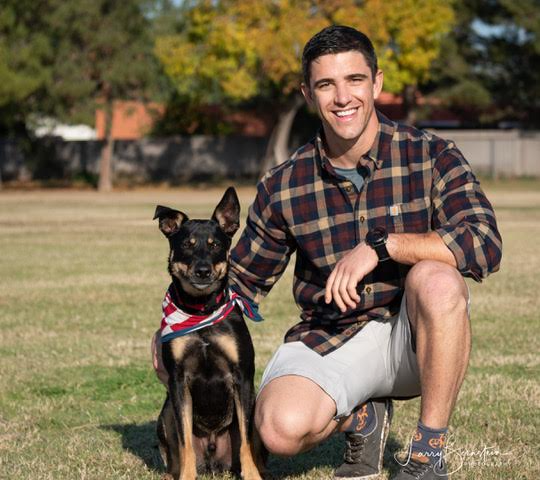 Ultimately, he became a fighter pilot. "My main concern as a fighter pilot is the people on the ground, making sure all Americans make it home safely," he says. While he's passionate about flying, he couldn't shake the feeling that he wanted to broaden his impact. This desire to serve others led him to UVM's Master of Public Health program.
"Public health, from my perspective, opens up the audience, the amount of people you're able to have an effect on," he says. "Plus, the military is really a younger man's profession. In the long term, I see myself returning to Vermont and serving the Vermont area."
Staying Rooted to Vermont While Studying from Abroad
A Vermonter by birth, Michael grew up just 25 minutes south of Burlington. And since he had spent a week on campus at the Governance Institute as a high school student, and spent part of his senior year studying pharmacology at UVM, the university was top-of-mind when he decided to undertake graduate studies while in the military.
"I've always been grateful to have UVM right down the road, and for all the resources they gave me. I wanted to go to UVM for my master's because I had had such great past experiences," he says.
Just as importantly, the MPH program provides the flexibility that Michael needs as an active servicemember. When he first joined the program, he was stationed in Arizona. Asynchronous learning was essential to removing any time zone barriers. And now, stationed in South Korea, Michael enjoys the freedom to study on his time, even if it's 13 hours ahead of UVM.
"UVM's program allows me the flexibility to continue my studies from abroad during my military travels. And that was pretty unique to UVM; there are no in-person requirements or cohort requirements. You can do it at your own pace."
"Everyone here is pursuing a degree for their own ambition," he continues, "so everyone seems to go above and beyond in the online learning environment." Even from South Korea, he feels engaged, connected, and challenged by the program material and his classmates' unique perspectives.
As he navigates his overlapping ambitions, Michael feels confident in his choice to pursue an MPH, especially since the program aligns with his goals to serve diverse populations. "Public health applies to so many aspects of life," he says. What's more, studying from South Korea during a global pandemic has given him abundant food for thought about how culture — national, institutional, or otherwise — can dictate the public health responses that impact us all.
"It's a bit of a culture shock going back and forth: the military has its own culture, the United States has its own culture, and South Korea has its own culture. It's interesting seeing how each culture handles public health issues differently and observe the policy differences among the three."
---