Choose your campus residence addresses to view the correct mailing address
Austin
Austin
#123 (example room number)
31 Spear Street
Burlington, VT 05405
Central Campus Residence Hall
Central Campus Residence Hall
#123 (example room number)
170 Carrigan Drive
Burlington, VT 05405
Christie
Christie
#123 (example room number)
436 South Prospect Street
Burlington, VT 05405
Converse
Converse
#123 (example room number)
170 Carrigan Drive
Burlington, VT 05405
Coolidge
Coolidge
#123 (example room number)
436 South Prospect Street
Burlington, VT 05405
Cottages
Cottages
#123 (example room number)
250 Colchester Avenue
Burlington, VT 05405
Davis
Davis
#123 (example room number)
486 South Prospect Street
Burlington, VT 05405
Hamilton
Hamilton
#123 (example room number)
438 South Prospect Street
Burlington, VT 05405
Harris
Harris
#123 (example room number)
67 Spear Street
Burlington, VT 05405
Hillel
Hillel
#123 (example room number)
439 College Street
Burlington, VT 05405
Hunt
Hunt
#123 (example room number)
250 Colchester Avenue
Jeanne Mance
Jeanne Mance
#123 (example room number)
394 Pearl Street
Burlington, VT 05405
Living/Learning
Living/Learning
#123 (example room number)
633 Main Street
Burlington, VT 05405
Marsh
Marsh
#123 (example room number)
31 Spear Street
Burlington, VT 05405
Mason
Mason
#123 (example room number)
438 South Prospect Street
Burlington, VT 05405
McCann Mercy
McCann Mercy
#123 (example room number)
250 Colchester Avenue
Burlington, VT 05405
McAuley
McAuley
#123 (example room number)
250 Colchester Avenue
Burlington, VT 05405
Millis
Millis
#123 (example room number)
67 Spear Street
Burlington, VT 05405
Patterson
Patterson
#123 (example room number)
436 South Prospect Street
Burlington, VT 05405
Ready
Ready
#123 (example room number)
250 Colchester Avenue
Burlington, VT 05405
Redstone
Redstone
#123 (example room number)
436 South Prospect Street
Burlington, VT 05405
Richardson
Richardson
#123 (example room number)
250 Colchester Avenue
Burlington, VT 05405
Slade
Slade
#123 (example room number)
436 South Prospect Street
Burlington, VT 05405
Sichel
Cottages, McCann Mercy, McAuley, Hunt, Ready, Richardson, Sichel
#123 (example room number)
250 Colchester Avenue
Burlington, VT 05405
Simpson
Simpson
#123 (example room number)
438 South Prospect Street
Burlington, VT 05405
Tupper
Tupper
#123 (example room number)
31 Spear Street
Burlington, VT 05405
University Heights North
University Heights North
#123 (example room number)
30 University Heights
Burlington, VT 05405
University Heights South
University Heights South
#123 (example room number)
90 University Heights
Burlington, VT 05405
Wilks
Wilks
#123 (example room number)
486 South Prospect Street
Burlington, VT 05405
Wing
Wing
#123 (example room number)
486 South Prospect Street
Burlington, VT 05405
Wright
Wright
#123 (example room number)
436 South Prospect Street
Burlington, VT 05405
How to Address U.S. Mail and Packages
U.S. mailing addresses consist of multiple lines: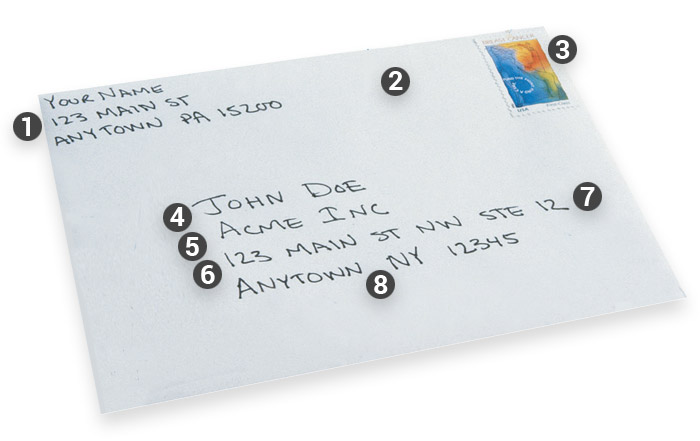 #1 Return address
Print or type your address in the upper left corner on the front of the envelope.
#2 Extra Services
Place labels for extra services above the delivery address and to the right of the return address, or to the left of the postage.
#3 Postage
Use stamps, a postage meter, or a PC Postage system to affix the correct amount. You can calculate positive online at pe.usps.com
#4 Recipient Name
#5 Name of Organization
#6 Street Address
Use a Post Office box or street address, but not both. If the address also has a directional (for instance, NW for Northwest), be sure to use it. There may be more than one Main Street.
#7 Apartment or Suite Number
The correct apartment or suite number helps to ensure delivery to the right location.
#8 City, State and Zip Code
find the correct spelling of a city name (from USPS or call 1-800-ASK-USPS)
find the correct ZIP Code, using the correct Zip Code helps to direct your mail more efficiently and accurately
How to Address International Mail
The bottom line of a foreign address should show only the country name, written in full. Do not place postal codes of foreign country designations on the last line of the address.
Here's an example of international addressing. Mail going to Canada can follow either of these formats when the address delivery zone is included in the address.
Ms. Helen Saunders
1010 Clear Street
Ottawa ON K1A
CANADA
Ms Helen Saunders
1010 Clear Street
Ottawa ON CANADA
K1A 0B1
Remember to use these standard two character abbreviations for provinces and territories in CANADA.
| Province/Territorie | Postal Service Abbreviation |
| --- | --- |
| Alberta | AB |
| British Columbia | BC |
| Manitoba | MB |
| New Brunswick | NB |
| Newfoundland | NF |
| Northwest Territories | NT |
| Nova Scotia | NS |
| Ontario | ON |
| Prince Edward Island | PE |
| Quebec | PQ |
| Saskatchewan | SK |
| Yukon Territory | YT |