Potash Brook
A Student Research Project
Rice High School
About Us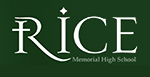 Our Mission Statement:
Through conducting this research, we hope to continue the study of land use history. We hope that in bringing to light some of the changes the land around Potash Brook has undergone we have drawn attention to our ever changing landscape and the impact humans have on the world.
We began participating in the Research on Adaptation to Climate Change (RACC) program during the summer of 2012. Two sophomores, George and Miranda, worked with the Chairperson of the Rice High School History Department, Mrs. Sarah Smith Conroy, to study the changes in land use along Potash Brook, located in South Burlington, Vermont. The section of the brook that has been our primary focus runs from the East Woods to where the brook drains into Lake Champlain.
RACC is a program sponsored by the Vermont EPSCoR Center for Workforce Development and Diversity at Saint Michael's College. We are working in conjunction with 18 other teacher/student groups from Vermont, New York and Puerto Rico. While the other groups, including our second Rice High School Team (headed by the Chairperson of the Rice High School Science Department, Mrs. Sharon Boardman), have studied water quality, we have been tasked with the related study of changing land use over time.
We have spent the summer studying deeds, maps and related filings in the public records of South Burlington. City Clerk Donna Kinville and others in the Clerk's office have been incredibly helpful in this study, and we appreciate their time and their insights tremendously. In addition, we have examined documents held in the Special Collections and Map Departments at the University of Vermont. We have also spent some time interviewing residents of South Burlington in our search for oral histories.
Our Research Process
Our team used a variety of sources, researching online, in the archives, and conducting interviews. The method we worked by was the "cascade method."
Our extensive research began with a single phone call and an appointment for an interview. The first person we talked to was South Burlington resident Mr. Irish, and from there, we began to piece together the history. Mr. Irish provided us with numerous family names that we looked into, and with each name there always came an assortment of documents, often times old maps, and at least three other family names to research!
Over the months, we accumulated a plethora of information on several families. Starting from square one with minimal knowledge about the history of the land surrounding Potash Brook, our team successfully researched the area.
We hope you find our discoveries interesting and that you perhaps become inspired to do some research yourself. The process is never ending, and we need people like you, who enjoy studying changes in land use and care about preserving oral history, to "keep the ball moving." We hope you have fun exploring our project!
Assumptions and Conclusions
In approaching the task of researching land use around Potash Brook, we brought the following assumptions: First, we assumed that the land was heavily farmed prior to the industrial growth of South Burlington. Secondly, we assumed that the use of land had profound and negative effects on the brook and, consequently, Lake Champlain.
Our Findings
The following is what we discovered:
Since as early as 1865, much of the land around Potash Brook has been residential farm land, meaning that most parcels were owned by, what Mr. Irish calls, "Gentlemen Farmers." In other words, most of the people who owned property in the area could not provide for their families solely through the agricultural industry because it did not provide a large enough or stable enough source of income. Thus, these "Gentlemen Farmers" sought additional means to make money. The Cormiers started the first Petrol Station in Vermont in the 1920s, and the Marcells established an auto shop.
Much of the land abutting Potash Brook west of Shelburne Road was owned by the Home for Destitute Children from 1867-1958. We see no negative impact of this use of land on the brook.
The Waubanakee Golf Club owned a considerable portion of the land east of Shelburne Road. This too provided no negative effect on the brook that we can see, since fertilizers and other issues were nonexistent in 1901.

The issues of impervious soils, as evidenced in the maps provided by the State of Vermont Department of Natural Resources, indicates that much of the Storm Water Impaired nature of Potash Brook is the direct result of the exponential growth witnessed in this area after 1958. From the construction of Highway 189 to the Chittenden County Correctional Center, Potash Brook is surrounded by roads, private residences, industrial complexes, parking lots, and other indications of modern development.

Based on our research, it seems logical to conclude that Potash Brook became especially impacted by modern development around 1958 because, essentially, no strongly supported laws regulating water quality and the use of land around bodies of water or in watersheds existed then. Thus, as the construction of infrastructure and residences increased, development around Potash Brook (and throughout the country) was practically unlimited until 1972, when the Clean Water Act was reassessed, expanded, and fully implemented.

The Clean Water Act, which signified a turning point in America's environmental legislation (previous but less effective Acts had been passed prior to this, including the Rivers and Harbors Act of 1899 and the Water Quality Act of 1965), addressed water quality and watershed management, regulating the discharge of pollutants into the waters of the United States and the quality standards for surface waters. The 15-year period between the development of Highway 189 and the passage of the Act witnessed an explosion of growth in South Burlington. Consequently, during this time, Potash Brook and Lake Champlain suffered from negative, lasting effects.

The Potash Brook watershed was impacted by both point and nonpoint sources (point sources include industrial discharge, pipes, and man-made ditches; nonpoint sources include storm water runoff). Nonpoint sources were not even fully addressed in the Clean Water Act until its 1987 amendment. According to Vermont's Watershed Management Division, nonpoint sources, such as agricultural and forestry runoff, storm water runoff, and atmospheric deposition of contaminants, are now considered the most significant source of water pollution in the United States.
We hope that our research has opened the eyes of our viewers and that such findings will encourage the continuation of water quality and watershed management and land use study, and that it will inspire others to become involved with the issue in some way.
A Brief History of Burlington
Establishment and Settlement
Originally part of New France, the region of Burlington became part of the British Empire upon the French defeat in the French and Indian War in the mid-1700s.
New Hampshire governor Benning Wentworth chartered the town on June 7, 1763 in his New Hampshire Grant, under King George III.
The town saw some rapid settlement after the end of the Revolution, and by 1812, Burlington had a population of roughly 2,000.
As the 1830s approached, it was swiftly developing into the leading center of commerce and industry on Lake Champlain.
Burlington was officially incorporated as a city by the legislature on November 22, 1864, the original town divided into present day City of Burlington and South Burlington (the town of South Burlington was incorporated as a city in 1971).
The convenient location on the lake provided Burlington with access to international water-borne commerce as well as one of the most powerful mill sites in the area.
Between the 1850s and the 1950s, Vermont's population appeared to reorganize, shifting from a predominately rural and unsustainable settlement pattern to a more concentrated pattern.
In the 1880s, South Burlington had a population of almost 700, and the entire Burlington area had a population of over 11,000.
Infrastructure
By the 1880s, Burlington was a rapidly expanding, bustling city, comprised of large lumber yards, mills, wharfing, numerous public buildings, a public square, Battery Park, numerous private residences, and a handful of banks, hotels, and churches.
Compared with other states in the South and West, Vermont's rate of land consumption has been 2.5 times greater than the rate of population growth.
Farmland inevitably disappears as development in rural and suburban communities continues.
Shipping/Transportation
In 1823, the Champlain Canal opened, creating a continuous water route from Lake Champlain to the Hudson River and New York City.
The later openings of the Erie Canal in 1825 and the Chambly Canal in 1843 allowed uninterrupted water transportation from the Hudson River to the Great Lakes and the St. Lawrence River.
Vessels transported merchandise to places such as Boston and New York via such waterways.
In the mid-1800s, the development of railroads only further fueled Burlington's thriving commerce, providing an easier and cheaper means to ship cargo by land.
Agriculture
The major exports of potash and pearl ash were gradually replaced by crops from large farms such as potatoes, grains, and livestock—especially beef cattle.
During the early 1800s, small scale agriculture prevailed over Vermont's countryside.
After the Civil War, however, when the expansion of the railroad to the West erased Vermont's advantage of a strategic location, farmers slowly began to invest more in dairy cattle. By the 1900s, Vermont's chief products included butter and cheese.
In the 1950s, a quarter of Vermont's workforce was employed in agricultural, mining, or forestry, and over 10,000 small family farms operated across the state.
Logging/Lumber
Burlington was the third largest lumber port in the country in the mid-1800s.
Its original timber mainly consisted of pine, hemlock, cedar, spruce, maple, oak, and ash.
Lumbering became the first major industry established in Vermont. It developed into a prominent business as the population rose; as settlers cleared land for growing towns and farms; and as entrepreneurs began establishing saw mills that harnessed power from nearby rivers.
The production of pasture land and potash, as well as the establishment of forges/iron works, further spurred forest clearing.
The rapidly expanding lumbering businesses caused a major depletion of forests, which resulted in erosion, flooding, and a loss of wildlife. Yet, the negative effects of the trade only seemed to put a stop to the business temporarily.
The logging/lumber trade soon resurfaced—only now, Vermont received most of its lumber from Canada rather than shipping its lumber there.
Burlington's major exports during the 1850s included chairs, doors, cabinets and cases, carriages, sleighs, and machinery.
Mills
Paper and woolen mills took hold as early Vermont industries due to the state's plentiful lumber supply.
Grist mills also began popping up in Vermont, producing feed for farmers' livestock.
Other types of mills included cotton cloth mills.
Potash/Pearl Ash
In the late 1700s, Vermont's earliest export was potash, also known as pearl ash.
Potash, a forest-clearing byproduct, is the substance that remains after the evaporation of a mixture of ashes and water.
The production of potash/pearl ash, along with logging and growing crops, was one of Vermont's three major branches of business in the early 1800s. The industry petered out around 1810.
Vermont's settlers saw that potash provided them with the most efficient way of making money while they cleared land.
They sold tons of potash, 100 pounds worth about 6 or 7 dollars, to England. There, one of the ways the product was used was in the making of soap.
The name of the typically brown powder, viewed as essential to early Vermont settlers, survives in certain names heard today. This includes the brook the Rice High School Team studied: Potash Brook.
Quarries
In the early1900s, Vermont was the second largest producer of marble, granite, and slate.
The expansion of Vermont's stone market was greatly facilitated by the railroad lines, which enabled the transportation of extremely heavy loads over great distances.
Burlington manufactured products such as monuments, headstones, and building blocks.
Water Works
When Burlington first became a city, the water distribution system was poor, although Lake Champlain and the Winooski River seemed to provide an abundant supply.
Improvements were gradually made, and in 1850, the Burlington Aqueduct Company was established by Frederick Smith, part-owner of the Champlain Glass Company factory property.
The works included a network of iron pipes and a reservoir, 40 sq. ft. and 12 ft. deep, supplied by four springs in the vicinity.
By 1867, further improvements had been made to the water works: the town constructed a new reservoir and pump house.
Sources
"About Burlington, Vermont." Virtual Vermont. Virtual Vermont, 21 Mar. 2012. Web. 18 July 2012.
"About South Burlington, Vermont." Virtual Vermont. 21 Mar. 2012. Web. 18 July 2012.
"Agriculture and Industry." Central Vermont. National Park Service, n.d. Web. 29 June 2012.
Allen, Charles E. About Burlington Vermont excerpt. Burlington: Hobart J.Shanley & Company. 1905. Transcribed by Nancy Piper. "The History of Burlington Vermont." Vermont Genealogy Trails. Genealogy Trails, 2012. Web. 18 July 2012.
"Burlington 1830." University of Vermont. University of Vermont Historic Preservation Program, 2012. Web. 18 July 2012.
Child, Hamilton, publisher. Gazetteer and Business Directory of Chittenden County, VT excerpt. Aug. 1882. Transcribed by Karima Allison.
"Burlington." Ancestry.com. Chameleon Production, 2010. Web. 24 Aug. 2012.
From Potash to Ready Cash: Vermont's First Cash Crop. N.d. PDF file.
"Historic Settlement Patterns." Smart Growth Vermont. VNRC, 2012. Web. 29 June 2012.
"History of Burlington, Vermont." Champlain College. Champlain College, 2012.
Web. 18 July 2012.
Millard, James P. "Burlington, Vermont: Home of General Ethan Allen." America's Historic Lakes. James P. Millard, 2011. Web. 18 July 2012.
Vermont Quality Wood Products. History of Woodworking in Vermont 1791 - Today. N.d. PDF file.
Thank You
We want to give a shout out to the following individuals; we could not have made our project a success or conducted the research we did without your undying patience, time, and effort. Thank you, thank you, thank you!
-Argie Economou
-Donna Kinville: City Clerk, South Burlington Clerk's Office
-Dr. Paul Bierman, UVM
-Richard Kujawa, SMC
-EPSCoR Staff
-Lori Pilus: Assistant City Clerk, South Burlington Clerk's Office
-Mary Borg: Staff Attorney, Watershed Management, Vermont Agency of Natural Resources
-Palmer Irish