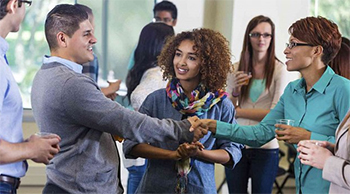 Students aren't the only ones who benefit from internships. Opening your doors to UVM students allows you to evaluate up-and-coming talent, reduce overall employee workload, and reap the benefits of a unique perspective on social media and the latest trends. More and more companies are discovering the benefits of internship programs.
At UVM, we're cultivating top talent and providing a rich academic and experiential environment where students become creative, capable citizens of the world. Our students are known for their dedication to making a difference, and they bring that passion to their careers and communities.
Do you remember when you were just starting out, and how valuable a mentor was to you? We have created a tool called the Mentoring Network to help beginning entrepreneurs connect seamlessly with proven mentors who will share their experience and wisdom.
Our Career Interest Groups are all about building a network of peers, faculty, employers, alums, and staff who care about the same things. It's yet another way for our students to begin their career journey. The groups include: Arts, Media & Communication; Business & Entrepreneurship; Education, Policy & Social Impact; Food, Environment & Sustainability; Health Professions; and Science, Technology, Engineering & Math (STEM).